Russia in Syria: Moscow to increase missions in Syria to '300 a day'
Russia is currently flying around 50 missions a day on average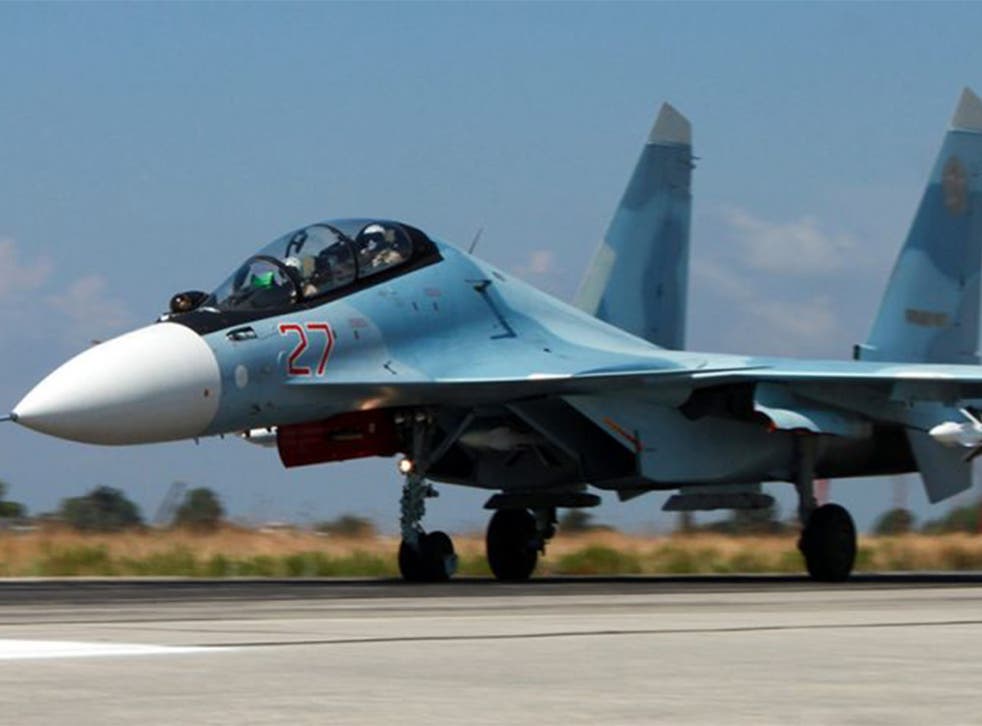 Russia aims to increase its aerial missions over Syria to 300 a day, sources close to the country's operations have reportedly said.
President Vladimir Putin said the country is currently flying around 50 missions a day on average in Syria.
Operation sources, however, say the aim is to increase this figure to between 200 and 300 a day, according to The Sunday Times.
The construction of a new airstrip as part of preparations for the surge in missions is also reportedly under way.
Russia has deployed a range of bombers, jets, fighters and helicopters in its bid to probe rebel forces in Syria, including Su-24M and Su-34 bombers and Su-30CM fighters.
The source told the newspaper proposed targets were chosen by the Syrians, then passed on for verification by Russian drones.
The source added Russians would reject some Syrian requests, such as the targeting of religious buildings believed to be insurgent bases.
"They are extremely concerned about the image of Russia's military actions here," the source told The Sunday Times.
The claims come as Russia's involvement intensifies in what the Kremlin has called a "war on terrorism", causing increasing concern in the West.
Defence Secretary Michael Fallon told the BBC's Andrew Marr programme Russia was extending the war by targeting all opponents of President Bashar al-Assad, amid claims Russian airstrikes may have killed "several hundred" civilians and raised the risk of accidental confrontation with Western forces.
"What [Russia] is doing is propping up the Assad regime, making the resolution of all this more difficult," Mr Fallon said.
Monitoring groups in Syria, including Human Rights Watch, have requested an investigation into Russian airstrikes which they believe may have violated international law.
Mr Putin has continually defended Russian air strikes in Syria, insisting his country's only goal is to combat the "international terrorists" of Isis.
Speaking in an interview with Russian state TV, Mr Putin said Moscow wanted to strengthen Mr Assad's position – as a means to reaching a political compromise.
Join our new commenting forum
Join thought-provoking conversations, follow other Independent readers and see their replies