Russia 'could be arming the Taliban', according to newly emerged video
New footage adds weight to previous suggestions made by Afghan and US officials that Moscow is helping fuel renewed insurgent offensive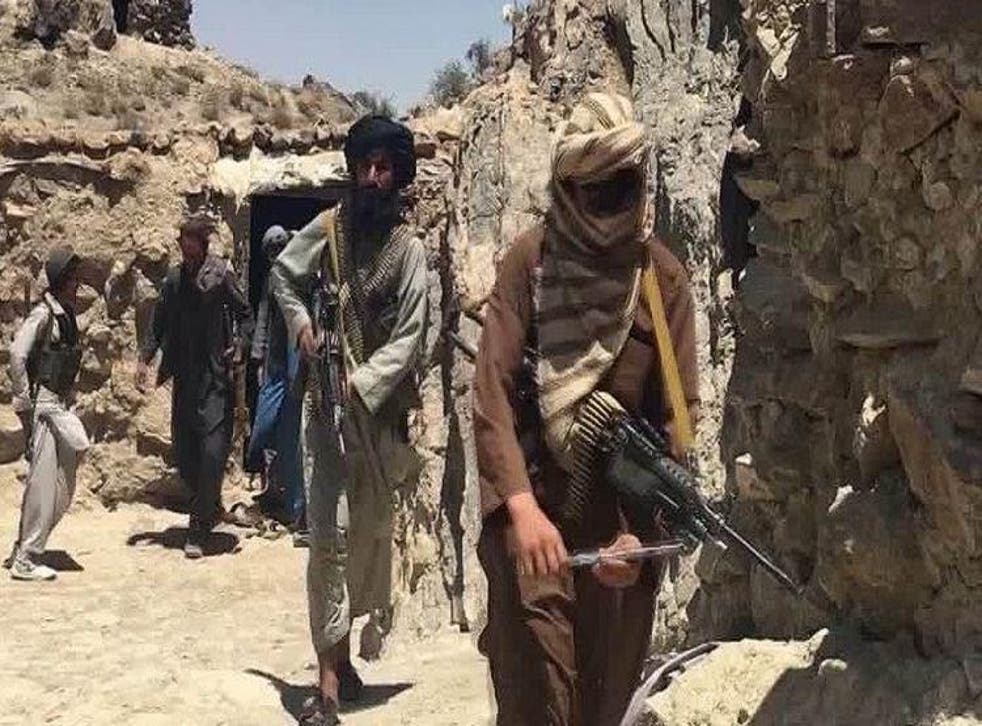 The Russian government may be providing Taliban militants in Afghanistan with sophisticated weaponry to assist in its fight against the US-backed government, it has emerged.
New photos and video footage obtained by CNN shows insurgents armed with sniper rifles, heavy machine guns and Kalashnikov-type guns which weapons experts who looked at the video said had been stripped of any symbols or insignia which could identify their origin.
In one video, a fighter wearing a mask says he received his arms for free from over the border in Tajikistan.
Royal Marine at a loss to explain why he took life of Taliban fighter
"These pistols have been brought to us recently," he says. "These are made in Russia, and are very good stuff."
In another, a splinter Taliban group in Herat says the weapons in their possession, captured from a mainstream wing, were originally "supplied by Russian government sources".
The alleged issue was put under the spotlight in April when the leader of US and international forces in Afghanistan said he would "not refute" the anonymous accusations of other US and Afghan officials that Russia is providing weaponry.
Russia must be "confronted" about the claims it had stepped up its assistance to insurgents over the last 18 months, US Secretary of State Rex Tillerson said at the time.
Moscow has repeatedly denied providing the militant organisation with any material or financial aid, but maintains diplomatic ties with Taliban officials in order to push for peace negotiations with the Afghan government and to maintain security.
Afghanistan: Between Hope and Fear

Show all 16
Any influx of new weaponry in the volatile country is likely to end in civilian death.
Afghans are already angry with their weak and divided government for its failure to protect them from a renewed wave of militant violence across the country; at least 1,662 people have been killed in attacks carried out by either the Taliban or Isis in the first six months of 2017 alone.
On Monday, Kabul was hit by a Taliban suicide bomb attack during rush hour which killed up to 34 people, once again highlighting the precarious security situation.
Although the Taliban lost control of Afghanistan following the 2001 war, it has steadily regained ground since the majority of US and allied troops left in 2014, and is now in control of some 40 per cent of the country, although it holds no major cities.
The chaos has also allowed Isis to gain a foothold in Afghanistan's remote eastern provinces.
Last month US President Donald Trump bowed to pressure from the Pentagon to allow the military to set its own troop levels to stop the situation from deteriorating further.
A total of 13,000 US and Nato soldiers are currently in the country, although observers fear after 16 years of war Afghanistan has arrived at a stalemate in the fight against extremism.
While it is expected that 4,000 extra troops will be deployed, there is still no coherent strategy from the Trump administration on the US's future involvement.
Moscow has long been critical of the US' handling of its war in Afghanistan and the 16 years of unrest which have followed.
The Soviet Union fought its own bloody war in the country in the 1980s - in which it opposed groups which later became the Taliban - which ended in defeat.
The CIA provided arms to Afghans resisting Soviet troops which analysts believe ended up falling into the hands of both the Taliban and al-Qaeda.
Register for free to continue reading
Registration is a free and easy way to support our truly independent journalism
By registering, you will also enjoy limited access to Premium articles, exclusive newsletters, commenting, and virtual events with our leading journalists
Already have an account? sign in
Register for free to continue reading
Registration is a free and easy way to support our truly independent journalism
By registering, you will also enjoy limited access to Premium articles, exclusive newsletters, commenting, and virtual events with our leading journalists
Already have an account? sign in
Join our new commenting forum
Join thought-provoking conversations, follow other Independent readers and see their replies