Russian air strikes in Syria: Second video released by defence ministry shows 'Isis bomb factory' being destroyed
A statement said Russian forces were avoiding civilian casualties by choosing targets 'outside of inhabited areas'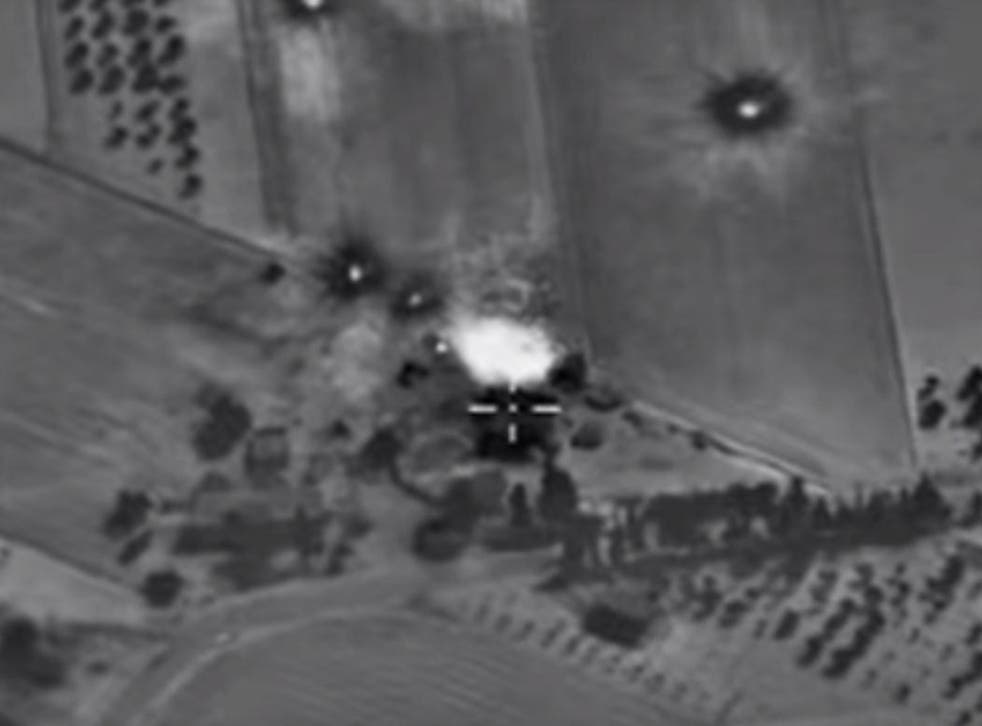 Russia's defence ministry has released a second video of its air strikes in Syria, showing what it said were four Isis positions being destroyed.
Some attacks in the footage, which was taken overnight, appeared to be in rural areas, while others were in more urban locations where several buildings could be seen surrounding the targets.
Explosions and the ensuring fires showed up as flashes of white on the thermal imaging cameras, followed by plumes of dark smoke.
A statement on the Russian defence ministry's official Facebook page said eight sorties by Su-24M and Su-25 fighter jets were flown.
The ministry said a headquarters and ammunition depot near Idlib was destroyed, as well as a fortified command post in Hama, and a factory reportedly used by extremists to make bombs north of Homs.
"To exclude civilian damage, Russian planes are assigned to strike targets strictly outside settlements, and only on the basis of confirmed intelligence data from various sources," the statement continued.
"To obtain reliable information about the location of terrorists and the potential for fire damage, reconnaissance from space (satellites) and unmanned aerial vehicles is used."
No estimates for the number of people killed or injured were given but a post from the ministry's Twitter account said "Isis terrorist staff...were eliminated".
Russia is co-ordinating its strikes with Bashar al-Assad's government forces and using intelligence from the Syrian government.
The video was released as debate continued about Russia's first day of military intervention on Wednesday, when non-Islamist rebel groups claimed they were hit in several towns in Hama and Homs provinces.
Officials in the US and France criticised the Kremlin following the reports but Russian ministers insisted that only Isis was being targeted and the claims were "groundless".
Residents in Rastan, one of the towns listed among Russia's targets by Syrian state media, said a father and his three children were among at least 33 civilians killed.
"It was as if the house never was," a doctor said after treating casualties from the attack.
"We have been exposed to a wide range of weapons over the last five years, but what happened today was absolutely the most violent and ferocious, and the most comprehensive in the northern Homs countryside."
The reports could not be confirmed and experts have cautioned that it is difficult for witnesses on the ground to differentiate between Russian jets being used by the Syrian air force and those being piloted by Russians.
Join our new commenting forum
Join thought-provoking conversations, follow other Independent readers and see their replies