Samar Badawi: Saudi Arabia releases human rights activist from prison where her brother and husband are held
If charged under Saudi Arabia's draconian anti-terror legislation, Ms Badawi could be facing a lengthy jail sentence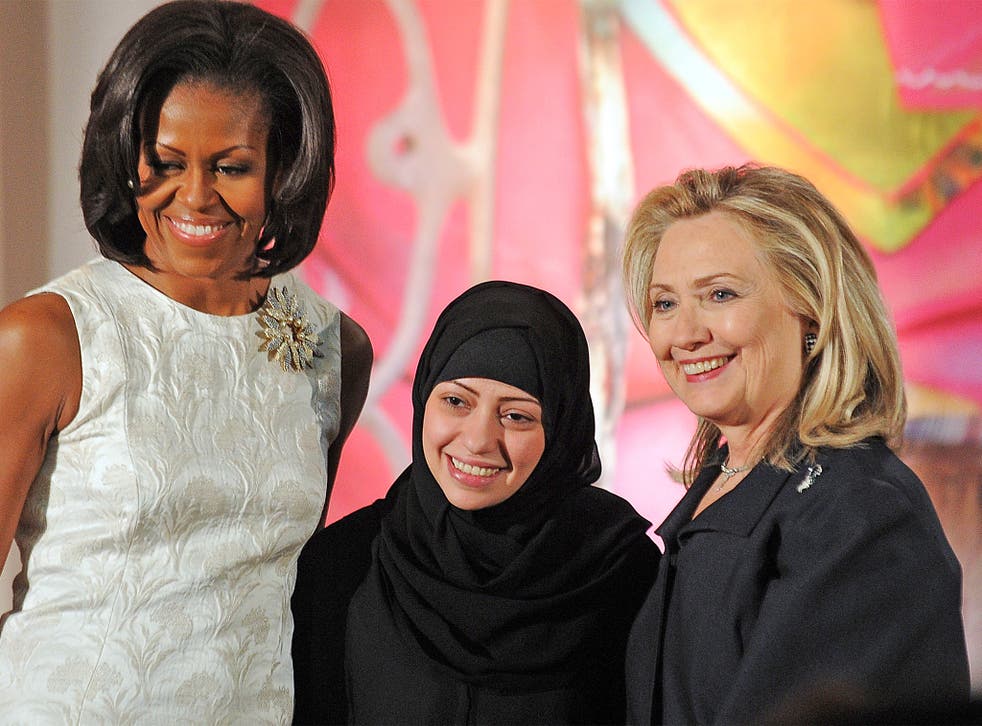 The Saudi human rights activist Samar Badawi was released from custody in the early hours of Wednesday morning. But her arrest has inflicted further damage to the reputation of a kingdom already condemned for flogging her brother, the blogger Raif Badawi.
Ms Badawi who was presented with the International Women of Courage Award by Michelle Obama and Hillary Clinton in 2012, was arrested on Tuesday night, interrogated, then sent to the same prison where her husband, the human rights lawyer Waleed Abu al-Khair, and her activist brother are being held.
Ms Badawi, the mother of a two-year-old girl, was released, only to be called in for further interrogation a few hours later before being allowed to return to her home in Jeddah. Under Saudi Arabia's draconian anti-terror legislation, Ms Badawi, if charged, could be facing a lengthy jail sentence. Her brother was given a 10-year sentence and 1,000 lashes for criticising the regime online.
Her husband, who served as Raif Badawi's lawyer, was convicted of insulting the judiciary, disobeying the ruler, and harming the reputation of the kingdom and sentenced to 15 years in jail.
In December last year, Samar Badawi posted a blog on the Amnesty International website condemning the Saudi authorities. She described her husband as her "rock and source of inspiration", adding "I shall continue my struggle as long as my heart beats, and I shall never give up until I have you back under our roof. I shall forever believe in our freedom which you have spent your whole life defending."
She met her husband in 2010 when he defended her on a charge of disobeying her father. She was convicted and spent seven months in jail despite her allegations of physical abuse at the father's hands from the age of 14.
In pictures: Raif Badawi release protests

Show all 15
"[Waleed] taught me that a person is born free and that it is up to him or her to live in freedom or die trying to achieve it. Slavery has no place in his life except when it comes to serving God, the one and only," she wrote.
Ali Adubisi, a Saudi human rights activist living in exile in Berlin, told The Independent Ms Badawi "could be charged with anything under the terror legislation. The act gives the Interior Minister [Mohammed bin Nayef] a free hand to do what he wants."
The law defines terror in the broadest terms imaginable and includes such things as "harming the security of the community, risking national unity and harming the reputation or status of the country". It allows for arrests without warrants, for detention of six months without charge and severely limits the access of detainees to lawyers.
Saad al-Faqih is a conservative critic of the ruling family living in London. He says the Badawi arrest is part of a new attempt by the House of Saud to stamp out criticism: "They are going back to more repression. Within the last two weeks the authorities have issued decrees warning that criticism will lead to jail."
Saudi blogger Raif Badawi wins EU's Sakharov rights prize
Mr Faqih told The Independent that two doctors had been sentenced to being publicly lashed for criticising the Minister of Health in a tweet and that a further decree held administrators of online sites responsible for critical comments. "The family used to do these things secretly, now they do it publicly. They want to intimidate the people," he said.
The crackdown may reflect growing anxiety within the House of Saud that it does not appear weak at a time when Islamist extremists are using social media to attack the legitimacy of their right to rule.
Join our new commenting forum
Join thought-provoking conversations, follow other Independent readers and see their replies