Saudi Arabia carries out three more executions as new King Salman welcomes US President Barack Obama
Amnesty has condemned the continuation of capital punishment under the new leader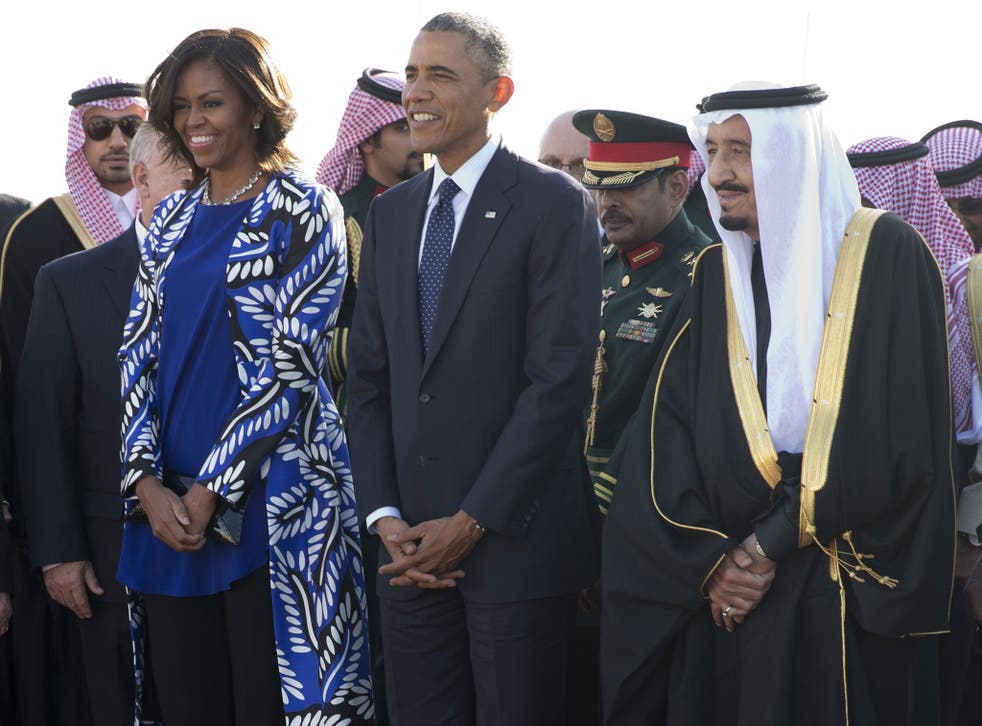 Saudi Arabia has reportedly carried out another three executions under the new King Salman – one taking place in the holy city of Mecca just hours after he met the US President Barack Obama.
According to a toll carried by the AFP News Agency, the deaths take the number of executions in the country to 16 for this year alone. There were 87 last year under Salman's predecessor King Abdullah.
One of the three executions involved a man who was beheaded following his conviction for incest in the south-western Asir region. Omar al-Barkati was, according to a statement from the official Saudi Press Agency, "executed as punishment for his crime and as a lesson to others".
The third execution reportedly took place in the north-western Jawf region, involving the death of a man who "confessed to smuggling amphetamine pills".
Yesterday President Obama met the new king during a visit with his wife to pay respects following King Abdullah's death, as well as attending a dinner with Saudi officials at the Erga Palace in a four-hour stay.
But ahead of the trip, he defended the US's cooperation with Saudi Arabia while overlooking apparent human rights abuses.
He said he would not raise concerns about the flogging of the blogger Raif Badawi, and said the best way to deal with Saudi Arabia was by applying steady pressure "even as we are getting business done that needs to get done".
"Sometimes we need to balance our need to speak to them about human rights issues with immediate concerns we have in terms of counter-terrorism or dealing with regional stability," Mr Obama said in a CNN interview that aired in advance of his arrival in Riyadh.
King Abdullah dead: Reaction from around the world

Show all 8
Yesterday it was reported that Saudi Arabia had carried out its first execution under King Salman, prior to Mr Obama's visit.
Then, Amnesty's Saudi Arabia researcher Sevag Kechichian told The Independent: "It's extremely distressing to see that the Saudi executioner has already been at work, just days after King Salman bin Abdulaziz Al Saud ascended the throne.
"The Saudi Arabian authorities should establish an immediate moratorium on executions with a view towards abolishing the use of the death penalty once and for all."
Register for free to continue reading
Registration is a free and easy way to support our truly independent journalism
By registering, you will also enjoy limited access to Premium articles, exclusive newsletters, commenting, and virtual events with our leading journalists
Already have an account? sign in
Register for free to continue reading
Registration is a free and easy way to support our truly independent journalism
By registering, you will also enjoy limited access to Premium articles, exclusive newsletters, commenting, and virtual events with our leading journalists
Already have an account? sign in
Join our new commenting forum
Join thought-provoking conversations, follow other Independent readers and see their replies