Saudi Arabia urged to make more of its human rights successes by Foreign Office minster Tobias Ellwood
Exclusive: Human rights groups say remarks from minister for the Middle East in wake of mass execution are 'astonishing'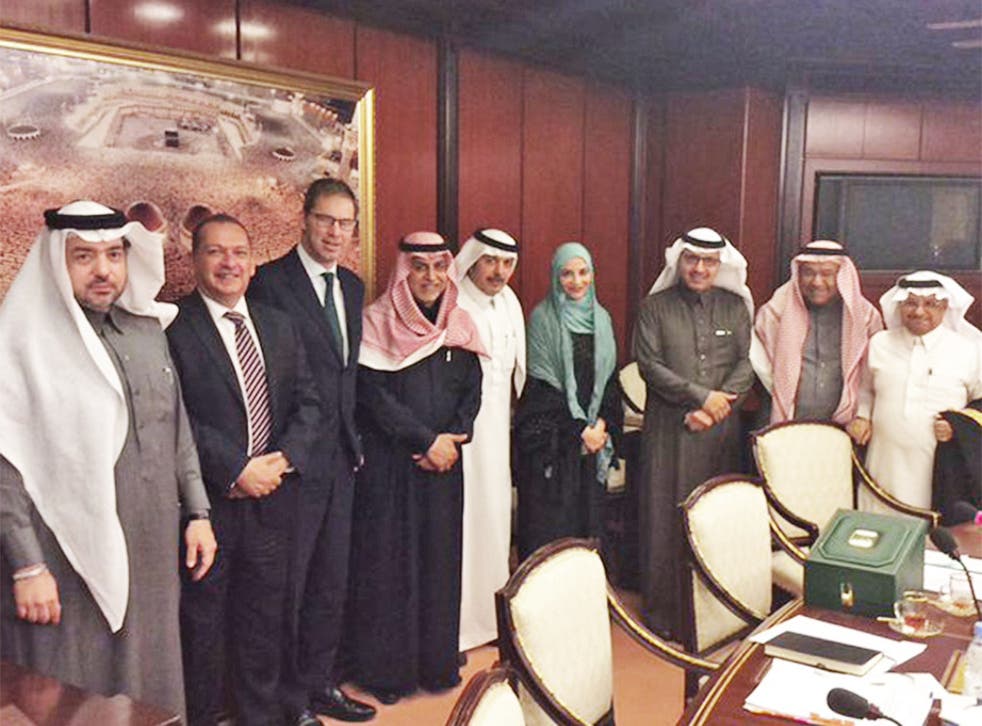 A government minister has urged Saudi Arabia to do a "better job" of trumpeting its human rights successes during an official visit to the country, less than a month after it carried out the mass execution of 47 people.
Tobias Ellwood, the Foreign Office minister for the Middle East, made the comments on Monday as he and other British delegates addressed Saudi Arabia's National Society for Human Rights in the capital Riyadh, The Independent understands.
Leading human rights organisations described Mr Ellwood's remarks as "astonishing", pointing out that Saudi Arabia was currently presiding over a surge in executions and engaging in a brutal military campaign in Yemen that may be breaking international laws.
During the visit, which was not publicised by the Foreign Office, Mr Ellwood was told that Saudi Arabia had introduced a series of reforms, such as allowing women to vote in municipal elections.
In response, he told his hosts that they needed to improve the way they promoted their human rights successes, according to people present at the meeting.
Accounts of the meeting that appeared in three Saudi media outlets claimed that Mr Ellwood went even further, saying that people in Britain were unaware of the "notable progress" made on human rights by the Saudi regime.
An article in the daily newspaper Al Watan read: "Tobias Ellwood revealed the ignorance of the British to the notable progress in Saudi Arabia in the field of human rights, confirming throughout the visit of a British FCO delegation... that he had expressed his opinion regarding the human rights situation in Saudi Arabia before the British Parliament, and that the notable progress in this area has been obscured."
However, a Foreign Office spokesman strongly denied that Mr Ellwood had used those words. "We do not recognise these remarks," he said. "Mr Ellwood raised our human rights concerns in all of his meetings in Riyadh... The Government will continue to raise our concerns in public and private.
"The minister was very clear that despite some recent incremental progress – such as December's municipal elections... in which women were allowed to stand and vote in – further progress still needed to be made." A press release issued by the National Society for Human Rights said Mr Ellwood had been joined at the private meeting by Simon Collis, the British Ambassador, who stressed the importance of creating partnerships between human rights organisations in the two countries.
Cameron on arms trading with Saudi Arabia.mp4
The chairman of the society, Dr Mofleh bin Rabiean Qahtani, told Mr Ellwood he was concerned that some high profile individual cases were being "exploited, generalised and circulated" in order to discredit Saudi Arabia's reputation, the press release said.
Recent cases which have drawn international condemnation include that of Raif Badawi, the liberal writer sentenced to 10 years in jail and 1,000 lashes for promoting free speech, and Ali al-Nimr, who was sentenced to death at the age of 17 for taking part in a pro-democracy protest.
10 examples of Saudi Arabia's human rights abuses

Show all 10
Mr Nimr's uncle, the Shia cleric Sheikh Nimr al-Nimr, was among 47 people killed by Saudi Arabia earlier this month as part of the country's biggest mass execution for more than 30 years. It has since emerged that two of those killed were minors at the time they were arrested.
Human rights groups have criticised Mr Ellwood's comments. "As Tobias Ellwood must surely realise, there's one very easy way for Saudi Arabia to gain a better human rights reputation – and that's by genuinely reversing the ongoing crackdown," said Amnesty International UK's head of policy and government affairs Allan Hogarth.
"Saudi Arabia needs to release prisoners of conscience... to end rampant executions... and to ensure that the rights of women and repressed groups are properly respected."
Maya Foa, of the human rights organisation Reprieve, added: "These comments are astonishing. The Saudi authorities have a bad reputation on human rights because of their appalling human rights record – not because of bad PR.
Mr Ellwood told MPs earlier this month that Saudi Arabia was "making small progress" on human rights, but added that the Government still had serious concerns.
Join our new commenting forum
Join thought-provoking conversations, follow other Independent readers and see their replies