Saudi Arabia using anti-terror laws to detain and torture political dissidents, UN says
'No one should be fooled into believing that Saudi Arabia is striving towards a more open and pluralistic form of government'
Olivia Alabaster
Thursday 07 June 2018 17:40 Comments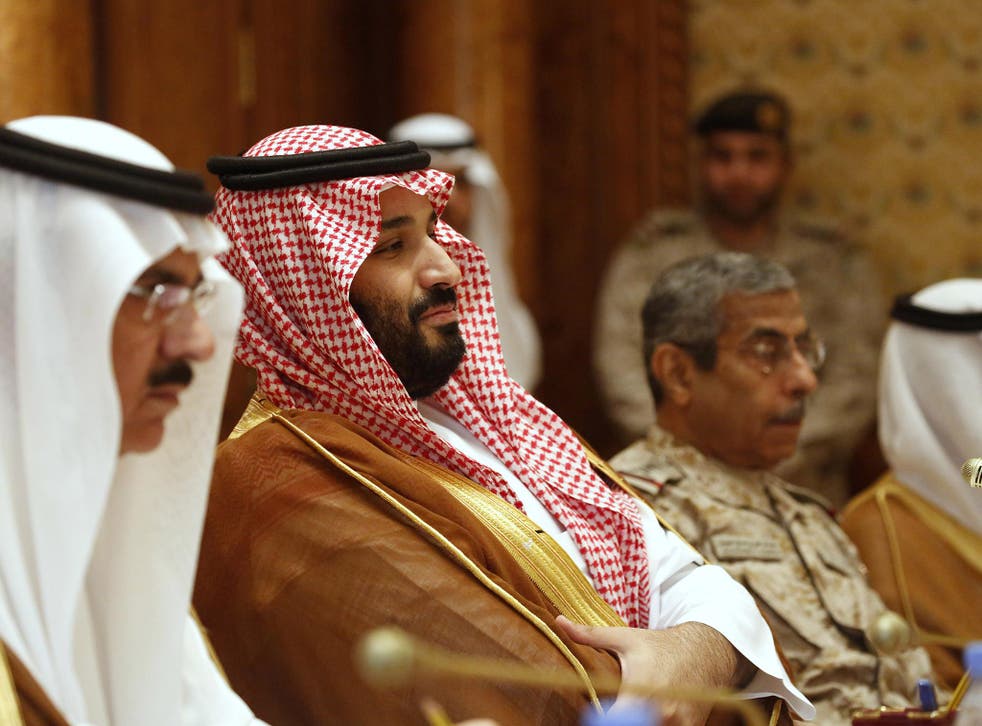 Saudi Arabia is using its broad anti-terror legislation to imprison and torture political dissidents and reformers, according to a UN panel after a visit to the kingdom.
While crown prince Mohammad bin Salman pursues a series of reforms, "no one should be fooled into believing that Saudi Arabia is striving towards a more open and pluralistic form of government", British QC Ben Emmerson, the UN's special rapporteur on anti-terrorism, told The Independent.
"The very opposite is true," he added.
"What we are witnessing is a regime that is tightening its grip on the social fabric of society, choking all forms of open debate, suffocating civil society, silencing the voice of reform and imprisoning those who are striving towards modernity."
The report was written before the most recent arrest of at least 13 women's rights activists, the current legal status of which is still unclear.
Those arrests "overshadowed" women finally being allowed to drive on 24 June, according to Human Rights Watch.
"The most recent wave of arrests in May brings the number of political detainees into the hundreds. Many are high profile campaigners and pro-democracy advocates charged with vague political offences and denounced as traitors," Mr Emmerson said.
Warning that the ruling dynasty "cannot survive the forces of change", Mr Emmerson added that the latest arrests of activists were "not the actions of a government that is confident that it enjoys popular support among the people".
He said: "They are the actions of a feudal dynasty, meting out forms of punishment that belong to the Middle Ages, in a desperate white knuckle bid to cling onto power.
"The House of Saud knows full well that it cannot survive the forces of change, that it cannot withstand the inevitable tide of history and that it will in due course be swept away as the clamour for governmental transparency and social justice grows."
In his report, Mr Emmerson said the country's anti-terror legislation must be urgently reviewed.
In its current form, he said, the state's "overly broad" definition of "terrorism" included calling for atheist thought "in any form", contact with any group "hostile" to the Kingdom, anyone "seeking to shake the social fabric or national cohesion, or "participating, promoting, or inciting sit-ins, protests, meetings, or group statements in any form".
The report also stated that Mr Emmerson received "well-documented reports of the use of torture and ill-treatment by law enforcement officials against individuals accused of having committed acts of terrorism".
Those methods of torture included electric shocks, sleep deprivation, incommunicado and prolonged solitary detention, and beatings to the head, face, jaw and feet.
The crown prince, the effective ruler of Saudi Arabia, has recently introduced a swathe of reforms designed to return the country to a more "moderate Islam", including opening cinemas for the first time in 35 years.
World news in pictures

Show all 50
Last November, authorities also arrested over 300 business leaders, royals and politicians in what was painted as anti-corruption crackdown, but more widely interpreted as a clampdown on political dissent.
Mr Emmerson also urged Saudi Arabia to drop capital punishment, noting that execution has been used against political dissidents.
"Saudi Arabia's addiction to the blood cult of public execution demeans and humiliates not only the victims, but all those who participate in the process and Saudi society as a whole," he said.
There was no immediate response from Saudi officials to the report, which covered his visit in April-May 2017.
A spokesperson for the UN Human Rights Council said Mr Emmerson submitted it to the UN after his six-year term as rapporteur ended later that year.
Register for free to continue reading
Registration is a free and easy way to support our truly independent journalism
By registering, you will also enjoy limited access to Premium articles, exclusive newsletters, commenting, and virtual events with our leading journalists
Already have an account? sign in
Join our new commenting forum
Join thought-provoking conversations, follow other Independent readers and see their replies