Saudi women harassed by group of men in street sparks debate about sexism in country
At present there is no legal definition of what constitutes sexual harassment in Saudi Arabia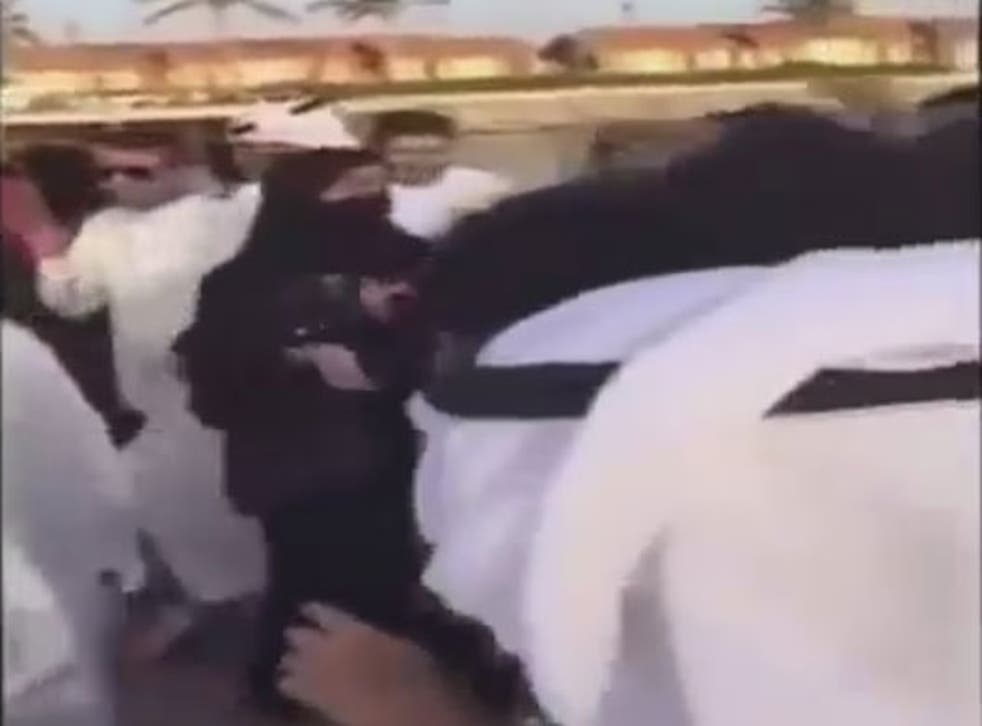 Video footage has emerged showing two Saudi women being jeered and harassed by a group of men as they walk along a promenade in Jeddah, sparking a public debate about women's rights in the country.
The two women, both wearing traditional abayas robes and face veils, become anxious and distressed as the group of men move close around them, preventing them from walking down the road.
Public outrage over the footage prompted a police investigation into the incident and state-linked media reported that six of the men involved had been detained and questioned.
However, further video footage has emerged, allegedly of the same two young women, riding a quad bike along the promenade watched by the men.
In the footage, which was allegedly filmed just before the women were confronted by the group, one of the women appears to toss an agal, the black rope worn by Saudi men over their head cloths, causing the men to laugh.
Since the emergence of the second video some have suggested that the women were behaving in an "indecent" manner and provoked the men.
Yehia al-Shahrani, a judicial advisor, told Sabq news that the women had acted in a "seductive and tempting" manner and that it was unfair to investigate the men involved "without taking the same deserved action against those who seduced and aroused this to happen."
Saudi Arabia distinguishes itself as an Islamic state and upholds a strict segregation of sexes. Unmarried men and women are prohibited from mixing socially.
Under the country's guardianship laws women need permission from male relatives to travel abroad, work and to undergo medical procedures in private hospitals.
However, Jiddah-based commentator and writer Khaled Almaeena has said that these restrictions fail to protect women and he is one of several public figures to call for an anti-sexual harassment law to be implemented by the government.
At present there is no legal definition of what constitutes sexual harassment in the country.
Shura Council member, Thuraya Ebrahim al Arrayed told the Associated Press that a law would "clarify the details because it would punish any harassment, whether it is sexual assault of minors or adults, including that of children and minors inside and outside their home."
Without legislation in place it is unclear on what grounds the harassers in the video could be prosecuted.
The Justice Ministry says 3,982 cases of sexual harassment were registered over the last two years in Saudi Arabia.
Additional reporting by Associated Press
Join our new commenting forum
Join thought-provoking conversations, follow other Independent readers and see their replies