Sea turtle 'beaten and left for dead' on beach by people taking selfies
Loggerhead sea turtle receiving treatment after it was beaten with sticks and stepped on in Lebanon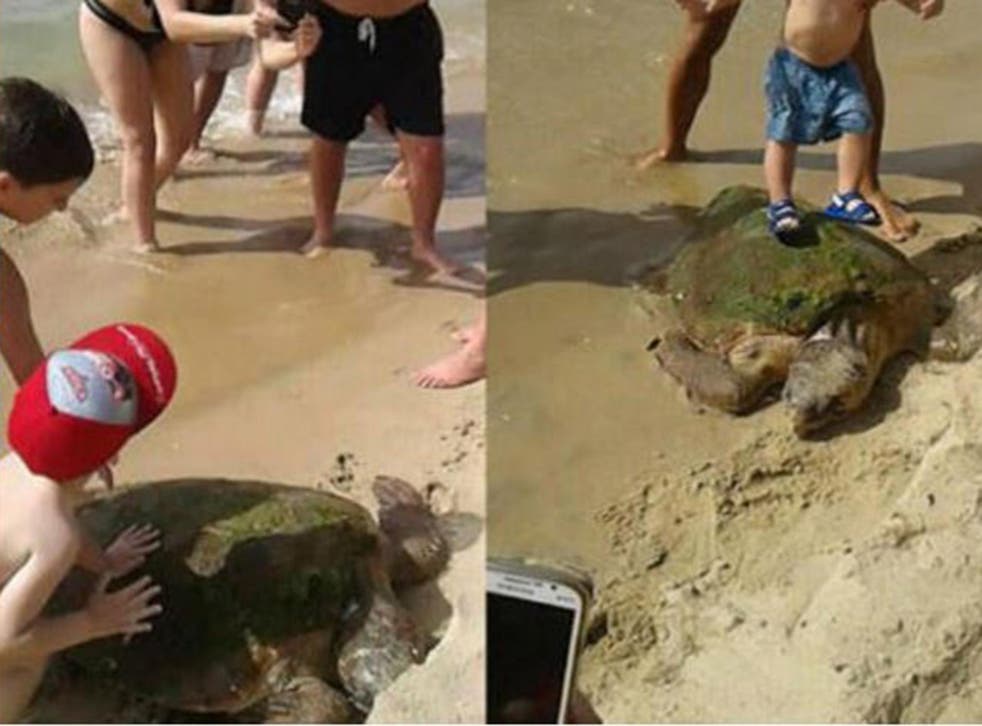 An endangered turtle is receiving treatment after being beaten and stood on by people taking selfies on a beach in Lebanon.
The male loggerhead sea turtle was dragged out of the surf at Havana beach, just south of Beirut, according to the charity group Animals Lebanon. People then posed for photographs standing on the animal before hitting it with sticks.
The charity said it was now assisting the Ministry of Agriculture and Civil Defense to make sure the turtle "does not die from this unnecessary, avoidable, and illegal cruelty".
In a statement on the group's website, the charity said: "The damage is visible and evident - the blows and trauma he suffered have broken through the top of his head, and water from the sea has reached his sinus cavities.
"Hopefully the x-rays can rule out further damage and the blows did not affected deeper into the skull."
The charity's executive director, Jason Mier, told The Independent: "Tomorrow morning we are going to give him another dose of antibiotics.
"He is in the pool and recovering, he is eating well when fed but not yet actively going to get food."
Where not to visit if you love animals

Show all 9
He said they were meeting with the Animal Resources Directorate in Beirut to get the animal moved to a specialised facility in Greece.
This is not the first time people have been accused of dragging an animal out of the water to take selfies.
In February, a crowd on a beach in Buenos Aires, Argentina was accused of "casual cruelty" when footage emerged appearing to show them removing a baby dolphin from the water, causing it to overheat and die.
But the tourist who took the video, Hernan Coria, insisted the animal was already dead when people began to pass it around to take selfies.
Join our new commenting forum
Join thought-provoking conversations, follow other Independent readers and see their replies