Steven Sotloff beheading: Obama warns US 'will not be intimidated' by Isis militants
Mr Obama warns 'justice will be served' after second beheading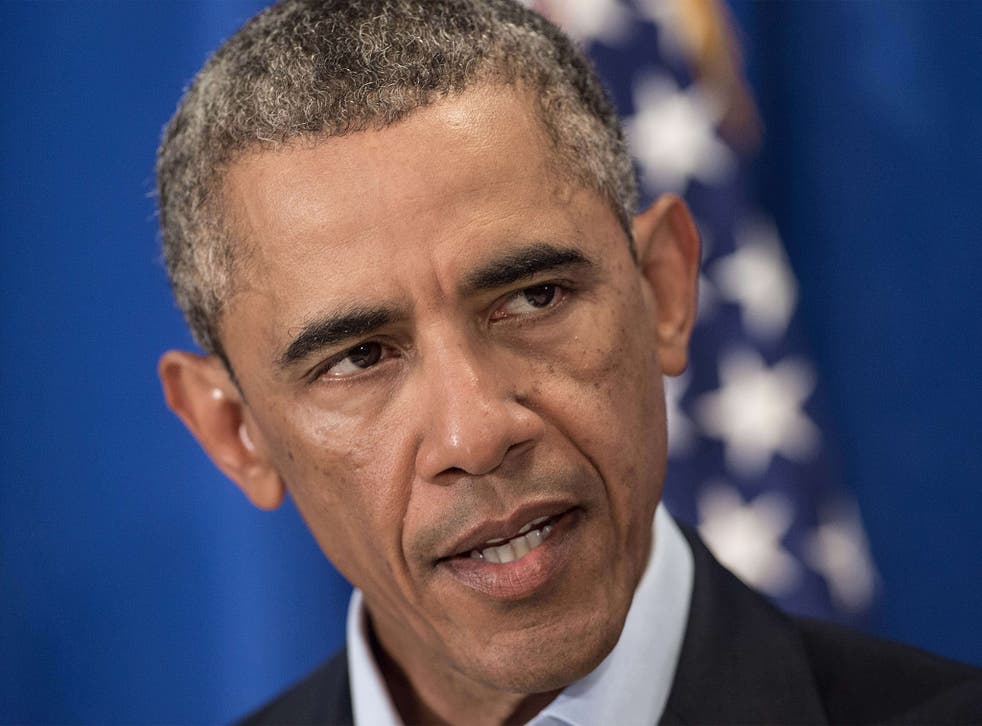 President Obama has said the US will not be intimidated by the "horrific" violence committed by Islamic State (Isis) militants after the beheading of a second American journalist, Steven Sotloff.
The video, which also saw an Isis fighter who speaks with an English accent threaten the life of a British hostage, has triggered new calls from Mr Obama's critics in the US Congress for more decisive action against Isis fighters.
Today, Mr Obama vowed the US will build a coalition to "degrade and destroy" the group, telling a news conference in Estonia: "They made the absurd claim they killed in the name of religion but it was Steven who deeply loved the Islamic world. Whatever these murderers think they will achieve by killing innocent Americans like Steven, they have already failed.
"The bottom line is this: our objective is clear and that is to degrade and destroy (Isis) so that it's no longer a threat not just to Iraq but also the region and to the United States."
He stressed the US will not be intimidated by such brutal acts and warned Isis: "Those who make the mistake of harming Americans will learn that we will not forget, that our reach is long and that justice will be served."
Mr Obama did not provide a timeline for deciding on a strategy to tackle the group's operation in Syria.
In pictures: Steven Sotloff

Show all 7
US Vice President later mirrored the sentiments of President Obama's strongly-worded speech, by saying America will follow "to the gates of hell" the terrorists who posted videos showing the beheading of James Foley and Mr Sotloff.
"The American people are so much stronger, so much more resolved than any enemy can fully understand," Biden said at the Portsmouth Naval Shipyard in Maine. "As a nation, we're united. And when people harm Americans, we don't retreat, we don't forget."
"We take care of those who are grieving and when that's finished, they should know we will follow them to the gates of hell until they are brought to justice," Biden said. "Because hell is where they'll reside."
Remarks from Washington followed a Cobra meeting in the UK chaired by Prime Minister David Cameron, where the government said it is considering "every possible option" to protect the British hostage.
The Foreign Secretary Philip Hammond also confirmed there had been an unsuccessful US-led attempt at rescuing the British man shown in a video of the beheading of Mr Sotloff.
When asked what the UK could do in terms of attempting to extricate the British hostage, Mr Hammond responded: "You are aware of course of the rescue attempt that took place some time ago, unfortunately unsuccessfully.
"You wouldn't expect me to discuss the various options we will be considering, but I can assure you we will look at every possible option to protect this person."
Mr Hammond said analysis of footage of both Mr Sotloff's murder and Mr Foley's death appears to show the militant is the same man in both, the so-called 'Jihadi John', who speaks with a distinctive London or south-east accent.
Mr Sotloff, a 31-year-old from the Miami, Florida, area who freelanced for Time and Foreign Policy magazines, vanished a year ago in Syria and was not seen again until he appeared in the video that showed Mr Foley's beheading.
Many have accused the President of dithering after he said in a White House press briefing last Thursday: "We don't have a strategy yet," to confront the militant group's activities across the Middle East.
Mr Obama has approved over 120 strikes in Iraq but has not yet confirmed plans for Syria.
The masked man in the video directly addresses Mr Obama before killing Mr Sotloff, saying: "I'm back, Obama, and I'm back because of your arrogant foreign policy towards the Islamic State, because of your insistence on continuing your bombings and in Amerli, Zumar and the Mosul Dam, despite our serious warnings."
"So just as your missiles continue to strike our people, our knife will continue to strike the necks of your people."
In the video, Mr Sotloff describes himself as "paying the price" with his life for the US intervention in Iraq.
The White House said Mr Obama is sending three top officials - Secretary of State John Kerry, Defence Secretary Chuck Hagel and counter terrorism adviser Lisa Monaco - to the Middle East "in the near-term to build a stronger regional partnership" against Isis.
Mr Obama has also ordered 50 more US military personnel to protect the large American embassy in Baghdad.
The Obama administration, which verified the authenticity of the video today, said it "is sickened by this brutal act taking the life of another innocent American citizen".
Join our new commenting forum
Join thought-provoking conversations, follow other Independent readers and see their replies