Suruc bombings: Turkish President accused of not doing enough to help Kurds fight Isis threat across its border in Syria
Recep Tayyip Erdogan facing fresh crisis, with rioting, mass arrests and the execution of two police officers in the wake of Monday's deadly attack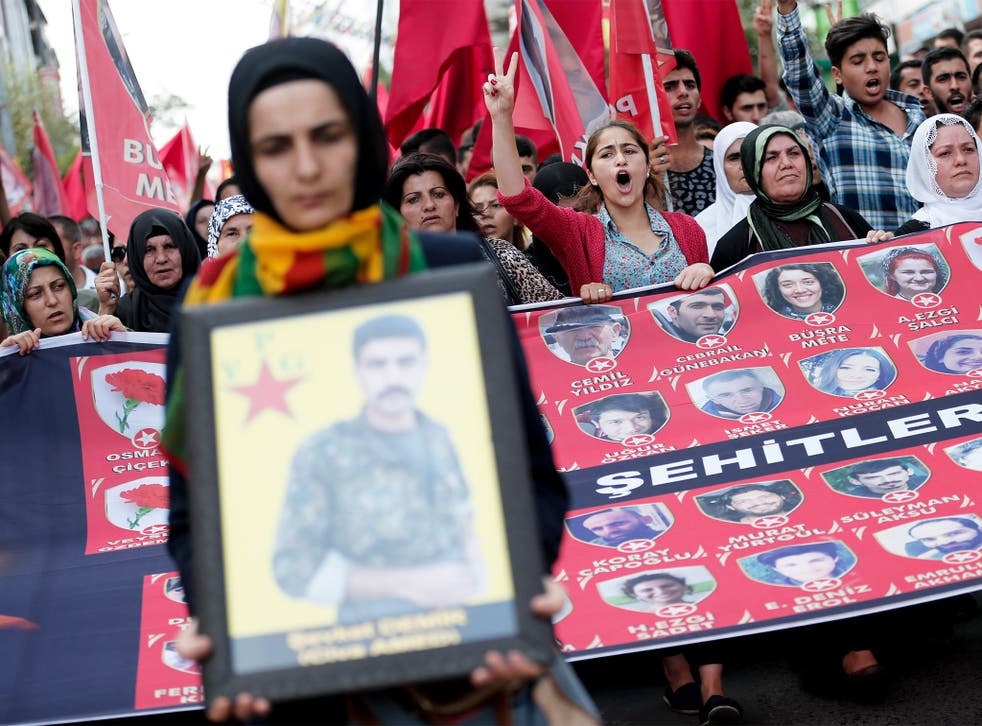 A suspected Isis suicide bombing on Turkish soil has plunged the government of President Recep Tayyip Erdogan into fresh crisis, triggering rioting, mass arrests and the execution of two police officers.
Turkish authorities, already condemned for failing to prevent the passage of Islamists along its porous border with Syria, have identified the 20-year-old who detonated a bomb in the mostly-Kurdish border town of Suruc on Monday, killing 32 people.
Seyh Abdurrahman Alagoz was said to have been an ethnic Kurd from Turkey's south-eastern province of Adiyaman, with links to Isis. Kurdish militia have been fighting Isis in Syria, and recently forced the jihadists from the border town of Kobani. Turkey has faced criticism for failing to aid the Kurdish fight against Isis.
Alagoz's older brother reportedly ran a tea house where Isis was believed to have recruited followers. The brothers disappeared six months ago and had been reported missing by their family, which lives in Adiyaman, the province north of Suruc. Both men were wanted as "missing persons with possible terrorism traits".
The Radikal newspaper quoted Alagoz's mother as saying he was a former student at Adiyaman university who had worked as a painter with his 25-year-old brother before going abroad. "I don't know what they were doing abroad, they never said," said Semure Alagoz. "I don't know where he is now. I don't know if they joined Isis, if they went for jihad. They are both good kids, they wouldn't harm anyone."
The bombing in Suruc led to a swift Kurdish retaliation. In the town of Ceylanpinar, 100 miles east of Suruc on the Turkish border, the Kurdish militant group, the Kurdistan Workers Party (PKK), killed two Turkish police officers in a house they shared as "punishment" for alleged collaboration with Isis gangs. The governor of Ceylanpinar, Ahmet Karatepe, said: "I knew them well, I'm so upset. It was pure terrorism." Both officers were said to have been shot in the head.
In the face of the increased security threats, Turkey's Interior Ministry cancelled all leave for all police staff until further notice.
While Prime Minister Ahmet Davutoglu met his cabinet to discuss increased security measures along the 550-mile Turkish-Syrian border, riots raged across Turkey.
Protesters accused the government of supporting Isis and chanted: "Erdogan is a murderer."
President Erdogan responded by pledging a swift investigation after the "brutal act of terror" in Suruc.
In Istanbul, rallies quickly became violent as riot police fired tear gas and rubber bullets at protesters who were letting off fireworks.
The state Anadolu news agency reported that police seized three hand-made cluster bombs, 203 Molotov cocktails, a pump-action rifle, a blank-firing pistol, 125 pieces of ammunition, two firework-launching platforms and 40 boxes of fireworks. More than 60 arrests were made.
The pro-Kurdish HDP party leader Selahattin Demirtas accused Mr Davutoglu and Mr Erdogan of supporting Isis. "Mr Davutoglu, if you're not aware of the support given to Isis in Turkey, you have yet to become a prime minister. It's worse if it's all happening within your knowledge," he said as he visited Suruc.

Mr Davutoglu, who has emphatically denied any support – direct or indirect – for Isis, is expected to announce an "action plan" to tighten the country's border with Syria. One long-term Turkish objective is to create a "buffer zone" across the border in Syria where Kurdish militia are fighting Isis. But Ankara faces a tough decision if it is to maintain the precarious balance between preventing more Isis attacks at the same time as tensions increase with the Kurds.
Turkey has already increased its military presence along the border and has formally committed to training Syrian rebels to fight Isis. While its ruling AKP party won the most votes in July's election, it does not have a majority and is in the middle of protracted coalition talks.
The second edition of Isis propaganda magazine Konstantiniyye, aimed at recruiting Turkish jihadis, last week made a direct threat against the Turkish government. They accused President Erdogan of supporting its decades-long rival, the PKK, and said he must be "punished".
Join our new commenting forum
Join thought-provoking conversations, follow other Independent readers and see their replies