Symbol of oppression or expression of faith? How viewpoints on the veil vary
A major new social-attitudes survey on head covering in the Middle East finds that few people are in favour of the burka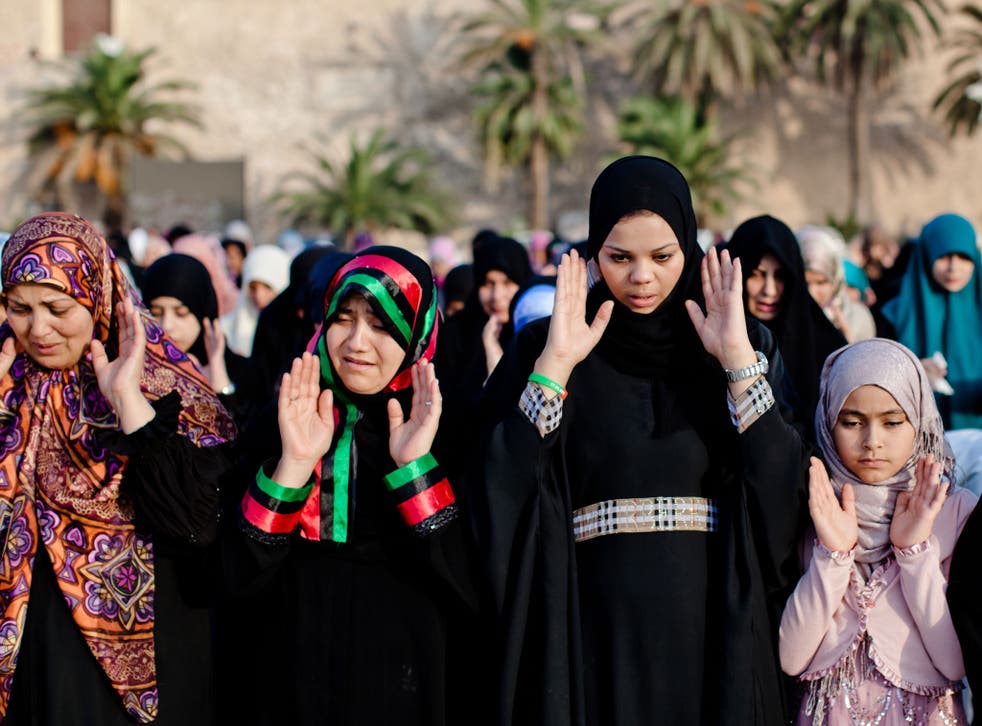 For some it is a potent symbol of the oppression of women by Islam, while others see it as an expression of faith that should be allowed in a free society.
But now a major new social-attitudes survey has found tiny levels of support for the wearing of a full-face veil in much of the Middle East.
A close-fitting scarf that covered the woman's hair got the highest level of support, with 44 per cent of respondents saying this was the "most appropriate" form of dress, compared with just 8 per cent who favoured the niqab, a full-face veil that covers everything but the eyes.
The full-face veil has become a touchstone issue for many countries, with France going so far as to introduce a "burqa ban" in 2011; women wearing a veil there can be sent to prison.
The survey – of men and women in Tunisia, Egypt, Lebanon, Saudi Arabia, Turkey, Iraq and Pakistan – found some sharp differences across the region.
Nearly 50 per cent of people in Lebanon thought no head covering should be worn, while 63 per cent of people in Saudi Arabia favoured a full-face veil. The niqab was also relatively popular in Pakistan with support from 32 per cent of those polled. But support in the other countries ranged from 1 per cent in Lebanon to 9 per cent in Egypt.
A veil that covers the face entirely with a mesh to enable the woman to see won support from just 2 per cent of respondents across all the countries.
The researchers also asked whether women should be able to choose their own clothing. Just 14 per cent agreed with this in Egypt, with 22 per cent in Pakistan and 27 per cent in Iraq. The idea won support from 47 per cent in Saudi Arabia, 49 per cent in Lebanon, 52 per cent in Turkey and 56 per cent in Tunisia.
Professor Mansoor Moaddel, principal investigator in the report by the University of Michigan's Institute for Social Research, said attitudes to women's dress were closely related to wider views on gender equality and social values.
"All of the countries except Egypt are showing trends towards increased equality for women and a move towards political secularism," he said.
"People from these countries have seen the extremism of Islamic governments or witnessed terrorism and political violence, and are taking the position that it's not something valuable for their countries."
Professor Moaddel said that there was a backlash in the 1960s and 1970s when some governments tried to force secularisation on the public.
Some conservative and fundamental groups oppose women's liberation and the relaxing of dress codes as a symptom of a "Western cultural invasion" and the eroding of Islamic identity, he said.
In France, the law designed to ban full-face veils made it illegal to wear veils, masks or balaclavas in public.
Although politicians favouring the ban argued facial coverings make identification and communication difficult and encroach on women's freedoms, many argued that it has diminished their rights of expression.
On Wednesday, a French court dismissed a young woman's bid to have the law declared unconstitutional. Cassandra Belin, 20, was given a suspended one-month prison sentence for wearing a full-face veil in public and insulting and threatening police officers. Her arrest in July sparked two days of rioting in the town of Trappes, near Paris.
The European Court of Human Rights is due to hear a case brought by a French Muslim against the burqa ban later this year.
The University of Michigan's survey also looked into changing values in society generally since the Arab Spring, including views on government, religious tolerance and individualism.
The majority of Pakistanis, Saudis and Egyptians supported sharia – Islamic law – it found, whereas it was favoured by a smaller proportion in Iraq, Lebanon and Tunisia.
An Islamic, rather than secular, government was also unpopular in most places.