Syrian man who filmed his daughters being sent on suicide mission is killed
Abu Nimr, also known as Abdurrahman Shadad, is shot by 'unknown militiamen'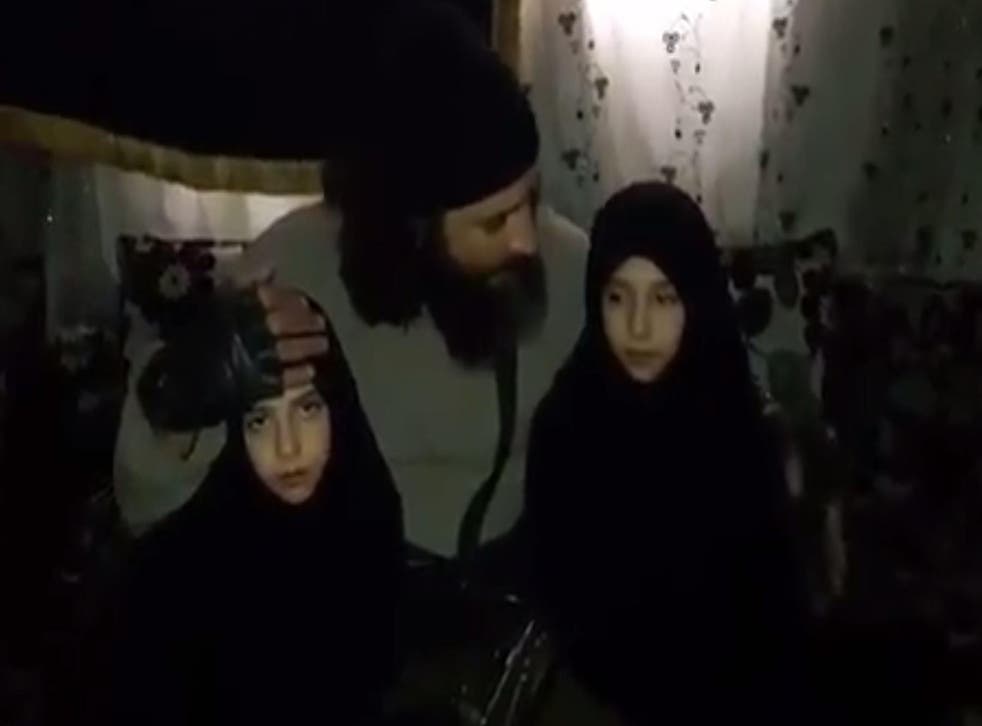 A Jabhat Fatah al-Sham (JFS) operative has been killed in Damascus just weeks after he filmed his daughters talking to him about being part of a suicide bombing.
Abu Nimr, also known as Abdurrahman Shadad, was shot and fatally injured by "unknown militiamen", thought to be members of JFS, according to the Syrian Observatory of Human Rights (SOHR).
In two videos, Nimr, a well-known member of JFS, the newly adopted name of al-Nusra, or al-Qaeda in Syria, filmed his wife saying goodbye to eight-year-old Fatimah and seven-year-old Islam.
The footage showed Nimr talking to his two daughters, asking them: "You want to surrender so that you're raped and killed by the infidels? You want to kill them, no? We're a glorious religion, not a religion of humiliation, isn't that so darling?"
The video emerged after Nimr booby-trapped his oldest daughter and detonated her in al-Midan police station in Damascus.
The SOHR reported that JFS had assassinated Nimr, despite him working for them. The motive behind the killing was not known.
World news in pictures

Show all 50
"We in the Syrian Observatory for Human Rights condemn this crime against the Syrian girl Fatima and her sister, and condemn this act which [resulted in] nothing but the death of a child in her early life, and deprived her of her basic right to live," the SOHR said.
Register for free to continue reading
Registration is a free and easy way to support our truly independent journalism
By registering, you will also enjoy limited access to Premium articles, exclusive newsletters, commenting, and virtual events with our leading journalists
Already have an account? sign in
Register for free to continue reading
Registration is a free and easy way to support our truly independent journalism
By registering, you will also enjoy limited access to Premium articles, exclusive newsletters, commenting, and virtual events with our leading journalists
Already have an account? sign in
Join our new commenting forum
Join thought-provoking conversations, follow other Independent readers and see their replies