Syrian civil war: Clashes between Assad troops and jihadist alliance near Aleppo leave 73 dead
Opposition fighters say they have taken control of the village of Khan Touman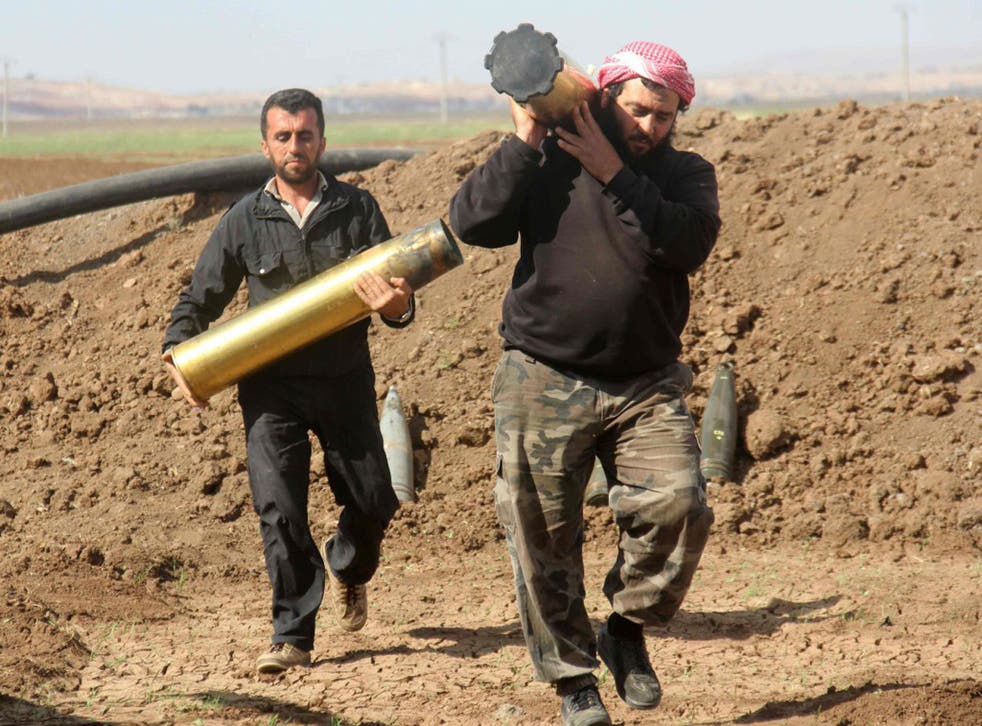 Scores of people have been killed in fighting near the Syrian city of Aleppo, observers have said.
Seventy-three people were killed at Khan Touman, a village just four miles from embattled Aleppo and part of the Syrian government's southern defensive line of the city.
The fighting has signalled the re-emergence of a powerful, ultraconservative insurgent coalition, who claim to have siezed control of the village. However, government sources denied it had fallen to the opposition.
Forces loyal to the government of President Bashar al-Assad fought Jaish al-Fatah, or Army of Conquest, an umbrella group of hard-line jihadist factions, including the al-Qaeda affiliated Al-Nusra Front, Ahrar al-Sham and the "suicidal" Jund al-Aqsa. These groups have not participated in the attempted peace negotiations. The Free Syrian Army denied involvement in the attack.
At least 43 opposition fighters and 30 government soldiers fighters were killed in the fighting, according to the UK-based Syrian Observatory for Human Rights, which closely monitors the Syrian Civil War and has numerous contacts in the country.
In pictures: Russian air strikes in Syria

Show all 19
"Throughout the night the battles were very intense," Abu al-Baraa al-Hamawi, a fighter from Ajnad al-Sham group, told Reuters. "Areas south of Khan Touman have been liberated."
Fighting began on Thursday afternoon and opposition media activists said the insurgents took control of Khan Touman early on Friday morning. The clashes reportedly included strikes on the opposition fighters by fighter jets.
The Army of Conquest group has struggled to remain united in times of relative peace, according to activists, but the recent collapse of the cease-fire and resumption of hostilities in April appears to have reunified the anti-government opposition. Non jihadist factions also took part in the attack on Khan Touman.
But the Army of Conquest is internally divided over who it considers enemies and how it rules areas under its control.
"The suicidal Jund al-Aqsa brigade is ideologically close to Daesh," said UK-based Syrian activist Asaad Kanjo, using the Arabic acronym for Isis. "Aqsa said it didn't want to fight Daesh and withdrew from the coalition when that was suggested."
However, Mr Kanjo believed a return to peace would once again fragment the Army of Conquest coalition.
The fighting comes just one day after the Sarmada refugee camp, near the Turkish border, was hit by air strikes, killing at least 28 civilians. The UN denounced the attack as a possible war crime, but Syrian regime sources have denied involvement.
Press Association contributed to this report.
Join our new commenting forum
Join thought-provoking conversations, follow other Independent readers and see their replies