Syria ceasefire: Why the 'temporary truce' is not all that it seems
Russia and Syria say they will still bomb 'terrorist organisations' - but their definition of  'terrorist'  is different to ours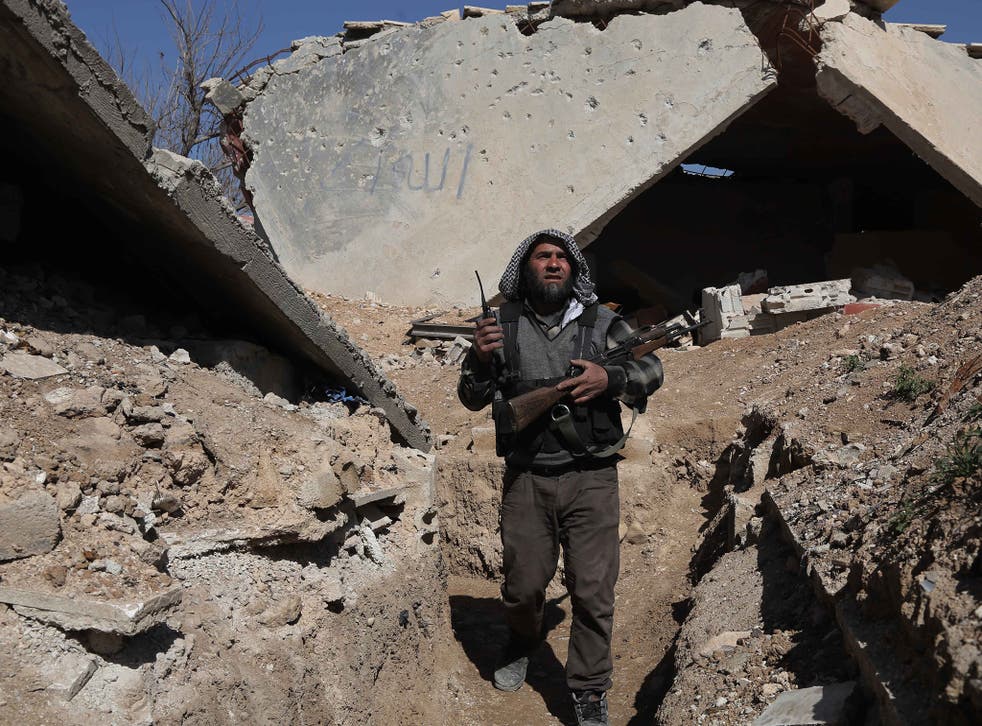 A top Russian military official has said the country's military will suspend its bombing campaign in Syria for 24 hours in all areas of where armed groups said they would abide by a ceasefire, going further than terms initially set out in a cessation of hostilities agreement brokered with the US.
Major General Sergei Rudskoy said: "The Russian Federation has completely stopped attacks in the 'green zone', that is to say those areas and armed units that have sent to us requests for ceasefire".
Initially, Russia said it would respect the informal ceasefire agreement, but that it would continue to target terror groups in the region with air strikes.
The cessation of hostilities came into force at midnight on Friday but it has already reportedly been breached by pro-Assad forces.
The UK's ambassador to the United Nations, Matthew Rycroft, welcomed the ceasefire saying it could be "the most significant step forward in the past five years" but said much more needed to be done as the deal did not cover several groups operating in the country - including Isis and Jabjat al Nusra.
While the deal has been lauded as a positive step for Syria, it is not a ceasefire in the strictest terms. Here's why:
Isis and Jabhat al-Nusra are not included in the deal
Terrorist organisations Isis and its al-Qaeda linked rival Jabhat al-Nusra have not been included in the talks so all territory they currently control can be attacked without violating the terms of the deal.
Currently Aleppo is under siege from government forces who are sweeping through the region and pushing back the rebels which have controlled the city since 2012.
In pictures: Russian air strikes in Syria

Show all 19
Among the coalition of rebels who still control a portion of the city - which was largest in the country when the war started - is Jabhat al-Nusra which means Assad troops can continue their assault.
According to Charles Lister, an American consultant on the Middle East, activists were reporting shelling and heavy machine gun fire in areas in the north of the Aleppo region.
Moreover terror groups have continued to attack both the government and areas controlled by other rebel groups.
A car bomb attack on the government-controlled town of Salamiyeh which killed two people just two hours after the ceasefire came into effect was blamed on Isis although they have not officially claimed responsibility.
Moscow and Damascus says they will continue to target groups they deems 'terrorists'
Because UN-designated terror groups such as Isis and Jabhat al-Nusra are not part of the ceasefire agreement, pro-Assad forces have said they will continue to target what they deem "terrorist organisations".
But Russia has always claimed it is only targeting terrorists since it started air strikes in September last year but there have been numerous reports that they are attacking non-Islamist and moderate rebel factions as well.
The Russian Ministry of Defence tweeted to say they would implement their ceasefire "obligations" but that did not mean "terrorists can give a [sigh] of relief [sic]".
It doesn't look like the ceasefire is holding
Although monitoring groups have said a sense of "calm" has descended, rebel group Jaish al-Islam in the Latakia province said government forces have used barrel bombs against them - killing three people.
Mr Lister reported on Twitter that regime forces had been of at least nine ceasefire violations and at least three appear to be geunine.
On Saturday, the Syria Rising Twitter account posted a video made by unnamed militant groups who refused to abide by the terms of the truce and will continue fighting.
It may go nowhere
UN officials are hopeful that if the ceasefire agreement lasts they will be able to negotiate a more longer term settlement when the government and the rebels meet again for talks in Geneva, Switzerland on 7 March.
But the last round of talks were "temporarily halted" earlier this month after the army broke through a major supply line connecting Aleppo to the Turkish border and advanced on the besieged towns of Nubul and Zahraa.
UN envoy Staffan de Mistura, who suspended the talks, said at the time "this is not the end, and it is not the failure of the talks" and insisted both sides were "interested in [getting] the political process started".
At least 250,000 people have been killed over the course of the five conflict - with some monitoring groups on the ground reporting that the figure could be as high as 470,000.
Additional reporting by agencies
Join our new commenting forum
Join thought-provoking conversations, follow other Independent readers and see their replies