Syria 'chlorine' gas attacks: Three children among those killed after bombs are allegedly dropped on Sarmin by Assad regime
Disturbing videos purportedly show children unconscious after being hit by gas attack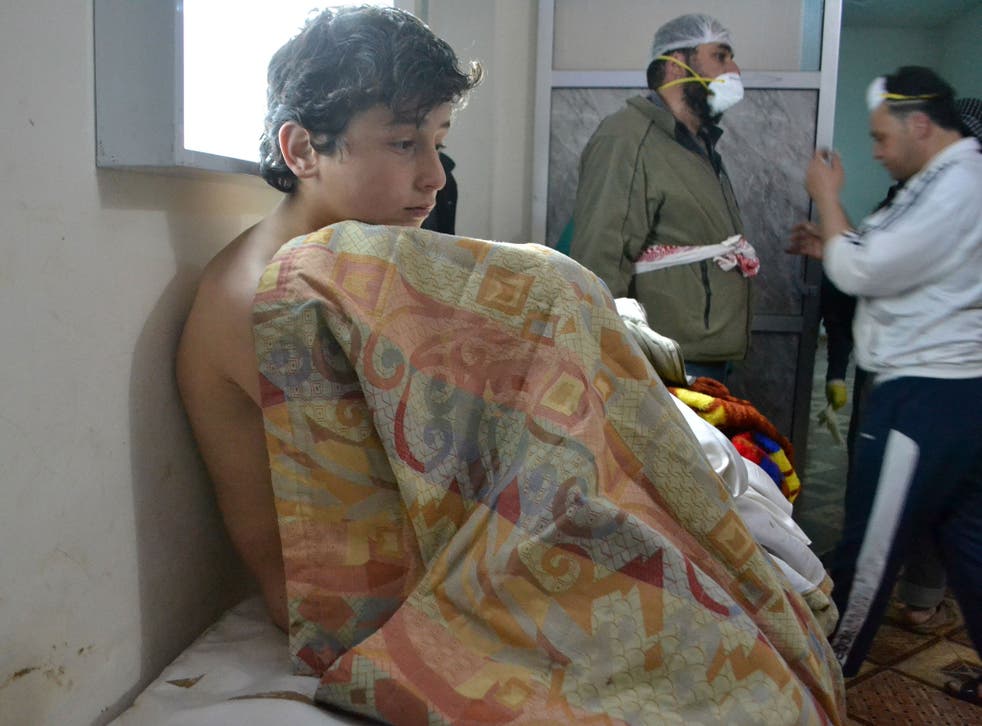 Syrian government forces allegedly carried out a suspected gas attack that killed a family of six, including three children, a Syrian human rights watchdog has claimed.
The Britain-based Syrian Observatory for Human Rights (SOHR) said alleged gas attacks on the north-eastern town of Sarmin also injured dozens more civilians.
The Observatory said those injured suffered from "suffocation" after "barrel bombardment".
It quoted sources who said those killed in the attack included a man, his wife, their three children and a grandmother. The SOHR also cited medical sources as saying they died as a result of gas from barrel bombs containing a chemical likely to be chlorine.
The Idlib branch of the Syrian Civil Defence rescue organisation, which operates in insurgent-held areas, posted seven disturbing videos on YouTube, some after dark and some in what appeared to be a medical centre.
One video showed three children and a woman, all apparently unconscious, in a medical centre. A voice off camera said the name of the town, Sarmin, and said the date was Monday 16 March.
"One of the infants, only a few months old," a male voice can be heard saying as he films a baby on a gurney with liquid around its mouth. Two more infants with limp bodies are brought in, one by a man wearing a gas mask and another carrying a young girl.
"She's still alive doctor," a man checking the girl says. "Doctor, doctor, she is still breathing." The condition of all of the children is not clear.
One woman, who appears not to be moving, is shown on the camera as a "fatality".
The authenticity of the video could not be immediately verified.
In pictures: Syria conflict

Show all 40
Earlier, Amnesty International said Syrian government air strikes on the Isis stronghold of Raqqa on 25 November killed dozens of civilians.
The human rights group said it had evidence of a series of air strikes between 11 November and 29 November that killed up to 115 civilians, including 14 children.
Amnesty said the "unlawful" killings violated international humanitarian law and some of the attacks could amount to war crimes.
Amnesty said the air strikes included attacks on a mosque and a busy market "crammed full of civilians" as well as some buildings not being used for military purposes.
Syrian President Bashar al-Assad has always denied the highly-controversial use of barrel-bombs by his forces, despite overwhelming evidence suggesting they are dropped on rebel-held areas.
He also denied using chlorine gas as part of a chemical weapons attack against his own people, claiming the substance was more likely to be found in households than within the military.
Syria's suspected chemical weapon attack in Syria almost led Britain to war in 2013.
Additional reporting by agencies
Join our new commenting forum
Join thought-provoking conversations, follow other Independent readers and see their replies