Syria civil war: The harrowing testament of a five-year-old victim of this endless conflict
Sahar Qanbar lost her mother and brother as civilians and government soldiers fought side by side after being surrounded by brutal Islamist fighters. Robert Fisk visited her in Latakia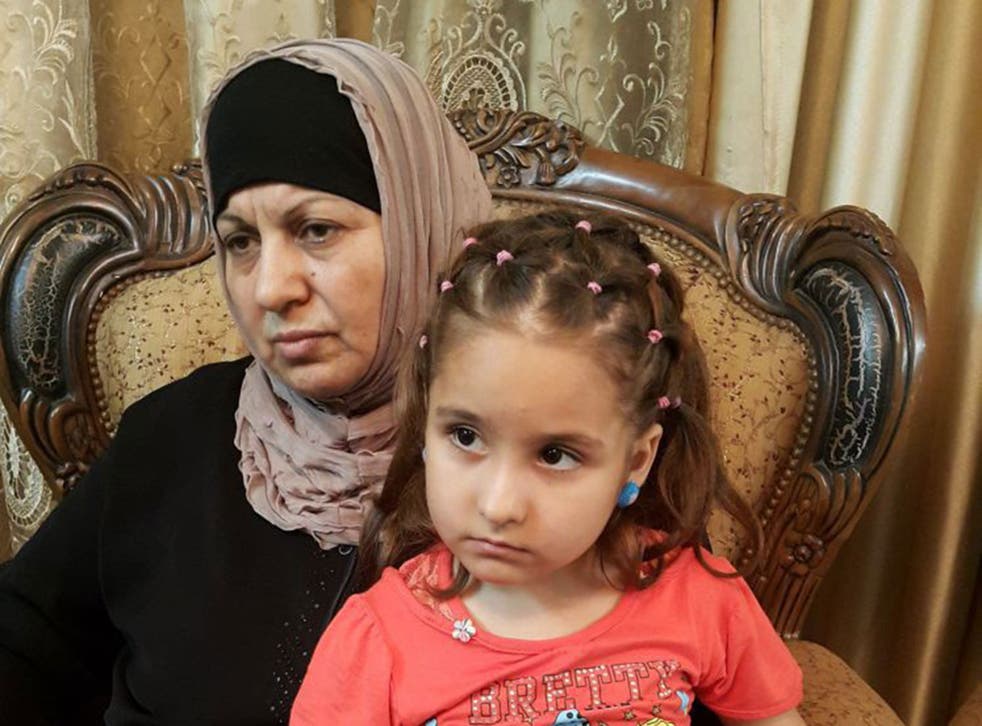 The only thing as heartbreaking as Sahar Qanbar's smile is her story. Simple and terrible, it leaves any visitor to her grandmother's home with an unfathomable question: how much can a five-year-old girl understand when she says of her brother Hashem and her mother Asma, quite literally: "Hashem was martyred. Mummy was wounded. Both of them were martyred."
"Martyrdom" is a word which Arabs use of the dead without affectation. In the West, we might say that loved ones "lost their lives". But can Sahar, holding a child's notebook of her drawings of flowers and trees and butterflies – yes, and guns – truly comprehend the end of her family's life? The tragedy of Sahar Qanbar begins and finishes in the nondescript Syrian town of Jisr al-Shugour on the Orontes River, on the edge of Idlib province, which is almost entirely lost to the Syrian government of Bashar al-Assad. An army of Islamist fighters surrounded its inhabitants and hundreds of regime soldiers less than two months ago. Only now that a pitiful few of the trapped civilians and soldiers have made it to safety behind new military lines is the Assad government revealing the scale of the suffering which its people endured during a rebel assault as brutal as that of Islamist fighters on Iraqi troops in Ramadi a few days later.
Unlike Ramadi in Iraq, however, the Syrian army fought – and, in dozens of cases, died – along with many civilians, including Sahar Qanbar's 30-year-old mother Asma and 10-year-old brother Hashem.
Their deaths must, for now, remain officially unproven, along with the fate of perhaps 300 other civilians and soldiers, most of them Sunni Muslims – the same faith as that of their killers. There were Alawites among them – the same Shia sect as the Syrian President – some already driven from a village on the edge of Jisr al-Shugour. But the soldiers came from all over Syria, including towns deep within the so-called "Islamic State" which now threatens both Iraq and Syria. Sahar's story must therefore begin with the only adult relative who can speak with authority of the days when an alliance of Islamists, calling themselves the "Army of Conquest", bore down on the government-held town beside the Orontes River of antiquity.
Sahar's grandmother, Asia Marai, recalls slowly and carefully the phone call she received from her daughter Asma, a teacher at the government school in the town.
All the while, Sahar, dressed in a bright red blouse with "Bretty" printed on the front in English – in Arabic, the letter "p" does not exist – smiles and looks at her book of drawings, frowning slightly at the foreigners who have suddenly, briefly and with unforgivable intrusion, burst into her little life.
"My daughter called me on the phone and said that she could see all the people leaving Jisr al-Shugour," Asia Marai says. "She asked me: 'What shall I do?' I said: 'Go after them'. I asked where the people were going and Asma said 'to the hospital' and I told her to go there too. I told her to call me when she reached the hospital. I heard nothing for five days and then she called me again. She said one of the soldiers had lent her his phone.
"We had little time for any real conversation. All I could do was reassure her. I said: 'Don't worry, my child, you will be all right – surely, they will manage to solve this'."
All civil wars contain their mysteries, and Asia Marai was uneasy when I asked about her son-in-law. Her daughter and her daughter's husband – Sahar and Hashem's father – were separated, she implied.
Later, we would hear a story that the father died early in the Syrian war, that he was a government civil servant killed by a relative who supported the rebels. There was even a cruel rumour that he was sympathetic to the opposition and that this had caused a rift in the family. In any event, Asma was alone in the hospital with Sahar and Hashem.
For 35 days, under continual attack, they remained with hundreds of other civilians and soldiers in the medical complex, a civilian hospital which also included a military wing for soldiers wounded in the war. Food was dropped to them by army helicopters. "I received another phone call from Asma and our conversation was the same," Asia Marai says. "We had little time. I tried to reassure her. Then, almost two weeks ago, I heard the news on television that the rebels had broken into the hospital."
A Syrian government plan to break through rebel lines to rescue those trapped in the hospital had to be abandoned when army officers learned that the rebels had tunnelled under the hospital and were going to blow it up with explosives.
The soldiers inside were ordered to break out, protecting the civilians who fled with them. Asia Marai was told that survivors were being brought to the military hospital in Latakia and she waited there for news of her daughter and grandchildren.
"Then I saw my Sahar with one of the soldiers, and I rushed to her and asked them to give her to me and they put her in my arms. The soldier told me that Asma and Sahar and Hashem were together when they ran from the hospital and that he was with them. The rebels were firing at everyone and he said that he told Asma that he would carry Sahar. He said that Hashem was wounded then and fell down and that my daughter fell on top of him to protect him but that he could not go back for them but clung on to Sahar."
Asia Marai knows the soldier's name – Bassil Hammoud – and that he was wounded in the leg, and she says she tried to get back in touch with him and to give him some gifts for saving Sahar's life. But she could not find Hammoud again. This was all she learned of her family's fate.
It seemed a perverse thing to do, perhaps, to ask so small and fragile a child to tell her of her own experiences, but all Sahar could tell us was, of course, a child's story. "We left the hospital and I was holding Mummy's hand and the soldier picked me up and we ran away. Hashem was martyred. Mummy was wounded. Both of them were martyred."
Asia Marai says that the soldier told her the same story. "I asked the hospital if they had any record of dead bodies," she said. "They said they didn't have a record."
Sahar showed off her drawings in the notebook her grandmother gave her after she arrived at the family's home in central Latakia. It is a heavily furnished apartment with a copy of the Koran prominently displayed on a table and a faux-Regency cloth picture on the sitting-room wall. Sahar's notebook contained sketches in Biro of trees and a house and butterflies and a woman and several pages with triangular images of guns, one of them firing big blobs into the sky. Sahar said she did not know who the woman in her picture was, but she had written the names Hashem and Sahar in Arabic on one of the pages, some of which contained tables of mathematics.
She said she did not remember what she ate in the hospital and could not remember how long she was there – 35 days – but that there was much noise. She wanted to complete her final school exam – she is a first-grader – and said she now played all day at her grandmother's home but that all her friends were left behind in Jisr al-Shugour.
When we spoke to her, an army officer arrived at the house and suggested to Asia Marai that she consider going to Jisr al-Shugour herself, that because she was 60, she would not be harmed and that perhaps she could find Hashem.
The little girl did not hear this conversation and turned the pages of her notebook, lost in her own world. "I want to keep her here and look after her," Asia Marai said. "I want to educate her. She is the only thing I have left of my daughter's soul."
Join our new commenting forum
Join thought-provoking conversations, follow other Independent readers and see their replies