Syria civil war: Saudi Arabia ready to send ground troops into the conflict, but fears of sectarian strife remain
The Kingdom's soldiers will be there to fight Isis, but they will also find themselves in the same battle space as Iran and its allies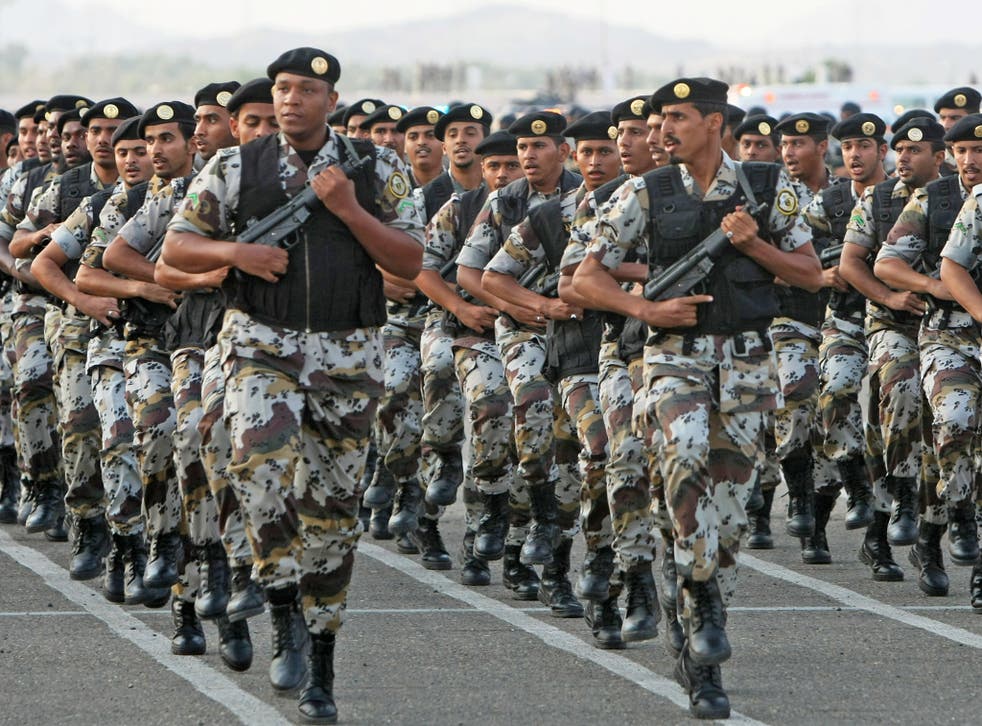 Contentious and hugely significant proposals for Saudi Arabia to lead troops into the Syrian civil war will be under consideration at an international summit, with Gulf states pressing hard for ground operations to begin.
The Defence Secretaries of the US and Britain, Ashton Carter and Michael Fallon, along with colleagues from Western governments, will meet senior officials from the Kingdom, other Gulf States and Turkish officials to discuss an expansion of operations at a time when violence has dramatically increased with a regime assault, backed by Russian air strikes, in Aleppo.
Bahrain and the United Arab Emirates have offered to join Saudi Arabia in sending forces. Diplomatic sources suggest one option being looked at is for them to join Turkish troops in establishing a "safety zone" inside Syria. It is believed that officials from Ankara have been holding talks with their Saudi counterparts on this issue. The arrival of tens and thousands of refugees fleeing fighting in Aleppo has added impetus in Turkey for the establishment of a secure area.
The Saudi delegation in Brussels is led by Prince Mohammed bin Salman, the defence minister. The 31-year-old is viewed as the power behind the throne of his father, King Salman. He is said to be an advocate of the Kingdom playing a more active role in Syria, ostensibly to fight Isis. But an underlying reason, it is widely said, would be to support rebel fighters who have been losing territory to Bashar al-Assad's regime.
The Saudis believe they will get their way on troops. The Saudi foreign minister, Adel al-Jubeir, stressed after talks with John Kerry, the US Secretary of State, in Washington: "The US is very supportive and very positive about the Kingdom's readiness to provide special forces to the operation in Syria, should the international coalition make a decision to do so."
Syria's War: Refugees flee to Turkey for safety
But there are warnings of significant risks in having Gulf boots on the ground. The Sunni states, headed by Saudi Arabia, have engaged in a number of proxy wars with their bitter Shia enemy, Iran. One is currently raging in Yemen. In Syria they will find themselves in the same battle space as Iran and its allies, the Lebanese militia Hezbollah, bringing with it the spectre of unending sectarian strife.
It is individual member states in a counter-Isis coalition, rather than the Alliance itself, who are taking part in the talks on the Saudi proposal at Nato headquarters. The US has indicated it is in favour of greater military involvement by the Gulf states. Mr Carter confirmed he would be talking about ground troops. "There are lots of different ways that Saudi Arabia and Bahrain can contribute. One of them is on the ground," he said.
Mr Carter said he wanted to give leaders of the anti-Isis coalition "a clear view of what the operational plan is and all the capabilities which are needed against Isis". The US, Mr Carter said, was in combat alongside the Iraqi military, Kurdish fighters and Syrian rebels to sever Isis lines between Syria and Iraq.
He added: "The US is working with ground forces in Syria to fight Isil [Isis] to try and move on Raqqa and separate Raqqa from Mosul – basically cleave Isil in half." He said to include Gulf forces in that effort was a "good thing".
Syrian activist describes Aleppo devastation
Mr Fallon said: "We plan to hit Daesh [Isis] harder; reducing territory, targeting their infrastructure and freeing more people from their brutal regime. Regional allies must make further commitments."
Some UK officials maintain that a Saudi presence in Syria may actually lead to the Russians curbing their increasingly aggressive military action. This would not be in fear of Saudi fighting prowess, they say, but due to a desire not to damage commercial and diplomatic ties between the two countries.
The Saudis and the Russians, according to reports, have been taking part in secret talks to demarcate areas between Assad regime forces and its allies, and Syrian rebels, in the fight against Isis. Both Riyadh and Moscow hope to avoid clashes, and discussions have also taken place about the future of President Assad, without whose removal, say the Syrian opposition, there can be no peace. But joining a Turkish mission risks worsening relations between Russia and the Saudis. Ankara and Moscow have been engaged in increasingly bitter confrontation since the Turks shot down a Russian airplane in November. Recep Tayyip Erdogan's government has been severely critical of Moscow's role in the Aleppo offensive.
Ankara highlighted how security threats have risen, along with humanitarian concerns, from the Aleppo displacement. But Turkish Prime Minister Ahmet Davutoglu was also keen to hint of forward deployment and spoke about repaying a "historic debt" to the people of Aleppo. Referring to the Western campaign against the Ottoman Empire in the First World War, he declared: "At one time our brothers from Aleppo defended our cities… Now we will defend Aleppo: all of Turkey stands behind its defenders."
Western states are worried that an incursion by the Turks may bring them into conflict with the Kurdish YPG group, enemies of Ankara but valuable allies of the Americans against Isis. In the past Washington has refused to back Turkey in the creation of the safety zone. President Erdogan, in turn, has lashed out at Washington, charging that failure to recognise the YPG as a terrorist group was creating a "sea of blood".
A senior Western diplomat warned: "Military contributions from regional states would be welcome, but one must recognise the inherent risks involved in introducing more armed forces into a highly armed and volatile situation in which supposed allies have conflicting agendas."
Border arrests: '15kg explosives seized'
The Turkish military has arrested 34 people, including 20 children, 10 women and four men, after they allegedly tried to smuggle in explosives and four suicide vests from Syria.
The state-run Anadolu press agency, citing security sources, said the group, among thousands fleeing Syria for Turkey, were stopped in the Oguzeli district in Gaziantep province.
Security forces were reportedly acting in response to a tip-off.
The group's luggage contained up to 15kg of explosives. Investigators are examining the group's claimed link to Isis.
Join our new commenting forum
Join thought-provoking conversations, follow other Independent readers and see their replies