Syria civil war: Harrowing pictures of starving baby show horrors of the brutal conflict
Death of severely malnourished 35-day-old Samar Dofdaa one of many starvation-related tragedies in rebel-held east Ghouta, under siege by government forces 
Saturday 25 November 2017 18:20 GMT
Comments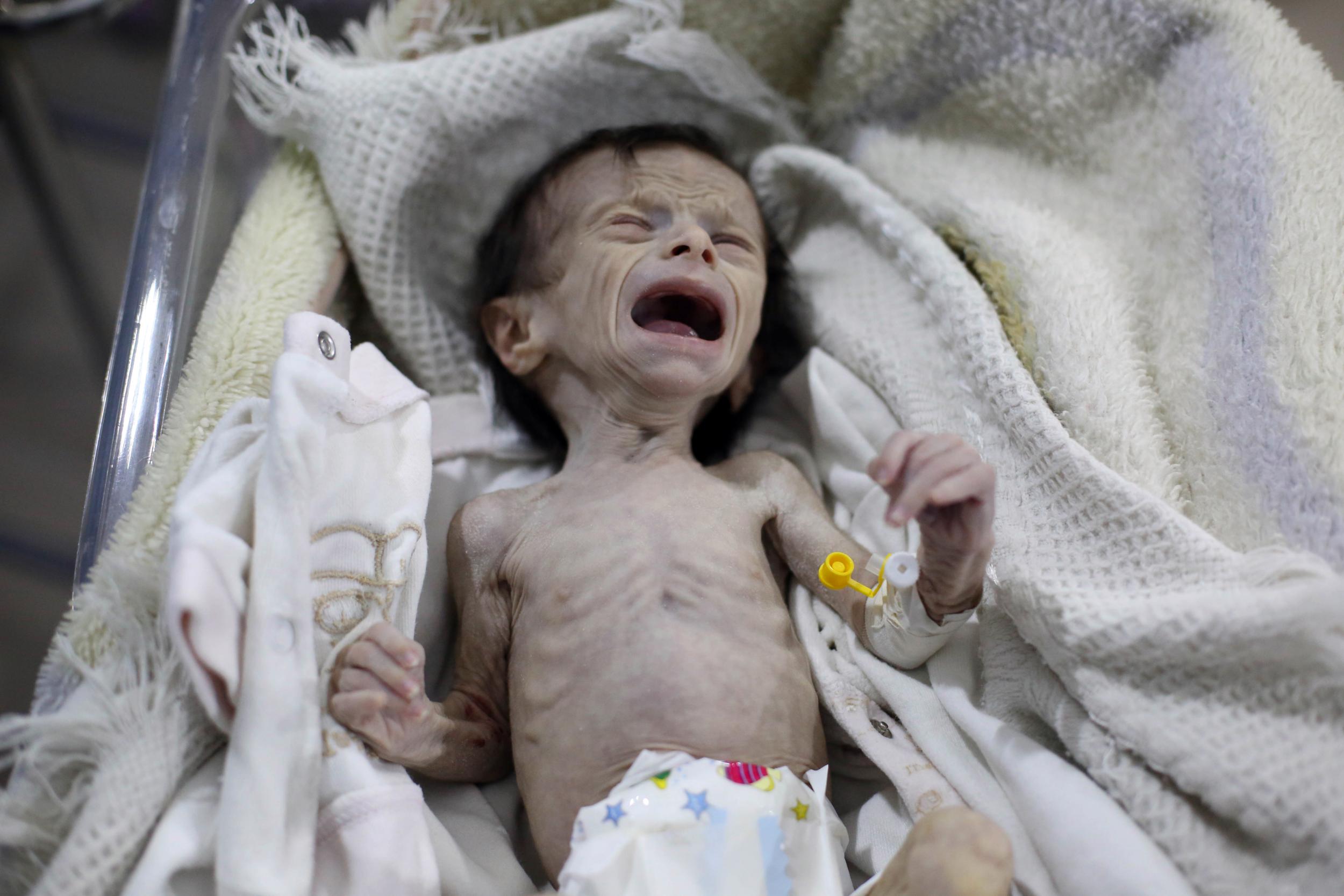 Distressing pictures of a baby on the brink of death have emerged from a rebel-held area of Syria, a tragic reminder of the horrors faced daily by civilians in the six-year-old war.
Acutely malnourished Samar Dofdaa was 34 days old when she was taken by her parents to a clinic in Hamouria in rebel-held east Ghouta on Saturday. She died the next day.
In photos and video from the hospital shared by activists, the baby is clearly in great distress but is too weak to make a noise when she cries. Her skin is stretched taut and translucent over her tiny frame and breathing is clearly a struggle.
A nurse said Samar weighed just 1.9 kg (four pounds) when she was admitted by her also malnourished mother, whose was unable to produce milk to feed her baby daughter.
The family's tragedy is just one of many such starvation stories in east Ghouta, which has been under siege by government forces since 2013.
While the bloodshed caused by international efforts to destroy Isis' caliphate is the focus of many of the news stories which emerge from Syria, elsewhere in the country, people are slowly dying under government sieges.
Syrians make fuel from plastic waste
Show all 8
Deliberate starvation of citizens is a war crime under the Fourth Geneva Convention, but the tactic has been effectively utilised by the regime over the years to inflame tensions between different rebel groups and turn civilians lacking food and medicine against opposition fighters.
While a deal brokered by Iran, Turkey and Russia earlier this year supposedly created four 'de-escalation zones' between various rebel factions and the government, monitors and rebels say fighting has continued on many fronts - and food and other vital supplies are still not reaching people in besieged communities.
The latest report on the situation from Siege Watch, a Syria monitor based in Washington DC, estimated that 821,200 people live in 34 areas without freedom of movement.
According to UN figures, the civil war - now in its seventh year - has killed almost 500,000 people and driven half of Syria's pre-war population of 20 million from their homes.
Join our commenting forum
Join thought-provoking conversations, follow other Independent readers and see their replies