Syria civil war: Vladimir Putin and Barack Obama will meet to discuss conflict
Moscow insists its latest intervention is aimed at crushing Isis, not keeping beleaguered President Assad in power. On the eve of the UN General Assembly, Alistair Dawber reports on the possibility of a game-changing deal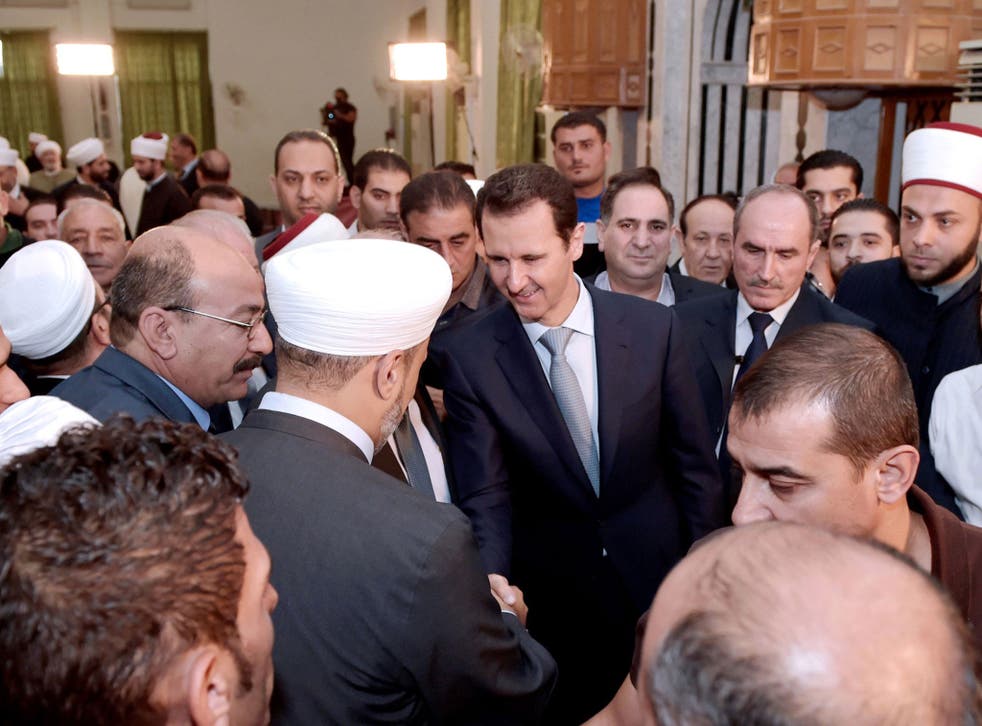 Amid suspicions in some Western nations that Vladimir Putin is using the Syrian conflict to flex Moscow's military might as he builds up the Russian presence in the country, Barack Obama and Mr Putin will meet in New York on Monday to discuss the crisis.
Russia has significantly increased its presence in recent weeks, supplying Syria's armed forces with combat and reconnaissance aircraft in an apparent attempt to bolster the position of President Bashar al-Assad.
The move has prompted a bout of hand-wringing among Western diplomats about what some see as Russian interference in a war that is now in its fifth year. Moscow has also begun unmanned air surveillance of Islamist strongholds and, according to the US, is planning to deploy some 2,000 troops to its military base at Latakia.
The French defence minister, Jean-Yves Le Drian, described the Russian moves as "very significant" and urged Moscow to come clean if its aim was "to protect President Bashar al-Assad".
This week, the Syrian air force, which has long been attacked for its indiscriminate use of barrel bombs in civilian areas, used Russian warplanes to strike Isis targets in northern Syria in an attempt to prise the Kweiris airbase in Aleppo province from the group's control. Russia has said that its presence in Syria is aimed at battling Isis, rather than protecting Assad.
Philip Hammond, the Foreign Secretary, and his French counterpart, Laurent Fabius, have met to discuss the crisis. This was followed by a dinner attended by both men, the German foreign minister, Frank-Walter Steinmeier, and the EU's top diplomat, Federica Mogherini. Sources at the Foreign Office said that they would be discussing the Syrian conflict.
Israel has already set up a joint mechanism with the Russian military to coordinate their operations in Syria, after the Israeli Prime Minister, Benjamin Netanyahu, met Mr Putin in Moscow this week.
The meeting between Mr Obama and Mr Putin comes of the eve of the UN General Assembly. The conference, American officials said, came at the request of the Russian President, and will be focused on the conflict in Ukraine in which Western nations accuse Russia of playing a role. However, Russian officials countered that the meeting was by "mutual" agreement and Syria would be the main topic. Either way, the situation in Syria, and Russia's sudden intervention there, will be doubtless form part of the discussion.
Mr Putin is expected to use his speech at the UN to call for a new UN-backed push against Isis and other Islamist groups operating in Syria. Experts say it is an area which he feels he has a common cause with Western leaders, who have attacked what they see as Russian aggression in Ukraine.
Fyodor Lukyanov, the editor of Russia in Global Affairs magazine, said Mr Putin's move in Syria is designed to "take the dialogue with the West out of the Ukrainian impasse".
But even before the meeting on Monday, Syrian officials claimed that Washington and Moscow have already reached a deal on ending the Syrian conflict "The current US administration wants to find a solution to the crisis in Syria. There is a tacit agreement between the US and Russia to reach this solution," Bouthaina Shaaban, an adviser to President Assad, said in an interview with state television on Wednesday.
"The US recognises now that Russia has profound knowledge of this region and a better assessment of the situation," she said. "The current international climate is heading towards detente and towards a solution for the crisis in Syria."
The US is unlikely to cede to Moscow's will over Syria, and has called for Assad to be removed from power as part of any deal to end the war. However, there is also a recognition in the West that Assad's presence and efforts to cling on to power are holding Isis at bay.
Join our new commenting forum
Join thought-provoking conversations, follow other Independent readers and see their replies