Aleppo: Russian and Syrian bombing kills 150 people in just two days, rescue workers say
Fresh wave of air strikes causes widespread devastation as Syrian government stops UN aid reaching rebel-held Aleppo
Thursday 13 October 2016 17:21 BST
Comments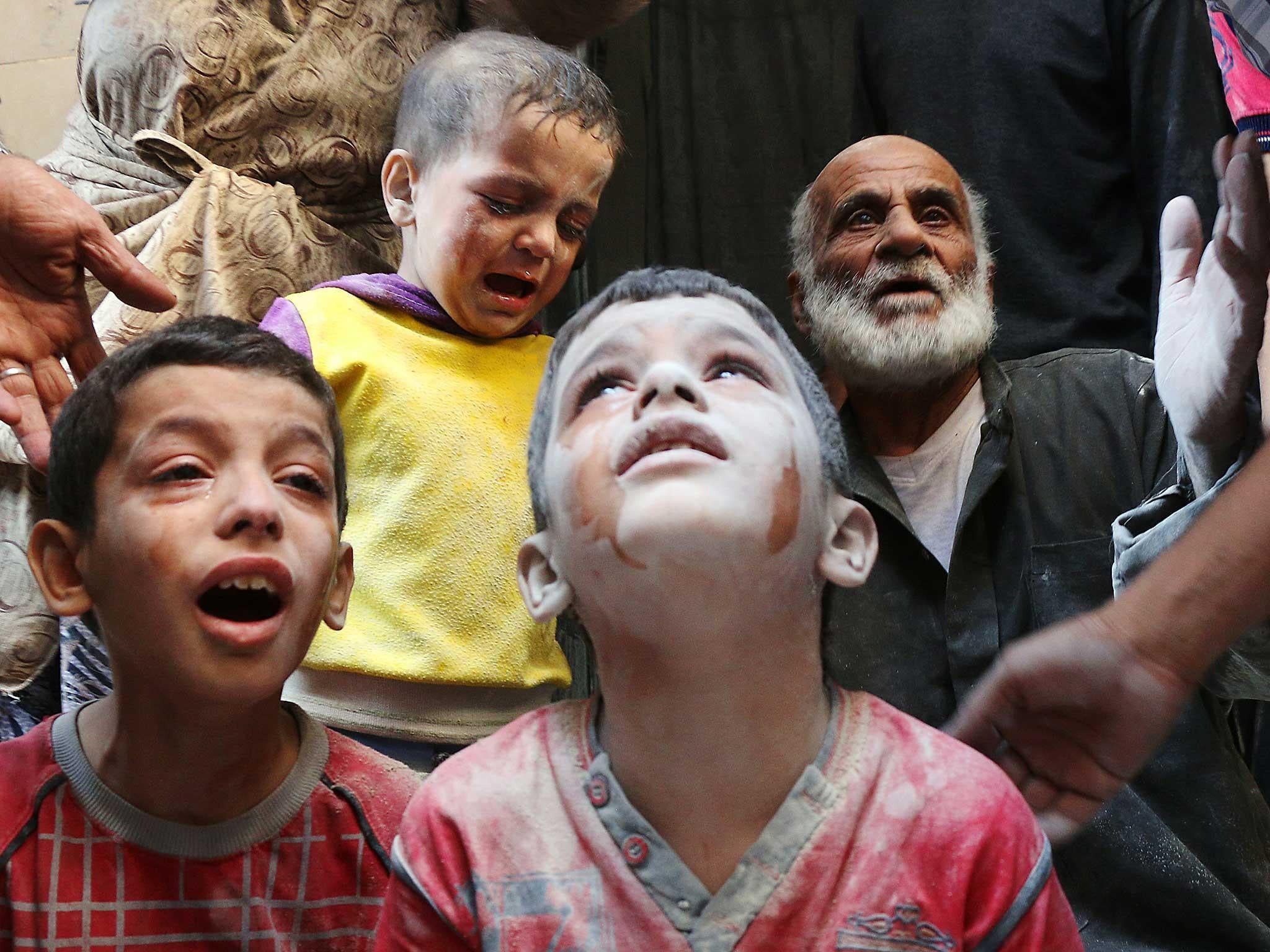 When Thursday dawned many people in east Aleppo had not slept all night, kept awake by heavy shelling by Russian and Syrian government warplanes.
"My daughter did not stop crying all night," local teacher Abdulkami al-Hamdo said. "My friends were up too, we realised that when we were texting each other in different parts of the city. Almost every neighbourhood was targeted."
More than 150 people have been killed in rebel-held areas of the city since fierce air strikes resumed on Tuesday, rescue workers on the ground reported. Only three children came to school on Thursday, kept home by parents worried about ground-penetrating "bunker-buster" bombs, napalm and phosphorous several residents said were dropped in around 20 strikes overnight.
The Syrian civil defence service - more commonly known as the White Helmets - said it was still looking for 15 people missing under the rubble in Bustan al-Qasr neighbourhood, which was hit by heavy strikes the day before when the bombing restarted overnight.
A pattern has emerged in which heavy shelling is accompanied by attempted advances by Syrian army ground troops and allied foreign militias, activist Wissam Zarqa said.
Regime forces have made slow gains on rebel neighbourhoods, focussing on key access points and main roads. "We are terrified of what will happen when Iraqi militias get here," Mr al-Hamdo added. "We think we will die then if we don't die in strikes."
The UN and other agencies estimate at least 360 people – including 100 children – have been killed since President Bashar al-Assad's forces began an unprecedented campaign aimed at retaking the city for good following the collapse of a US and Russian brokered seven-day ceasefire last month.
Video shows amazing rescue of child as shelling resumes in Aleppo
East Aleppo's 250,000 residents are trapped by regime siege barricades. Leaflets dropped on opposition neighbourhoods and text messages sent to residents promised that the recent ease in bombings would allow civilians to leave the area into government-controlled West Aleppo, but people on the ground said the barricades remained up.
Western governments have poured condemnation on Russian support for the strikes on east Aleppo, saying the indiscriminate shelling of the built up area – which has hit hospitals, rescue centres, and a bakery – amounts to a war crime.
Russia used its veto power as a member of the United Nations Security Council to block UN action that could have led to a ceasefire which included grounding planes last week. The UN's special envoy to Syria Staffan de Mistura warned last week that at the current rate of shelling, the entire neighbourhood could be completely destroyed within two months.
Both Moscow and Damascus maintain that US-backed and al-Qaeda fighters in east Aleppo use civilians as human shields, and strikes do not deliberately target civilian infrastructure.
World news in pictures
Show all 50
The situation in the opposition stronghold is growing more desperate as the siege conditions cause food and medical supplies to run out. Only one NGO within east Aleppo has managed to deliver emergency food kits to families in need this week because of the incessant shelling, charity worker Ahmad Aziz said.
The Syrian government partially approved a United Nations aid plan for October on Thursday, but did not grant requests for urgently needed assistance to reach east Aleppo.
"Of course, the approval of the plan is not sufficient, you know there are other steps that need to be taken so that deliveries can be made," Ramzy Ezzeldin Ramzy, deputy UN special envoy for Syria told reporters at a briefing in Geneva, calling on the Syrian government to approve convoy deliveries to all 29 areas the UN describes as besieged or hard to access.
Fighting has intensified on many fronts in Syria's complex five-and-a-half-year long conflict since the ceasefire broke down.
In government-controlled west Aleppo, shelling by rebels killed at least four children on Thursday, the Syrian Observatory for Human Rights said. Five more children and one adult were killed when rebel rockets hit a primary school in Daraa on the outskirts of the capital Damascus on Wednesday.
US Secretary of State John Kerry reversed an earlier decision to break off talks with Russia over Syria in agreeing to meet international delegations, including representatives from Moscow, in Switzerland this weekend for talks on reinstating a ceasefire.
Join our commenting forum
Join thought-provoking conversations, follow other Independent readers and see their replies