Buses used to evacuate Syrians from villages 'attacked and burned'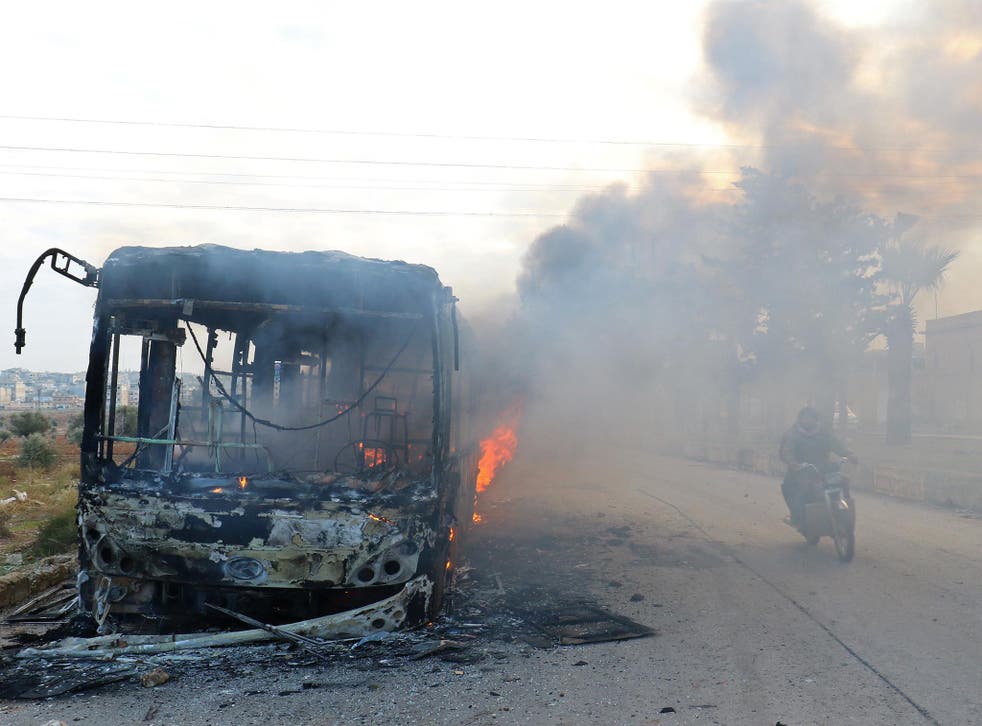 Russia has vetoed a UN vote that would see international observers enter Aleppo to monitor evacuation efforts and offer aid to civilians.
The development, confirmed by the Russian ambassador to the UN, came as buses due to evacuate civilians from the besieged Syrian villages of al-Foua and Kefraya were attacked and set ablaze.
The veto of the French-drafted proposal will be Moscow's sixth since the conflict in Syria began in 2011.
"We cannot support it, we cannot allow it to pass because this is a disaster. But there could be another thing which could be adopted today by the Security Council which would accomplish the same goals," Vitaly Churkin said on Sunday without elaborating.
It came after UN Secretary General Ban Ki-moon condemned the West's efforts to bring about a resolution to the crisis, saying: "Aleppo is now a synonym for hell."
Militants burned at least five vehicles that were en route to evacuate wounded and sick people from the Shia enclave in northern Syria on Sunday.
According to the Syrian Observatory for Human Rights, the al-Qaeda-affiliated Fatah al-Sham Front was responsible for the bus attack.
Hezbollah, the Lebanese militant group fighting alongside Syrian forces, said fighting broke out between jihadis and rebels that supported the evacuations.
State media said "armed terrorists", a term it uses for rebels fighting against President Bashar al-Assad's regime, carried out the attack. Rebel officials said an angry crowd of people, possibly alongside pro-government forces, was responsible.
Other buses were able to arrive in the villages, with state media also broadcasting the arrival of buses in Aleppo.
It came following Syrian state TV reports on Sunday that around 1,200 civilians would be evacuated from eastern Aleppo and a similar number from al-Foua and Kefraya.
Evacuation efforts were reportedly being blocked by Iran on Saturday after the country called for Tehran-aligned groups in the Shia villages to be liberated before efforts could resume elsewhere.
The plan, confirmed by both rebel and Syrian government forces, had hoped to facilitate the safe passage of civilians and rebels from eastern Aleppo and allow for "humanitarian cases" from the Shia towns besieged by insurgents in Idlib province to be evacuated.
Some 8,000 civilians, including 2,700 children, have been allowed to leave besieged rebel-held areas in the Aleppo's east, but the evacuation was halted on Friday after reports a ceasefire, negotiated by Turkey and Russia, had broken down.
The United Nations envoy to Syria, Staffan de Mistura, has put the number of people remaining in eastern Aleppo at 50,000.
The International Committee of the Red Cross (ICRC) had said it hoped to resume the evacuation of civilians and wounded people from the enclave on Sunday.
Join our new commenting forum
Join thought-provoking conversations, follow other Independent readers and see their replies