Syria crisis: Assad warns US it will 'pay the price' if threatened missile strikes happen
In first American TV interview for two years, Syrian dictator tells America: 'You will pay the price if you are not wise with dealing with terrorists'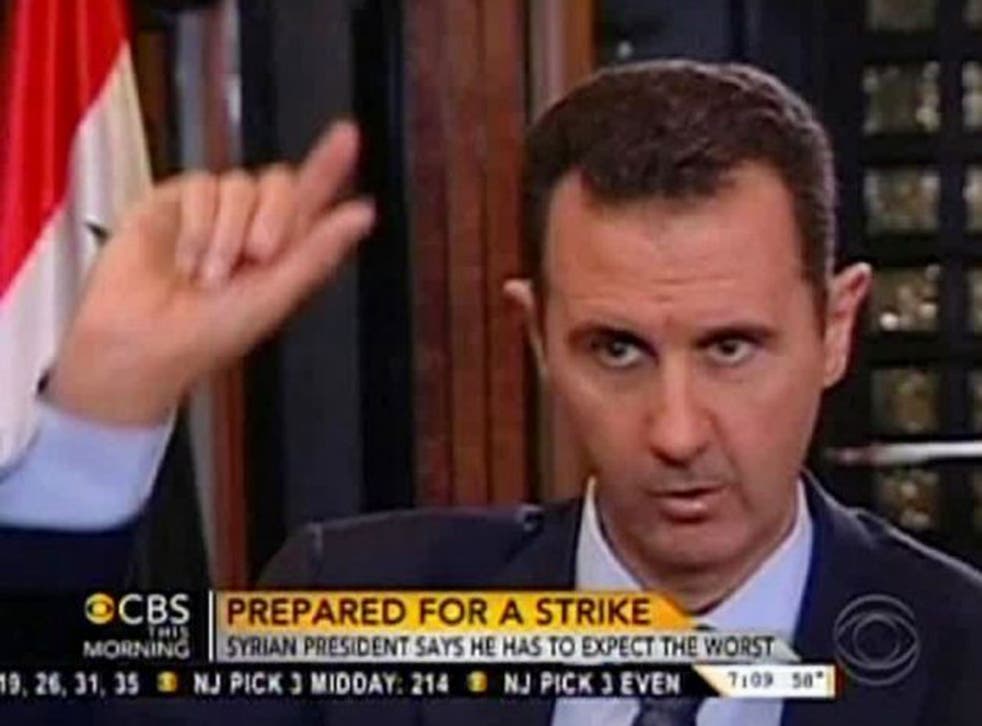 Syrian President Bashar al-Assad remained defiant in the face of threats of missile strikes today, telling an American television network that the US would "pay the price" for any attack.
"If you strike somewhere, you have to expect the repercussions somewhere else," he said.
The comments came in a rare interview for the CBS network with the veteran journalist Charlie Rose, extracts of which were released today. It will be broadcast in full in America tonight.
The interview showed the embattled Syrian leader refuting American intelligence reports that his regime used chemical weapons nearly three weeks ago; and giving notice that strikes against his country would bring retaliation that might in part come in the form of terrorist action.
His reference to a possible terrorist backlash against America and its interests was calculated in part to stir fear in ordinary Americans on the eve of the 12th anniversary of the 9/11 attacks by al-Qa'ida in New York.
"You should expect everything," he told Rose. "It's not only the government that's the only player in the region. You have different parties. You have different factions. You have different ideology. You have everything in this region now. So you have to expect that."
He added: "You are going to pay the price if you are not wise with dealing with terrorists."
Assad, who has accused the rebels of the poison gas attack, added that repercussions "may take different forms," including "direct and indirect" effects.
Indirect effects could include "instability and the spread of terrorism all over the region that will influence the West directly," Assad said.
He suggested there could be repercussions against the United States from other countries or groups such as Iran or Lebanon's Hezbollah.
Asked if he was making a threat of a direct military response to any such attack, Assad was vague, saying at one point, "I am not [a] fortune teller to tell you what's going to happen."
When Rose asked if chemical warfare could be one repercussion from a US intervention in Syria, Assad told him: "That depends if the rebels or the terrorists in this region or any other group have it. It could happen."
He also repeatedly rejected the idea that there is any evidence linking his government to the 21 August attack, claiming his forces were not in the area. "Our soldiers in another area were attacked chemically," he said." "... But in the area where they said the government used chemical weapons, we only had video and we only have pictures and allegations. We're not there."
He also said Washington's credibility is "at an all-time low." And he told CBS the Syrian government opposes the use of chemical weapons. "We are against any WMD, any weapons of mass destruction whether chemical or nuclear," he said.
Asked if he considers chemical warfare equivalent to nuclear warfare, Assad said: "I don't know. We haven't tried either."
To US President Barack Obama, Assad said: "I will tell him very simply, 'Present what you have as evidence ... to the public. Be transparent.'"
The remarks drew an instant rebuff from the White House. "It doesn't surprise us that someone who would kill thousands of his own people, including hundreds of children with poison gas, would also lie about it," spokeswoman Bernadette Meehan said.
Presidential move: CBS goes far for Assad
In agreeing to be interviewed for American television by the veteran US broadcaster Charlie Rose, Syria's president Bashar al-Assad knew his remarks would gain maximum exposure as the Western powers grapple over what to do over the alleged chemical weapons attack against his own people.
It was also a journalistic coup for Rose and the CBS network.
According to The New York Times the interview was arranged at the last minute, although David Rhodes, president of CBS News said: "Charlie has been working on this for a long time."
It took place on Sunday in the Presidential Palace in Damascus. Pictures of the meeting show the polished surroundings of power and civilisation.
Civil war – and chemical warfare – seem a world away.
Rose travelled to Syria with Jeffrey Fager, the chairman of CBS News and producer of 60 Minutes.
They flew to Lebanon and then drove to Damascus. "Charlie got more out of our hour with President Assad than could be expected. It is a tough, informative and fascinating interview," Mr Fager told the newspaper.
"The security getting to him was intense, but we found Assad to be surprisingly relaxed and confident. He knows an attack could be coming and it seemed like he was trying hard in the interview to prevent it from happening."
Andrew Johnson
Join our new commenting forum
Join thought-provoking conversations, follow other Independent readers and see their replies