Syria crisis: UK and US vow that any military response is 'not about regime change' as Parliament is recalled to vote on intervention
Syrian foreign minister 'utterly and completely' denies Assad regime was behind chemical attack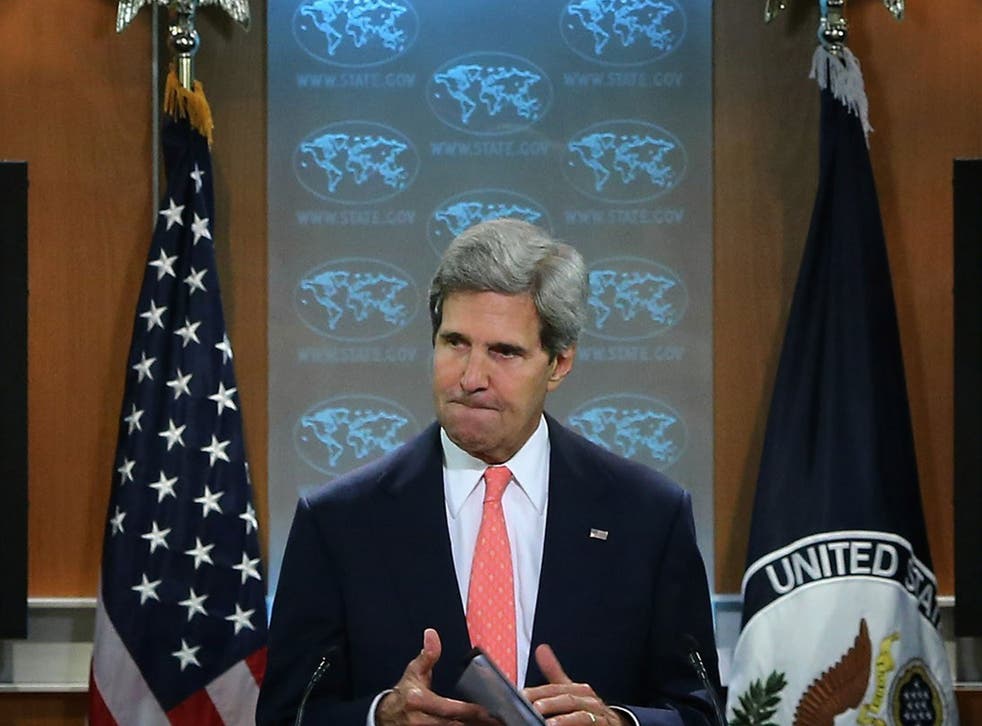 Any intervention in Syria would not be about the conflict itself but preventing the use of chemical weapons by any regime, David Cameron said today, after he recalled Parliament to vote on a response.
The Prime Minister said there was never 100 per cent certainty or a single piece of irrefutable evidence but said the world had agreed almost a century ago chemical weapons should not be used.
He said: "Let me stress to people, this is not about getting involved in a Middle Eastern war or changing our stance in Syria, or going further into that conflict.
"It's about chemical weapons. Their use is wrong and the world should not stand idly by.
"What we have seen in Syria are appalling scenes of death and suffering because of the use of chemical weapons by the Assad regime."
The Deputy Prime Minister Nick Clegg backed up Cameron's position, saying: "What we're considering is a serious response... What we're not considering is regime change, trying to topple the Assad regime."
The White House also issued a statement which said that any US response is "not about regime change".
Earlier, Mr Cameron announced that Parliament will be recalled on Thursday, where there will be "a clear Govt motion & vote on UK response to chemical weapons attacks."
The Prime Minister's announcement came amid debate as to whether the United Nations would sanction such action. Russia, one of five permanent members of the UN Security Council, warned of "catastrophic consequences" for Syria and other regions within the Middle East if military intervention is taken in response to the attacks last week.
Russia's Deputy Prime Minister Dmitry Rogozin accused the West of behaving towards the Islamic world "like a monkey with a grenade" on Twitter, as countries began discussing the possibility of a military response.
But Geoffrey Robertson, QC, a former UN appeal judge, today told The Times that it was "wrong to maintain that military intervention would be unlawful in the absence of full backing from the UN Security Council".
François Hollande the French President, says France is prepared to take action against those responsible for gassing people in Syria.
Mr Hollande said: "France is ready to punish those who took the heinous decision to gas innocents" in Syria last week.
Now, sources who attended a meeting between envoys and the Syrian National Coalition in Istanbul are claiming Western powers have told the Syrian opposition to expect a strike against President Bashar al-Assad's forces within days.
The US military is ready to act immediately should President Barack Obama order action against Syria over a chemical weapons attack, Defence Secretary Chuck Hagel said today.
But Syria accused US Secretary of State John Kerry of lying by claiming there is "undeniable" evidence of a large-scale chemical weapons attack in Syria likely carried out by the regime.
Syrian Foreign Minister Walid Moualem held a press conference this morning and asserted a dispute between rebels had lead to the second day of the UN inspection team's work being postponed until Wednesday.
Speaking from Damascus, he "completely and utterly" denied claims that the government had used chemical weapons despite the US insisting there is "undeniable" proof of a chemical attack.
During the press conference, he warned that if the country was hit by a military strike, it would defend itself using "all means available", but declined to detail exactly what this would involve.
He added that Syria had two choices - either to surrender or fight back - and it would choose the latter.
Mr Muallem insisted they had not attempted to obstruct weapons inspectors from visiting the site while evidence was still fresh.
"We didn't argue about the site they wanted to go to. We agreed immediately. There's no delay," he said.
Meanwhile, Britain's armed forces are preparing contingency plans for military action in response to the chemical weapons attack in Syria, Downing Street said today.
The Prime Minister has returned prematurely to Downing Street from a family holiday to prepare for a national security council (NSC) meeting tomorrow which will discuss possible UK involvement in using force against the Assad regime.
Officials said David Cameron will continue talks with international leaders to agree a "proportionate response" that will "deter" Bashar Assad's regime from using toxic agents on the Syrian population.
A spokesperson for No 10 said: "In terms of end game, this is about looking at how we deter the use of chemical weapons because this is something that is completely abhorrent and against all international law."
Nick Clegg has given reassurances that Britain will not engage in an "open-ended military" conflict in Syria. The Deputy Prime Minister said today it was right to act because failure to do so would set a "very dangerous precedent".
Calling last week's attack in Damascus "undeniable" and a "moral obscenity", Mr Kerry suggested that the US possessed "additional information" to back up the allegation.
While he indicated that he and President Barack Obama would continue to consult with allied nations on the best response, he left almost no margin for Washington to back away from taking punitive action. His words were also clearly meant to prepare the US public for military action.
"What we saw in Syria last week should shock the conscience of  the world. It defies any code of morality," Mr Kerry said. "The indiscriminate slaughter of civilians… is a moral obscenity."
There was no further information on what exactly the US may do, though attacks on targeted sites by cruise missiles fired from naval assets in the Mediterranean may be the simplest option.
Assad denies using the weapons and Moscow - a key regime ally which supplies arms to Syria - has backed claims video footage of victims could be opposition propaganda.
Reactions from around the world
America: "We have moved assets in place to be able to fulfill and comply with whatever option the president wishes to take," Defence Secretary Chuck Hagel said during a trip to Brunei, according to a partial transcript provided by the BBC.
Hagel said the military is: "Ready to go, like that."
Turkey: Turkish Foreign Minister Ahmet Davutoglu told reporters: "This is a crime against humanity and a crime against humanity should not go unanswered, what needs to be done must be done." He said that like many states, Turkey blamed Bashar al-Assad's government for the attack. "Today, it is clear the international community is faced with a test."
Israel: "The state of Israel is prepared for any scenario," Netanyahu said in a statement after holding security consultations in Tel Aviv.
"We are not a party to this civil war in Syria but if we identify any attempt to attack us we will respond and we will respond forcefully."
Iran: Iran has since warned against foreign military intervention in Syria after US Secretary of State, John Kerry, last night accused Assad's Syrian regime of deliberately unleashing chemical weapons on its own citizens in a statement.
Iranian foreign ministry spokesman, Abbas Araqchi cautioned there would be "perilous consequences" for the region if a military attack is carried out, according to the Guardian. 
Russia: In a statement, foreign ministry spokesman Alexander Lukashevich said: "Attempts to bypass the Security Council, once again to create artificial groundless excuses for a military intervention in the region are fraught with new suffering in Syria and catastrophic consequences for other countries of the Middle East and North Africa."
Saudi Arabia: Saudi Foreign Minister Saud al-Faisal said on Tuesday the international community must take a " decisive and serious" stand against the government of Syrian President Bashar al-Assad.
"The rejection of the Syrian regime of all serious and earnest Arab efforts .... requires a decisive and serious stand by the international community to stop the humanitarian tragedy of the Syrian people," Prince Saud was quoted as saying by the state news agency SPA.
France: French President Hollande says France is prepared to take action against those responsible for gassing people in Syria.
Mr Hollande said: "France is ready to punish those who took the heinous decision to gas innocents" in Syria last week.
Join our new commenting forum
Join thought-provoking conversations, follow other Independent readers and see their replies