Syria crisis: UN debates keeping President Assad as leader in short term
World leaders will attempt to revive the peace process, which will involve Russia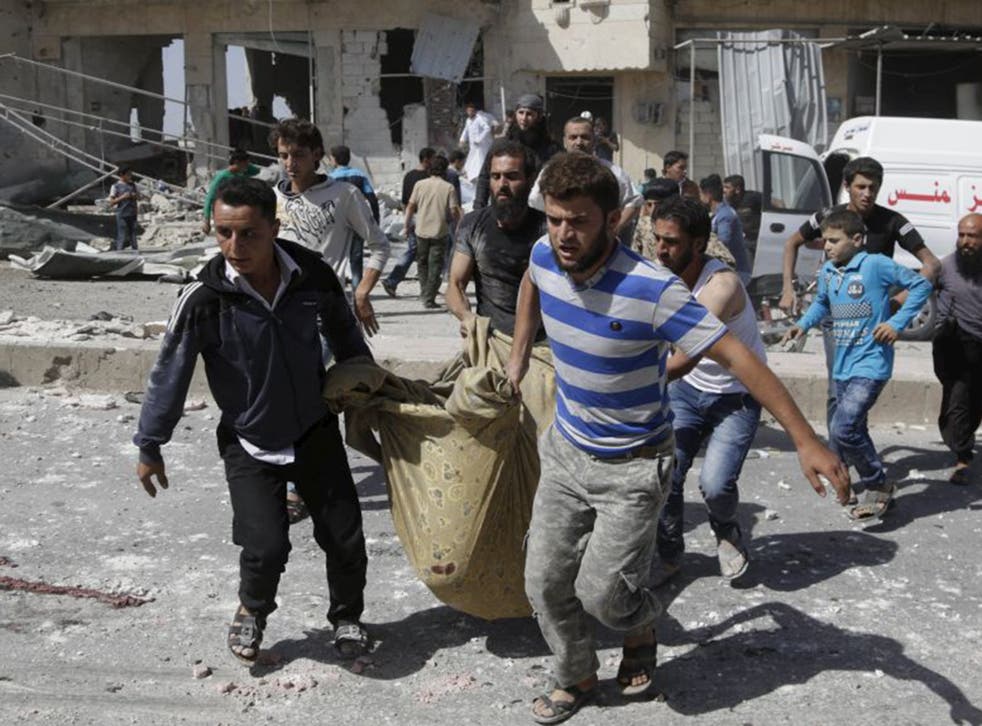 The Syrian President Bashar al-Assad could be allowed to remain in power for an interim period under plans to be debated by world leaders.
David Cameron will urge the United Nations to step up efforts to bring an end to the Syrian war and do more to tackle the growing refugee crisis in neighbouring countries and the European Union. Mr Cameron previously said it would be "unthinkable" for Assad to remain in power, but Russia is pressing for a deal in which he heads a short-term transitional government.
UK officials suggested that Britain was softening its position on Mr Assad's future ahead of the New York meeting. "There has always been the idea there would be a political transition," said one official. "There are differing views between members of the international community – Russians, Iranians – on what the steps are in that process. That's why there is now more discussion, and the UN General Assembly will be an opportunity. There's a real need to inject some momentum into what has been a stalled process."
Mr Cameron will deliver the call at the 70th anniversary meeting of the UN General Assembly, which is overshadowed by the four-year Syrian civil war and the humanitarian disaster it has unleashed. More than 130 heads of state and government leaders will attend, including Russian President Vladimir Putin, China's President Xi Jinping and US President Barack Obama.
Mr Cameron will urge other leaders to provide more financial assistance to the camps in Lebanon and Jordan which are home to hundreds of thousands of Syrian refugees. "We've been making promises on aid for years. Now, let us deliver on those promises. The world is watching. Achieving these goals will take action, not words. I'm proud the UK has met our 0.7 per cent commitment, and I call on others to follow. When times are darkest – like for the millions of Syrians forced from their homes – aid can offer hope.
"And we know that well-spent long-term aid works wonders. But honouring our aid commitments isn't just the right thing to do. It's in all our interests to address the deepest causes of instability and insecurity."
In pictures: Syria air strikes (2014)

Show all 20
In a further effort to dissuade destitute refugees from heading to Europe, the Prime Minister will also suggest their host countries could consider allowing them to work.
Further evidence Britain was sliding further away from its hardline stance on dealing with Mr Assad came in an interview Foreign Secretary Philip Hammond gave the French Le Monde newspaper. Mr Hammond, in Paris for talks with his French and German counterparts, said: "Assad must go. He can't be part of Syria's future. If we reach a deal on a transition authority and Assad is part of it, then it will be necessary to talk with him in his capacity as an actor in this process."
Justine Greening, the Development Secretary who is in New York as part of the Prime Minister's delegation, said she remained downbeat about finding any early solution to the fighting in Syria and ending the refugee exodus but was certain that it would have to involve Russia.
"Nobody actually expects the fighting to stop in the short term," she said. She noted that it took two and a half years even to negotiate a resolution in the UN to allow international agencies and donor countries to get emergency humanitarian supplies into Syria without first needing the permission of the Assad regime. And that resolution, she said, will expire in December.
"I think everyone would say that the work that's happened over the past four years to try to work with the moderate opposition, to understand what any kind of transition to a government beyond Assad would look like, is incredibly complicated," she said. "It involves of course working with countries like Russia." Forging a political solution, she went on, will require "all of the actors involved reaching a decision and reaching a consensus and, of course, Russia has been one of the key backers of Assad".
Sir Tony Brenton, former British ambassador in Moscow, writing in the Independent on Sunday, said: "Western policy does seem to be moving the way Putin wants. The US and (as of yesterday) the UK, having spent years demanding Assad's instant departure, now concede that he might stay on in an 'interim' capacity. Whatever the obfuscations around tomorrow's meeting, Syria will be a key part of the agenda."
US Secretary of State John Kerry said he saw an opportunity for progress in ending Syria's four-year civil war before meeting Iran's foreign minister, Mohammad Javad Zarif, on the sidelines of the UN General Assembly. Officials said Mr Kerry wants to launch a new initiative to find a political solution to the Syrian conflict. The new US approach could bring Russia together with countries such as Saudi Arabia, Turkey and Qatar that support Syrian opposition groups against Assad.
"We need to achieve peace and a way forward in Syria, in Yemen ... in the region," Mr Kerry said. "I think there are opportunities this week, through these discussions, to make some progress."
Join our new commenting forum
Join thought-provoking conversations, follow other Independent readers and see their replies