Syria spillover into Lebanon intensifies with clashes in Sidon
Army moves in after fighting between Sunni cleric's followers and Hezbollah supporters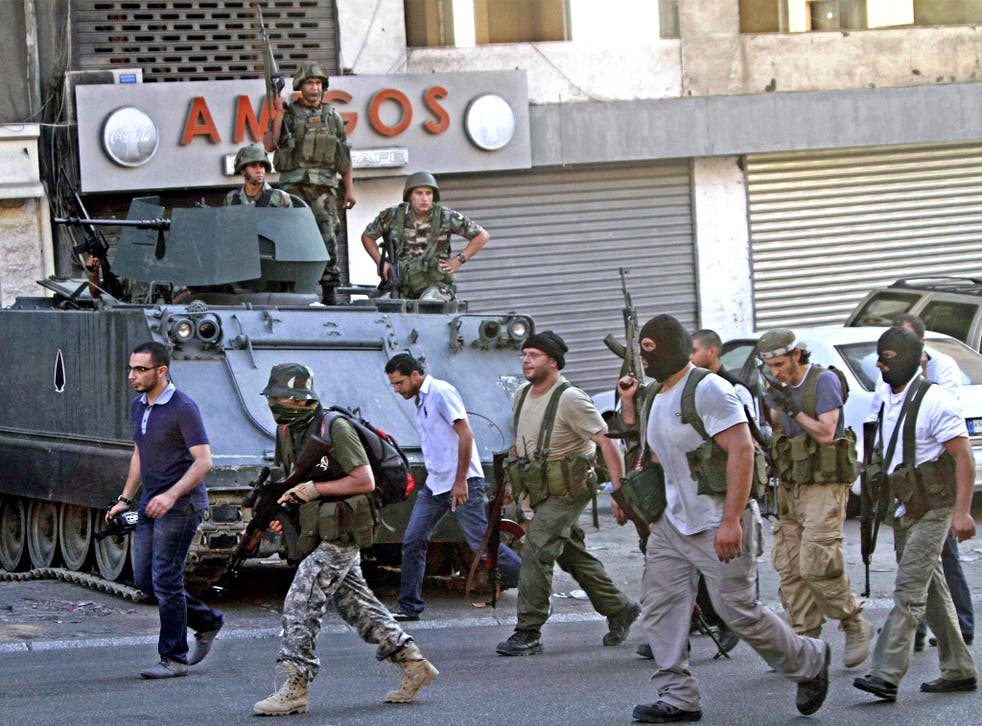 The southern Lebanese city of Sidon erupted in heavy clashes as followers of a radical Sunni cleric battled gunmen believed to be sympathisers of the Shia-backed Hezbollah, in the latest outbreak of violence between factions supporting opposing sides in the Syrian conflict.
Fighting began after Amjad al-Assir, the brother of the prominent cleric Sheikh Ahmed al-Assir, was attacked in his car by men throwing stones in the neighbourhood of Abra. The cleric is a vocal critic of Hezbollah in the mostly Sunni city.
One man was killed and at least six injured, according to the Red Cross. As evening fell, an uneasy ceasefire took hold and the Lebanese army moved in. It is the worst fighting the area has seen in years.
Meanwhile, the UN High Commissioner for Refugees, Antonio Guterres, visited Lebanon to reiterate calls for $1.7bn to assist Lebanon in dealing with the influx of Syrian refugees who had fled the fighting in their country. More than 500,000 Syrian refugees are currently registered in Lebanon. UNHCR estimates the number of registered refugees in the country will reach more than a million by the end of the year. The arrival of hundreds of thousands of refugees in Syria's neighbouring countries further fuel fears that the conflict is spilling over across its borders.
Caretaker prime minister, Najib Miqati, said the country is struggling to cope with the increased pressure on its infrastructure, and noted the toll the Syrian crisis was taking on Lebanon's security situation. Lebanon is still recovering from its own 15-year civil war that ended in 1990.
In Syria, Aleppo saw further heavy shelling by both regime and rebel forces, as the battle for the country's former economic hub continues. The regime announced an offensive in Aleppo, the country's largest city, to build on the momentum from its victory at Qusayr some weeks ago.
A car bomb ripped through the city on Monday, reportedly killing 60 members of forces loyal to President Bashar al-Assad. An unexplained explosion at an MP's house in a rebel-held village in the northern province of Idlib killed 20 people, activists said. It was not immediately known what caused the explosion, or who was behind it. The complex belonged to a member of parliament, the Britain-based Syrian Observatory for Human Rights told the Associated Press. The MP, Ahmed al-Mubarak, was not in the area at the time of the explosion but his brother was among those killed, said the Observatory's director, Rami Abdul-Rahman.
Airports remain a focal point of fighting, and the regime has used airpower to its advantage, bombing rebel positions around the Kweiras airfield in Aleppo province. Clashes over the Mennegh military airport also continued, but the base remains under Assad control.
The Syrian uprising began more than two years ago with peaceful protests against Assad, but later grew into a civil war that has killed more than 93,000 people, according to the UN.
Join our new commenting forum
Join thought-provoking conversations, follow other Independent readers and see their replies