Syria war: Conjoined twins born in besieged rebel town evacuated for life-saving treatment
Moaz and Nawaz are two of several children needing urgent medical evacuation, the UN says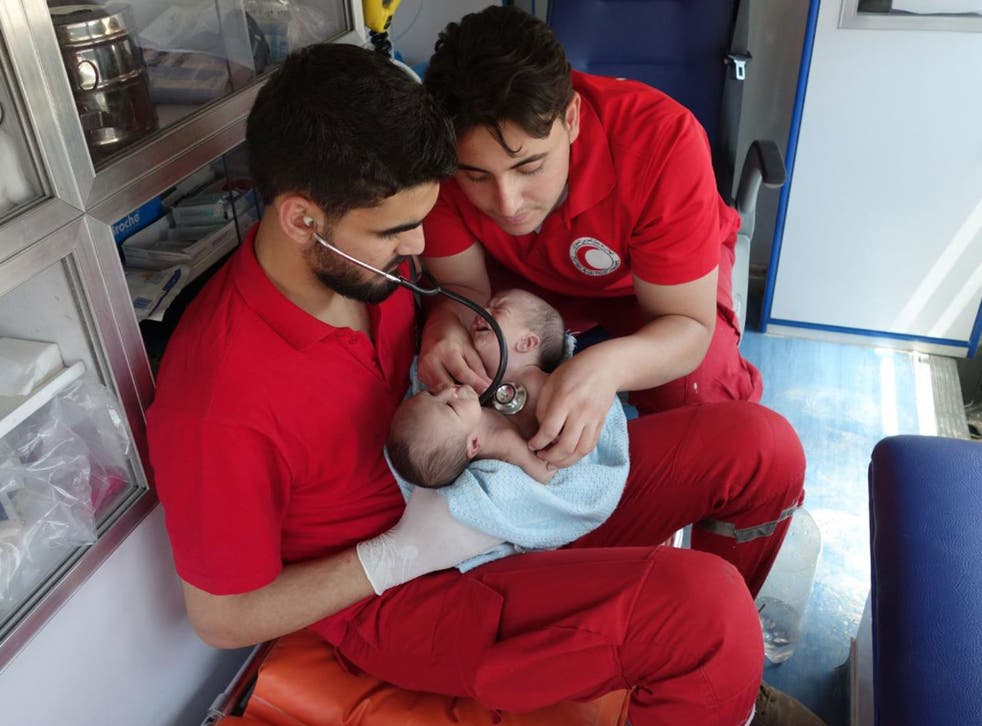 Conjoined twins born in one of the most violent areas of Syria have been evacuated for life-saving surgery.
Baby brothers Moaz and Nawaz were born in 23 July in eastern Ghouta, a rebel-controlled area on the outskirts of Damascus that has seen vicious fighting, air strikes and chemical attacks.
Doctors at Zahra hospital feared the boys, who are joined at the chest with protruding intestines, would not survive without urgent surgery they were unable to provide.
In a letter on behalf of the Syrian American Medical Society, Dr Mohamad Katoub wrote that the hospital was undersupplied and "running out of options" after four years under a brutal siege.
"The case of these miracle babies tells the tragic story about access to healthcare in Syria," he said.
"These parents have entrusted their children's case to us. We must not let them down."
Dr Katoub called for the twins and their mother to be evacuated immediately so the possibility of surgically separating them can be explored.
With help from the World Health Organisation (WHO), the UN health agency, and Syrian Arab Red Crescent (SARC), the appeal was a success.
Teams from the SARC's Douma branch posted pictures online of the little boys wrapped in a blue blanket being put in an ambulance to make the journey from rebel to regime-controlled territory on Friday.
Elizabeth Hoff, WHO's representative in Syria, said Moaz and Nawaz had been safely transferred to the Damascus Children's Hospital in the capital, which is predominantly under the control of Prsident Bashar al-Assad's forces.
"We have been negotiating for medical evacuation for some days now," she told Reuters.
WHO said the boys are the first of at least 20 patients who need urgent medical transfers from areas including the divided city of Aleppo, where hundreds of thousands of people are trapped by continuing fighting under a hail of air strikes.
"WHO is calling for a pause for medical evacuations which are critical to make sure seriously wounded have the right to obtain health care and also people with chronic diseases needing regular care," Ms Hoff said.
The organisation has a list of 16 critical medical cases in the town of Madaya, which is besieged by regime forces, and two adults in Foua and Kefraya – an area of Idlib province surrounded by rebel fighters.
Among those in Madaya is Ghina Ahmad Wadi, a 10-year-old girl who was shot by a sniper earlier this month while on her way to buy medicine for her mother.
UN pushes for pause in fighting as battle for Aleppo ramps up
Amnesty International said the wound to her thigh had severed a nerve and caused a complex bone fracture, leaving her in excruciating pain.
But Syrian authorities have so far denied requests to evacuate her to a hospital in Damascus or Lebanon where she can receive the treatment she needs.
Ghina's cousin, Fadah Jassan, who lives in the UK, called for help from the British Government.
"If the UK government can help my niece, then I'd beg them to do so," she said.
"I know Ghina's just one among many thousands of children in Syria who're going through things they shouldn't have to, but she can be helped relatively easily and we need to do all we can to make that happen."
WHO has not yet received permission to evacuate any of the patients, who include several young children.
Syrian children hold Pokemon Go pictures in the hope people will find them and save them

Show all 13
Staffan de Mistura, the UN special envoy for Syria, said: "The UN is ready to evacuate them. They are in a desperate urgent medical emergency. Why on earth should this not be possible?
"This should not be waiting for the Aleppo ceasefire or overall ceasefire, this should and can be done before it's too late."
In Foua, the Islamist rebel group Ahrar al-Sham "can just by a decision of a minute allow the UN to evacuate them and bring them to a medical facility where they could be saved", he added.
"These are not numbers, these are people who are waiting for a medical evacuation in what has become a medieval approach to a conflict."
For Aleppo, the UN said it was discussing "workable humanitarian pause" in fighting with Russia, Assad's main ally, and that a three-hour daily ceasefire proposed by Moscow was "not enough"
Join our new commenting forum
Join thought-provoking conversations, follow other Independent readers and see their replies