Syria war: Second medical facility bombed in Aleppo after dozens killed at Al Quds Hospital
Activists said a clinic (not pictured) was hit by a new wave of bombardment on Friday morning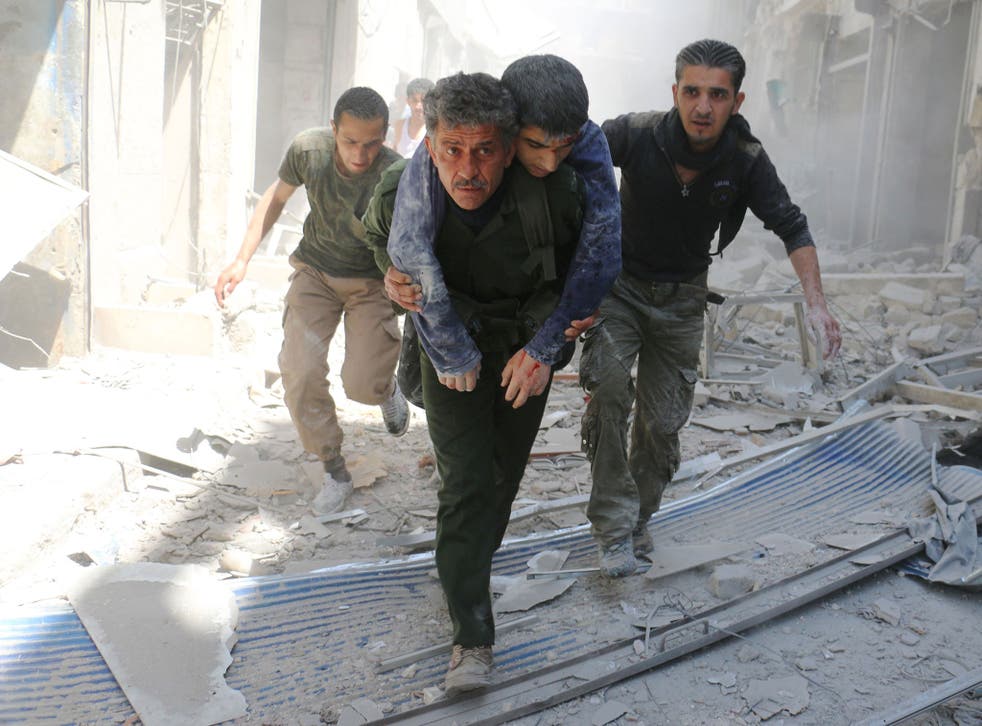 Another medical facility has reportedly been bombed in Syria just days after dozens of people were killed at a hospital in Aleppo.
Air strikes and shelling in rebel and government-held areas of the city resumed on Friday, with at least two people reported dead and several injured so far.
Bebars Mishal, a volunteer from the Syria Civil Defence group, told Reuters that one attack hit a clinic in Aleppo's al-Marja district, while others struck near mosques where prayers had already been suspended over fears of further violence.
The UK-based Syrian Observatory for Human Rights said an adult and child were killed, while another activist group, the Local Coordination Committees, said at least three died in the strikes.
A nurse was said to be among several people wounded when the air strike hit the clinic, which had been providing dental services and treatment for chronic illnesses for about five years, the AFP news agency reported.
Bombardment in rebel-held areas of Aleppo has killed 123 civilians including 18 children during the past seven days, according to the Syrian Observatory.
Seventy-one civilians, including 13 children, were killed by rebel attacks on government-held areas of the city during the same period, monitors said.
Syrian state television said people had been wounded and a building set on fire during continued shelling of government-held quarters of Aleppo on Friday.
Rebels reportedly shelled the Malla Khan mosque in the regime-controlled Bab al-Faraj district, killing at least 15 people and wounding 30.
The violence came ahead of a temporary truce sponsored by Russia and the US elsewhere in the country. Syrian forces said a "period of silence" will apply for 24 hours in Damascus and the surrounding area and for 72 hours in Latakia, starting at midnight on Saturday.
The United Nations and humanitarian groups have been pleading for calm as the "cessation of hostilities" agreed between Bashar al-Assad's government and opposition groups in February hung by a thread.
A fresh round of bombardment started in Aleppo earlier this week amid reports that forces were gathering on the city's outskirts, raising fears of an assault on rebel areas by regime forces.
Warning: Video contains distressing scenes
Dozens killed in wave of air strikes in Syria's Aleppo
Videos posted online by opposition activists showed rescuers pulling bodies from shattered buildings in the neighbourhoods of al-Soukour, Kallasa and Bustan al-Qasr.
The Al Quds hospital was reduced to flaming rubble by strikes on Wednesday night, killing at least 55 and injuring 60 more according to the Syrian Civil Defence group, including children, patients and vital doctors.
The hospital was supported by Doctors Without Borders (MSF) and the International Committee for the Red Cross (ICRC), who both condemned the "carnage".
An estimated 250,000 people remain in Aleppo, where regime forces are close to completely encircling rebel areas, leaving only one major road in and out.
John Kerry, the US Secretary of State, said American authorities were still gathering information but believed the hospital strike was a "deliberate" attack by Syrian forces, adding: "This follows the Assad regime's appalling record of striking such facilities and first responders."
A Syrian military official in Damascus denied the government had hit the hospital and Major General Igor Konashenkov said Russian planes had not flown any missions in the region for several days.
Additional reporting by Reuters
Join our new commenting forum
Join thought-provoking conversations, follow other Independent readers and see their replies