Syria witness: 'I have to help my family, but I did not want to shoot my own people'
The few Syrian police brave enough to speak out or defect face dire consequences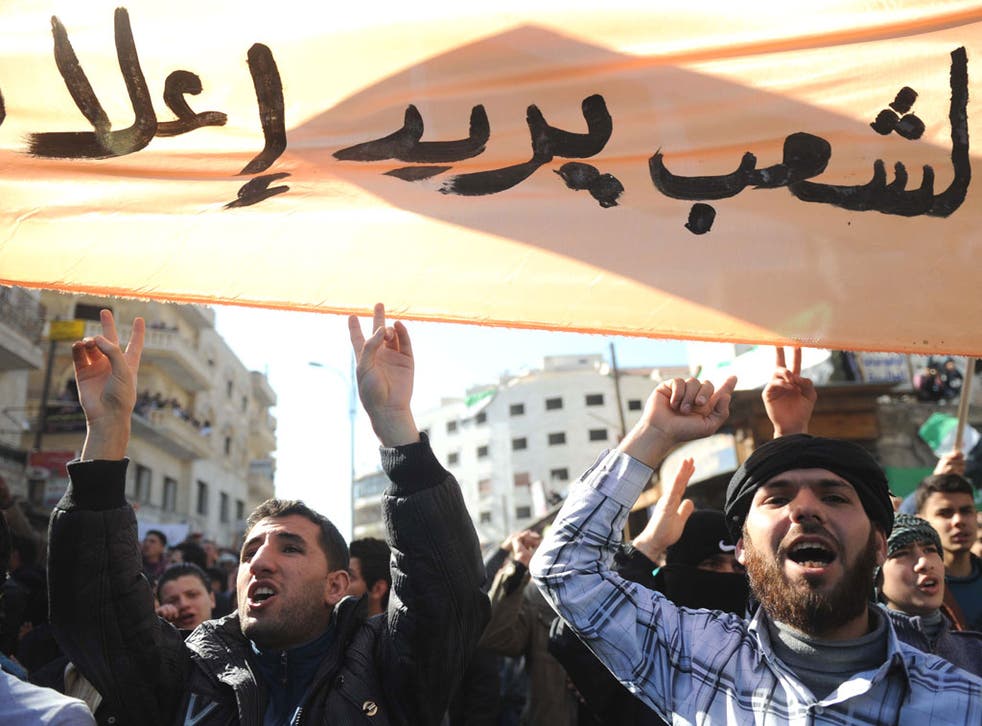 The protesters were unarmed, posing no threat, offering no provocation. When the order came to open fire, many among the security forces were shocked, a few refused. One of those was dragged out of the ranks, made to kneel on the roadside, and shot.
"His name was Abdullah al-Zinat, he was a young guy. He was picked out because he had been arguing the most with the officers, saying what was happening was wrong. That's what killed him," said Mohammed Zidan.
"I did not fire, we could fire up to 100 rounds without having to get permission. I did not do that, but I did not say anything either. I was afraid, others were afraid as well."
Four days after Mr Zinat's execution, Mr Zidan deserted from the police. Initially, he returned to his post after threats to his family and was briefly imprisoned, before finally escaping. Now he is with the revolutionaries. The 23-year-old is, however, one of a relatively small number of security personnel to defect so far, a handicap for the rebels who suffer acutely from a lack of military experience and weaponry. Furthermore, the ones who have gone over to the other side are often divided. The Free Syrian Army, for instance, operates separately from the Free Officers Group. Both bodies, in turn, are often disparaging of the hierarchy of the Syrian National Council, the opposition's main political organisation.
Mr Zidan did not want to speak to me at first at the rebel base in Idlib province. But then he decided that it was necessary to discuss the mentality and motivation of the soldiers and policemen engaged in this vicious conflict.
"They are saying that these men are killers and doing terrible things, this is what they are saying especially in other countries," he said. "But for most this was just a job, how could they know that all these things will happen when they started. They did not know that they would be told to attack fellow Syrians."
The quietly spoken young man with an anxious face, hastily covered up later with a checked keffiyeh (scarf) for the photograph, seemed to have had some worries about what may lie ahead when he joined the police a year ago.
"I joined the homicide branch because I thought I would not have to deal with things like demonstrations," he said. "We had seen on television what was going on in Egypt, things were starting in Libya, things starting here. I wanted the job because it was good money and I have to help my family, but I did not want to shoot my own people."
Mr Zidan left his home in Idlib City for a nine-month course in Aleppo. "They wanted us out on duty as soon as possible, I was concerned but I still thought I could be a detective."
However, after graduating, Mr Zidan was told he would have to defend the country against terrorists. He was posted to the town of Al-Qamishli near the Iraqi border, an area which was being used, said his superiors, to smuggle arms into the country.
"I don't know if that was happening. We were immediately put into units and sent out to arrest opposition people, some of them women, some of them old," he stated. "They were hurt when they were questioned. They were taken away to other places where even worse things happened, especially to the women. We were also told that we must break up any kind of marches. We were told we could open fire any time, a hundred rounds and then get permission for more, which was always given. Some people enjoyed that but many of us were very upset, some officers were upset as well."
Mr Zidan's first defection ended after the police in Idlib City told his family that they would suffer unless he gave himself up. "I was beaten, but it was not as bad as I thought it was going to be. I think at the time they were trying to keep as many of us as possible."
But the increasingly brutal treatment of protesters and the shooting of Mr Zinat convinced him that he could no longer serve the regime. He organised a call from home to say his mother was very ill and was given compassionate leave. "But after three days they said I must return. I had no choice but to run away and join the freedom fighters."
The security forces carried out their threat against his relations. "My father has now been arrested many times, he is an old man, but they have no respect," Mr Zidan shook his head. "I feel very worried, guilty. But I have made my choice, I have joined the people."
Join our new commenting forum
Join thought-provoking conversations, follow other Independent readers and see their replies