Syrian crisis: At least 8 dead after car bomb explodes outside hospital in Homs
The vehicle is thought to have contained over 150kg of explosives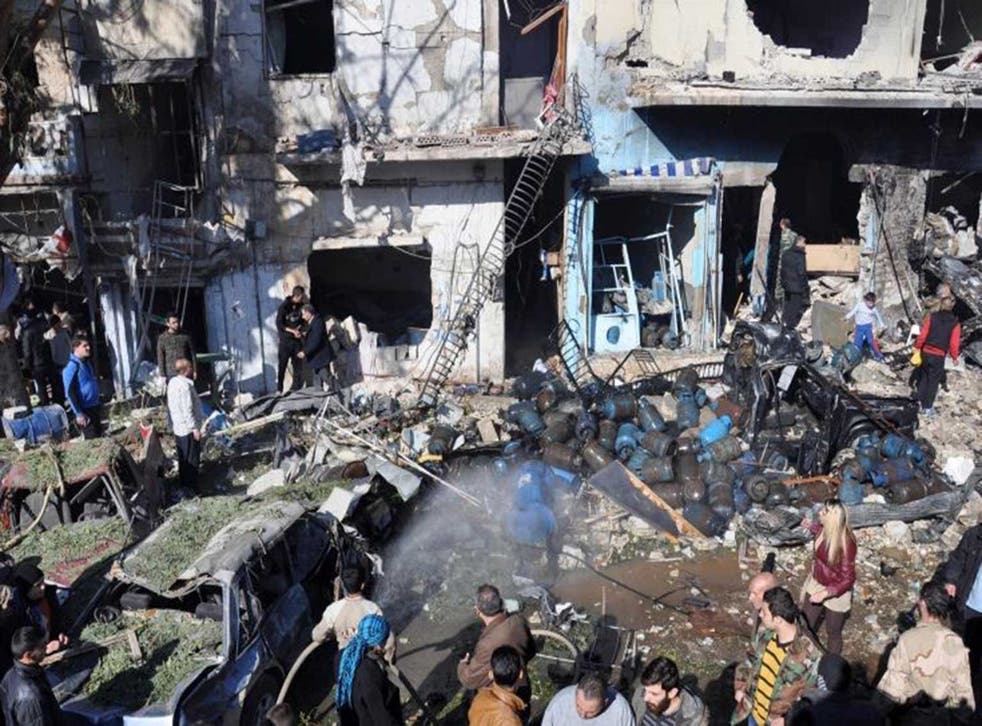 At least eight people are feared dead after a car bomb loaded with more than 100kg of explosives detonated outside a hospital in a Syrian government controlled area of Homs.
Authorities warned the death toll was likely to rise, with some agencies already reporting that as many as 30 people had been killed amid reports of a second explosion also in the centre of the city.
Syrian state television reported the attacks as "two large terrorists' explosions" and said 25 were dead. The provincial governor Talal Barazi reported 15 dead and said 64 people had been injured.
"The explosion was terrifying. Body parts were on the ground... It was one of the biggest explosions to hit Homs," a 28-year-old woman working in a neighbourhood coffee shop reportedly told AFP.
"The blast left a huge crater, and people were running in every direction in fear of more explosions," she added
Graphic images on social media – which The Independent was unable to verify – showed scenes of devastation as civilians attempted to clear the area of wounded.
The Syrian Observatory for Human Rights claimed the toll was 35, while a medical source in the city, who has not been named as he was not authorised to speak to the press, told AFP as many as 100 people were injured.
Mr Barazi also said the bomber had been carrying at least 150kgs of explosives.
The car bomb in the al-Zahra neighbourhood comes just days after rebel forces withdrew from the Waer district, in another part of the contested city, following negotiations with the Assad government.
In pictures: Syria air strikes (2014)

Show all 20
Homs, once known as the "capital" of the 2011 uprising against president Bashar al-Assad, will be returned to full government control under a deal overseen by the UN. In return, humanitarian aid will be given to beleaguered residents who have survived years of shelling, sniping and violence from both sides.
Since the conflict began an estimated quarter of a million people have been killed and millions displaced.
Additional reporting by Reuters
Join our new commenting forum
Join thought-provoking conversations, follow other Independent readers and see their replies