Syrian government forces killing hundreds of civilians in air strikes as world watches Isis
Britain almost went to war with Bashar al-Assad in 2013 but his regime's crimes are now being overlooked as the 'Islamic State' continues its rampage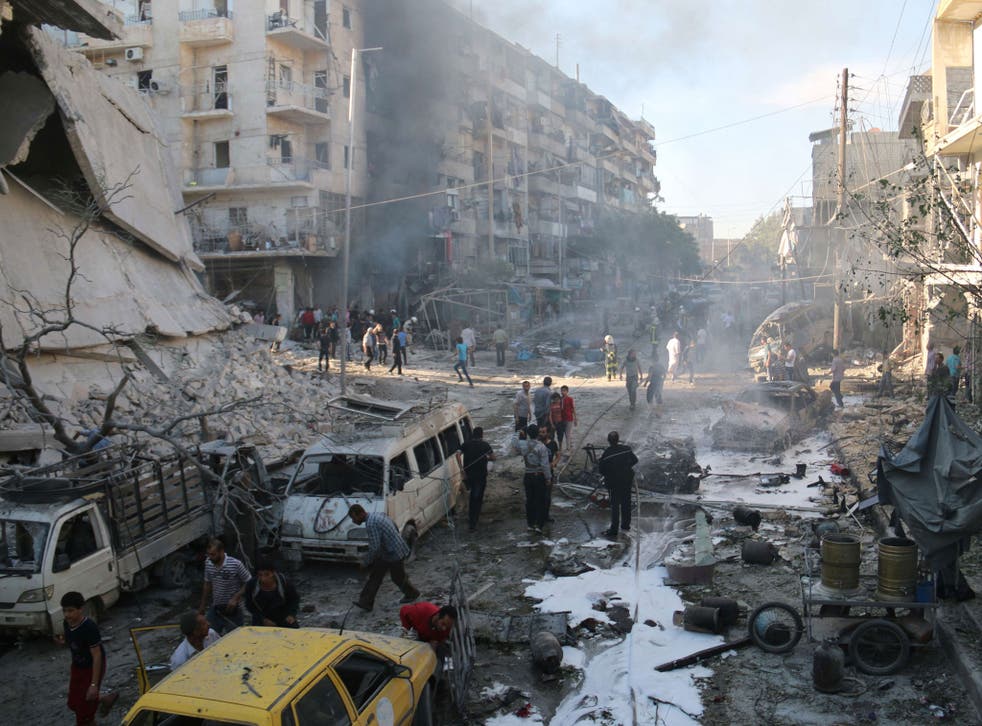 As the eyes of the world remain fixed on Isis, Bashar al-Assad's forces have killed an estimated 330 civilians in Syria since the start of this year alone, observers claim.
Bombings and chemical attacks like the ones that almost led Britain to war in 2013 have been carried out largely unnoticed as the so-called Islamic State continues its bloody campaign.
Isis has provoked global horror with its filmed beheadings, amputations, crucifixions, massacres and murders, most recently with the burning to death of Jordanian pilot Muath al-Kasaesbeh.
The group's horrific cruelty to civilians is well-documented, particularly the persecution of religious minorities and anyone who does not conform to their violent interpretation of Sharia law.
But whereas Isis gleefully spreads its gory propaganda videos around the world, the regime's atrocities including the use of banned barrel bombs and chemical weapons, goes undocumented and unnoticed.
President Assad's forces are fighting a civil war on several fronts – against Isis, other Islamist militias, secular rebel groups and to quash the anti-government sentiment that started in the 2011 Arab Spring.
The London-based Syrian Observatory of Human Rights chronicled 127 air raids in just 24 hours earlier this week by regime helicopters and planes.
A spokesperson said Britain, the US and other international leaders that "claim to defend human rights" must work harder to stop crimes against humanity being committed daily in Syria.
"It is a shame on those who pretend to respect the Human Rights to just write and publish statements," he added.
In pictures: Syria conflict

Show all 40
The Observatory classified attacks in Khan Sheikhoun, Jasim and Doma as "massacres" and recorded deadly strikes in the provinces of Aleppo, Idlib, Hama, Daraa, Rif Dimashq and Deir Ezzor.
Among the 57 civilians killed in Monday's raids were five children, the Observatory said, and more than 100 others were wounded.
At least 100 fighters, the presumed target of the regime's attacks, were killed in the same strikes, including rebels, Islamists and foreign militants on both sides of the conflict.
The Observatory counted more than 2,000 air strikes by regime forces across Syria in January, killing 271 civilians, including 50 children and dozens of women, and injuring at least 1,000.
The cost of the damage to homes, businesses and the infrastructure could not be calculated and it is estimated that tens of thousands of people continue to be displaced.
Many strikes used barrel bombs, the group claimed. The banned weapons, favoured because of the their cheapness and blast radius, are usually oil drums or gas cylinders packed with explosives and scrap metal that are dropped from helicopters or planes.
A specialist UN Security Council resolution was passed last year to ban their use but monitors have collected evidence from multiple blast sites that they say proves barrel bombs are still raining on civilian areas.
The Syrian Observatory for Human Rights is calling on the Security Council to issue another resolution condemning al-Assad's regime for its "indiscriminate bombing" and to order all parties in Syria to stop using barrels bombs or heavy weapons in civilian areas.
A spokesperson called for member countries to "work harder in order to stop the war crimes and crimes against humanity committed daily against the Syrian people, and to refer the file of these crimes to international Criminal Court".
If China and Russia continue to use their veto to prevent this, special courts should be established to deal with the Syrian regime, the Observatory recommended.
Syria's civil war so far killed more than 203,000 people, including 65,000 civilians and 10,400 children in less than four years, according to the latest estimates.
In its annual world report, Human Rights Watch accused President Assad's forces and pro-government militias of intensifying attacks on civilian areas as well as illegally arresting, detaining, torturing and forcing the disappearance of opponents.
The international condemnation of the chemical attack on Ghouta in 2013 had not been followed up with justice for victims, the organisation said, and although the subsequent Chemical Weapons Convention saw Syria agree to destroy all declared chemical arms, chlorine gas continues to be used.
Human Rights Watch documented the use of other illegal weapons, including cluster bombs.
"The extremist group Islamic State and al-Qaeda's affiliate in Syria, Jabhat al-Nusra, were responsible for systematic and widespread violations including targeting civilians, kidnappings, and executions," the report noted.
The US government is currently investigating allegations of its coalition's air strikes killing a number of civilians during attacks against Isis.
Join our new commenting forum
Join thought-provoking conversations, follow other Independent readers and see their replies