Syrian terror blasts kill 87 as US heralds a 'provisional' ceasefire
Isis claims car and suicide bombs while Kerry warns of 'stark choices' after talks with Russia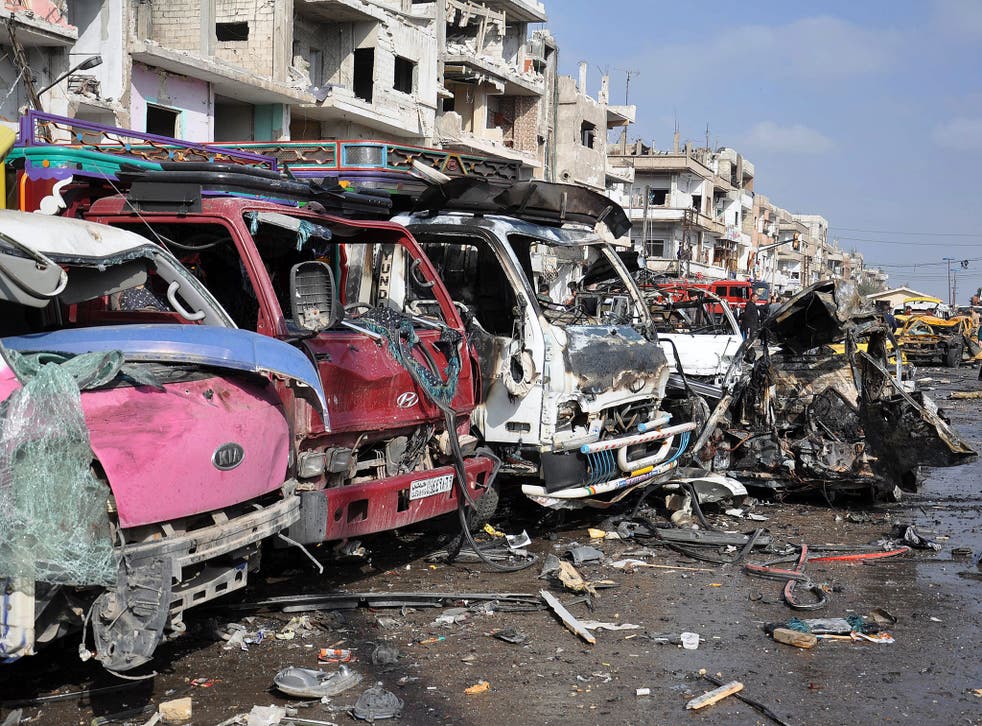 The seemingly impossible task of bringing the Syrian civil war to an end have been laid bare when, even as John Kerry said there was "provisional agreement" on a ceasefire, bombings killed almost 90 people across the country.
Almost as the US Secretary of State announced the deal, the series of blasts in Homs and Damascus wrought more terror on the country. Hinting that the various sides fighting in Syria would find elements of a new package difficult, Mr Kerry warned: "There is a stark choice for everybody here."
Weeks of talks about ceasefires have come to nothing amid military action on the ground and airstrikes.
There were few details of what Mr Kerry and Sergei Lavrov, the Russian foreign minister, had agreed, but speaking in Amman, the Jordanian capital, Mr Kerry said: "The modalities for a cessation of hostilities are now being completed. In fact, we are closer to a ceasefire today than we have been."
Despite his words, at least 30 people died in the Shia Sayeda Zaynab district in the south of Damascus. Isis later claimed responsibility for four blasts at the site, which were reported to be the result of two car bombs and two suicide bombings. Earlier in the day in Homs at least 57 people died when twin car bombs were detonated.
Mr Kerry acknowledged that the fighting would continue until a lasting settlement could be achieved.
"I do not believe that in the next few days, during which time we try to bring this [new deal] into effect, there is somehow going to be a tipping point with respect to what is happening on the ground," he said. "The [Syrian] opposition has made clear their determination to fight back."
In pictures: The rise of Isis

Show all 74
Any deal between the American and Russian governments would need to be put to the myriad of political and military groups fighting in Syria. It was reported yesterday that Moscow's defence minister, Sergei Shoigu, whose government supports the Syrian administration, was travelling to Tehran to speak to Iranian allies.
A supposed peace conference in Geneva earlier this month ended in acrimony when representatives of rebel groups walked out amid a renewed government offensive in Aleppo. Those loyal to the administration accused the Turkish and Saudi governments of planning renewed military campaigns against the Syrian government, and even the possibility of the deployment of ground troops.
Mr Kerry said that American and Russian diplomats were still "filling out the details" of the agreement. There has been bitter rhetoric on both sides over Russian bombing raids in Syria. As well as targeting positions held by Isis and the al-Qaeda-backed Jabhat al-Nusra, as the US-led coalition has been doing, Russian strikes have also hit other groups opposed to the Syrian government.
Some of these groups are defined as moderates by Washington, which has in certain cases provided training and equipment to fighters on the ground.
A new deal will not end attacks on Isis and Jabhat al-Nusra, but it is hard to see any lasting peace coming from an agreement that does not include aid corridors being opened to towns being besieged by Syrian troops, and an end to Russian bombing of moderate anti-Assad groups.
The Syrian president, Bashar al-Assad, told Spanish newspaper El Pais he would be willing to agree to a ceasefire as long as "terrorists" did not use the pause in fighting as an opportunity to make gains. Since the beginning of the conflict, the Syrian government has characterised as terrorists everyone opposed to Mr Assad's government.
The Syrian leader also suggested that he would be remembered as the person who saved his country.
"In 10 years, if I can save Syria as president – but that doesn't mean I am still going to be president in 10 years, I am just talking about my vision of the 10 years," he said. "If Syria is safe and sound, and I am the one who saved his country – that is my job now, that is my duty."
Join our new commenting forum
Join thought-provoking conversations, follow other Independent readers and see their replies