Syrians fear Army Colonel murdered during traffic altercation in Latakia will not get justice as suspect is son of President Assad's first cousin
Hassan Sheikh, who served on the front line against Isis, was fatally shot by a machine-gun fired by either Sulieman Assad or his bodyguard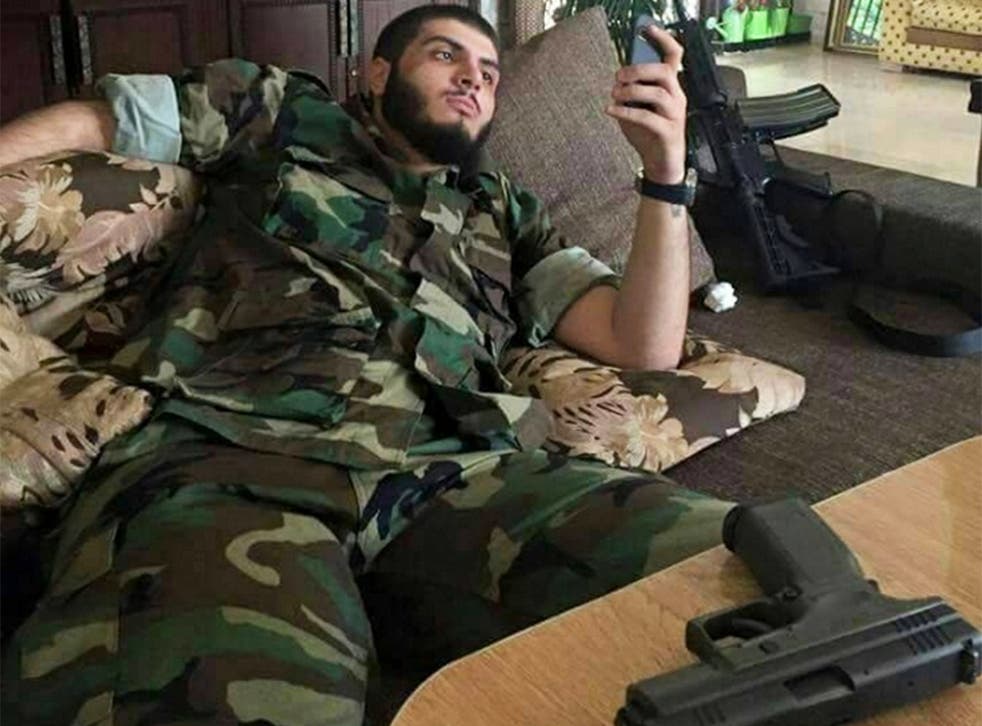 In government-controlled Syria, you respect the President. But you do not mess with the Army.
The murder of a senior air defence officer at the hands of a member of the Assad clan near the seaport of Latakia has turned into a scandal, with the brother of the dead officer demanding he be officially declared a "martyr", as authorities arrested Sulieman Assad for his involvement in the killing. Protesters in the city have even called for the young man's execution after Colonel Hassan Sheikh was shot dead in a traffic altercation with the son of the president's first cousin, Hilal Assad.
There was a time when the powers-that-be would have tried to keep the killing – let alone its details – a secret. But at the height of the Syrian army's war against Islamist 'terror', when every government supporter regards the country's soldiers as their only bastion against an Isis takeover, news travels fast. And the public fear of the regime is less than its admiration for the front line troops facing rebel groups across hundreds of miles of Syrian territory.
The details now emerging from Syria are almost as powerful as the public reaction to Colonel Hassan Sheikh's death. For he was indeed on Syria's front line, a senior defence force officer in charge of anti-aircraft radar and electronic surveillance at the air force's Tiyas air base, codenamed 'T-4', 30 miles west of the ancient desert city of Palmyra.
"Isis didn't kill him when they captured Palmyra this year – but a member of the Assad family did," one of the demonstrators in Palmyra was later heard to say. And it seems to be true.
President Assad, who has always acknowledged the Syrian army's losses and made no secret of his dependence on their soldiers, has sent a personal delegation to the Sheikh family, led by the Latakia governor, Ibrahim Khodr al-Salem, who has paid a visit of condolence to the colonel's widow, Mayssa, to promise that her family's rights "will not be set aside so long as President Assad is here".
Mayssa Ghanem – in Syria, a wife retains her father's family name – says that she has received a promise from President Assad that he will "punish the perpetrator, whoever he is". Colonel Hassan Sheikh was on leave in Latakia in civilian clothes and driving in an unmarked car with his brother Nasser and his son and daughter as they approached a traffic roundabout in the district of Alazhari.
At this point, an SUV behind began flashing its lights to overtake. With a military checkpoint in front of him, Colonel Sheikh could not pull over and stayed in the centre of the road. The driver of the SUV began shouting abuse at him for not stopping. The colonel, who could not have expected that he was about to die in the safest of Syrian cities – climbed out of his car to remonstrate with the SUV driver and tell him to calm down. According to Nasser Sheikh, a man in the SUV – either Sulieman Assad or his bodyguard – immediately opened fire with a machine-gun, firing five or six bullets, two of which hit the colonel, one of them, fatally, in the heart.
Nasser Sheikh jumped from the family car and tried to stop the killers, kicking their vehicle in fury and breaking his leg. But they drove away at speed. Despite the usual anti-regime rumours, this was not a sectarian killing: both Colonel Sheikh's family and Sulieman Assad belong to the Alawite faith, a branch of Shiism to which President Assad also adheres.
What it re-awoke, however, was a long-standing distrust between civilians in Latakia – and many soldiers in the army – and the armed militias controlled, in some cases, by Assad's cousins in the city who long ago acquired a reputation as playboys. Sulieman, it transpires, had been arrested by Syrian military intelligence agents for an unknown reason last year but was released after three weeks.
His father, Hilal Assad, was appointed commander of the country's paramilitary defence force militias – earlier condemned for a series of atrocities in anti-regime villages – to bring these groups under government control and use them as auxiliaries in territory newly recaptured by the army.
Shortly after Hilal Assad took command, I interviewed him in Latakia – a huge brass Shia double-headed sword hung outside his office – when he told me that his men would work largely without pay to support the regular Syrian Arab Army. But Hilal's appointment proved fatal for him. He himself became a Syrian 'martyr' when he was killed by rebels during a battle last year near the town of Kassab.
Popular opinion, which exists in government-held Syria in a way it never did before, has long grown weary of the day-long power cuts and inflationary price of food. The ostentatious privileges flaunted by the regime's acolytes in Latakia has infuriated Alawite and Sunni citizens alike. Most of the army are Sunnis, including many officers though with a preponderance of Alawites, and little love was lost between the regular military and the "defence units" whose behaviour was unaccountable.
Sulieman Assad drove from the scene of the killing because he thought he could get away with the crime – he was arrested at a farm 14 miles from Latakia, on the road to the Assad family town of Qurdaha. One report suggests that his younger brother may also have been with him at the time of Colonel Sheikh's death.
If the colonel is indeed declared an official "martyr", his family will be financially recompensed and honoured for their loss – like the family of every Syrian soldier killed in the war against the regime's enemies. But if Colonel Sheikh died in that war, who exactly was his enemy?
Join our new commenting forum
Join thought-provoking conversations, follow other Independent readers and see their replies