Thousands protest in Jordan's capital against Isis burning of caged pilot
Islamist jihadi preacher associated with Al-Qaeda condemns the killing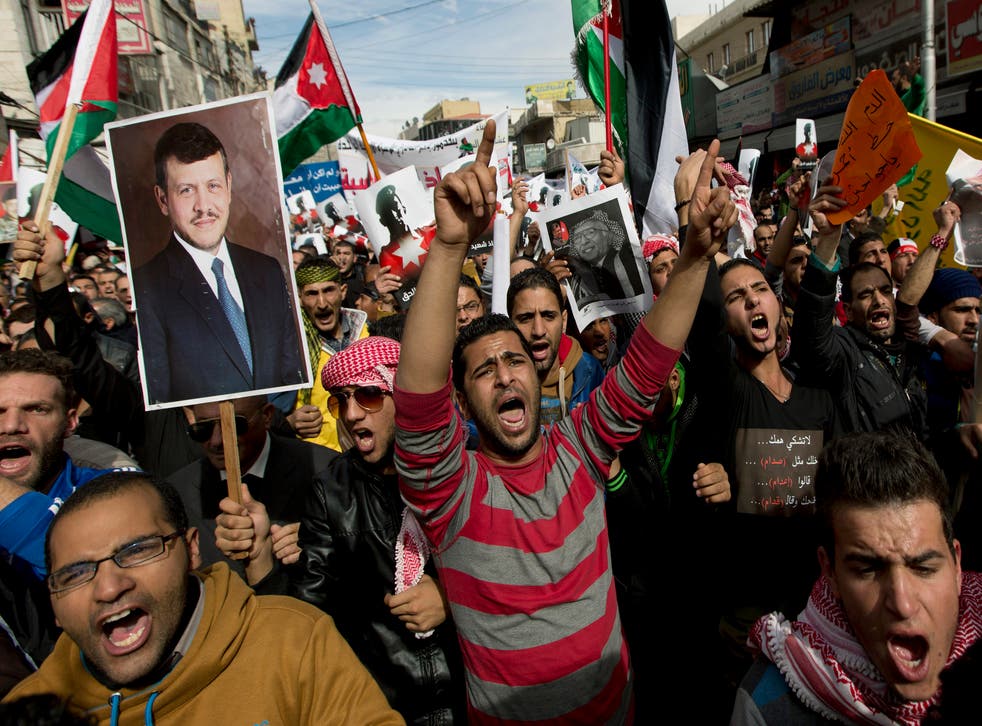 Thousands of people have taken to the streets in Amman in protest against the killing of a Jordanian air force pilot by Isis.
The protesters turned out in the country's capital in support of King Abdullah II after Islamic noon prayers.
Jordan's Queen Rania joined the march, while a part of the crowd unfurled a large Jordanian flag.
Earlier today a prominent jihadi preacher lashed out against Isis militants, criticising them for burning the pilot alive in a cage.
Abu Mohammed al-Maqdesi is considered to be the spiritual mentor of Abu Musab al-Zarqawi, the notorious former leader of Al Qaida in Iraq.
In an interview with Jordanian TV station Roya Mr al-Maqdesi said the burning, which was videoed and released to the world, was "not acceptable in any religion".
In pictures: Anti-Isis protests in Jordan

Show all 15
Jordan joined the military coalition against Isis, also known as Islamic State, last autumn. The country's leadership has said it will intensify strikes against the group in response the burning of the pilot.
Al Qaida in Iraq was the precursor group to Isis. While initially involved with the militants, Mr al-Maqdesi split with the group over their methods, including whether attacks on Muslims can be justified.
Mr al-Maqdesi has spent the last three months in prison in Jordan and was released this week.
He was arrested for criticising Jordan's participation in airstrikes against Isis.
Join our new commenting forum
Join thought-provoking conversations, follow other Independent readers and see their replies