Three Palestinians shot dead after shooting and stabbing attack on Israeli policewomen at Jerusalem Damascus Gate
One policewoman was critically wounded in the attack, Israeli police said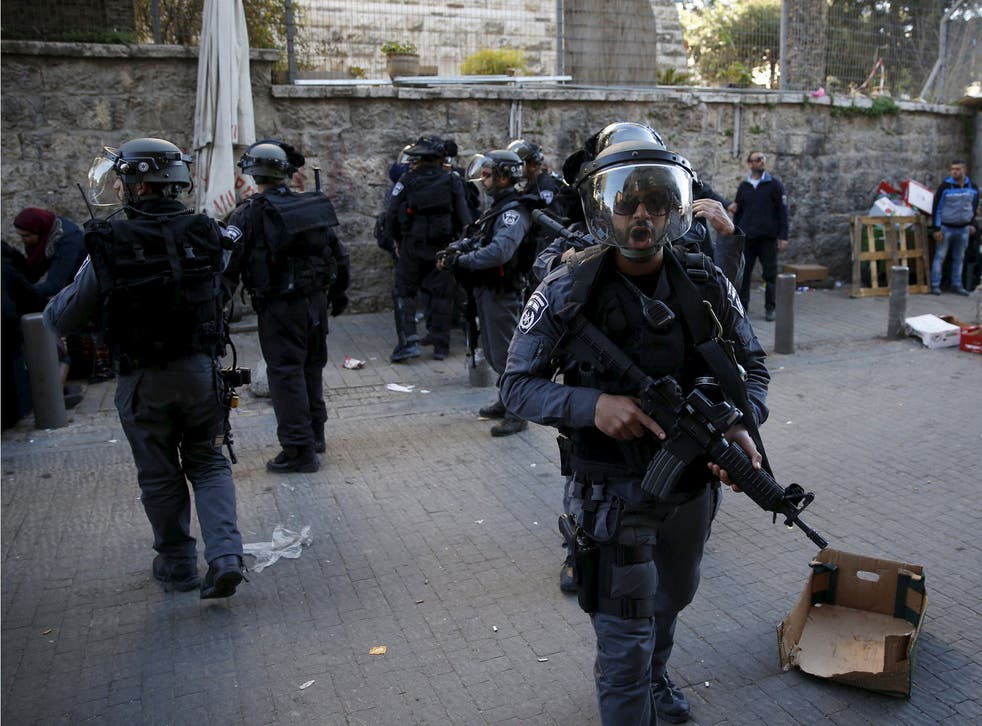 Three Palestinian attackers have been shot dead in Jerusalem after shooting and stabbing two Israeli paramilitary policewomen, according to Israeli police.
The officers were attacked at the Damascus Gate entrance to Jerusalem's walled Old City. One officer is in a critical condition, according to Superintendent Micky Rosenfeld, Israel police's foreign press spokesperson, while the second officer is in a moderate condition.
The officers stopped the three Palestinians at the busy plaza in East Jerusalem for an identity check after the reportedly aroused police suspicion, at which point all three assailants were discovered to be carrying concealed weapons.
At least one assailant opened fire with an automatic rifle, critically wounding one policewoman. The second female officer was stabbed and wounded in the attack before Israeli security forces shot and killed the three Palestinians.
Israeli police said two pipe bombs were found at the scene, which have since been neutralised by bomb disposal experts.
"The weapons indicate that a combined attack was prevented by officers who protected city residents with their own bodies," police spokeswoman Luba Samri said in a statement.
Violence erupts across East Jerusalem

Show all 1
Police have identified the Palestinians as two 20-year-olds and one 21-year old from the area of Jenin in the northern West Bank. Local media have named the three attackers as Ahmed Rajeh Zakarneh, Mohamed Ahmed Kmail and Ahmen Najeh Abu Al-Rub, though this has not been confirmed by officials.
Associated Press video from the scene showed throngs of police officers weaving through a crowd of Palestinians and a row of police cars with sirens blaring. A police spokesman sent reporters a photo of a group of officers standing near a pool of blood near the gate.
The attack is the latest in series of shootings and stabbings that have seen 26 Israelis and one US citizen killed since October. A total of 155 Palestinians have been killed by Israeli forces, many during violent protests. 101 of them were assailants, according to authorities.

Additional reporting by agencies
Join our new commenting forum
Join thought-provoking conversations, follow other Independent readers and see their replies