Isis mass graves: Iraqi forensic teams begin excavating sites in Tikrit believed to hold bodies of up to 1,700 soldiers killed by militants
Massacre was denounced as one of the worst since Isis began its rapid advance Warning: Some people may find the images below distressing
Heather Saul
Tuesday 07 April 2015 17:12 Comments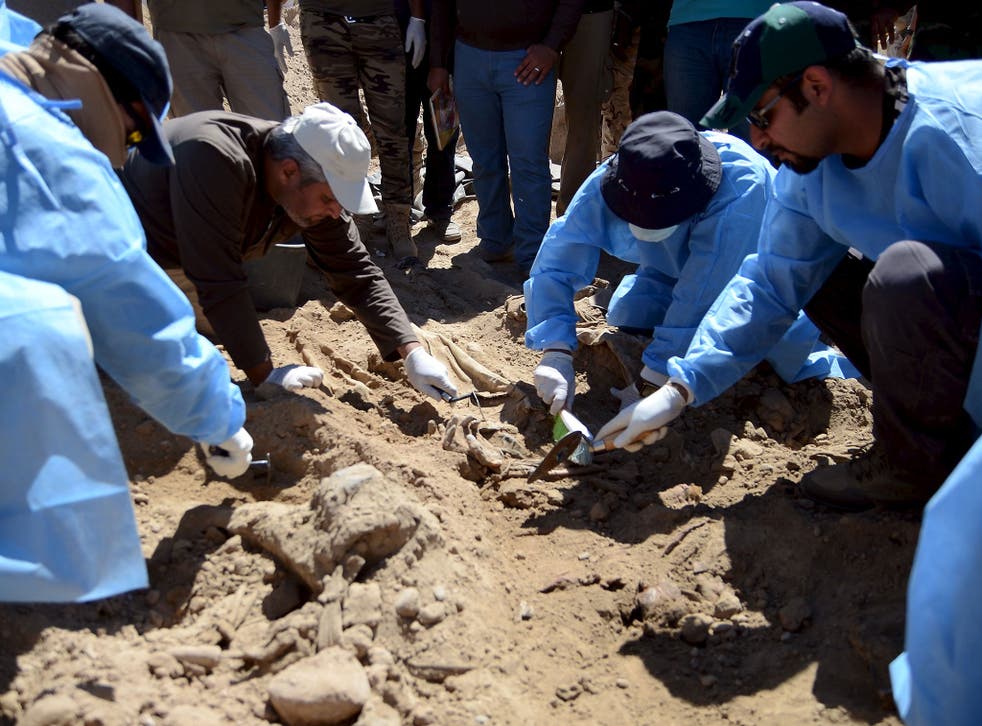 Forensic teams have begun excavating suspected mass graves in Tikrit believed to contain up to 1,700 bodies, just days after Iraqi forces re-took the city from the clutches of Isis militants.
The 12 sites are believed to hold up to 1,700 Iraqi soldiers, who were brutally killed in a mass execution that was photographed and circulated online by Isis as propaganda.
The victims are believed to be mostly Shia soldiers and the massacre was denounced as one of the worst since Isis began its rapid advance across the country.
"We dug up the first mass grave site today. Until now we found at least 20 bodies. Initial indications show indisputably that they were from the Speicher victims," Khalid al-Atbi, an Iraqi health official working with the forensic team sent to Tikrit told Reuters.
"It was a heartbreaking scene. We couldn't prevent ourselves from breaking down in tears. What savage barbarian could kill 1,700 persons in cold blood?"
One survivor told the news agency he was covered in the blood of his fellow soldiers and only escaped execution by pretending to be dead.
"The fourth bullet was fired, but I wasn't hit. The fifth bullet killed the man next to me. Playing dead, I fell to the ground. I was covered by the blood of my colleagues and I rolled down into the valley," he said.
In pictures: Fight for Tikrit

Show all 16
An unverified statement from Isis militants on Twitter claimed to have executed 1,700 prisoners, before it posted about 60 gruesome pictures of groups of men being forced to lie in a shallow trench with their arms tied.
The pictures, released in June 2014, also showed gunmen firing at captives lying in the trenches. An initial HRW investigation found three trenches containing hundreds of bodies, but said the actual number of those killed was likely to be much higher.
Register for free to continue reading
Registration is a free and easy way to support our truly independent journalism
By registering, you will also enjoy limited access to Premium articles, exclusive newsletters, commenting, and virtual events with our leading journalists
Already have an account? sign in
Join our new commenting forum
Join thought-provoking conversations, follow other Independent readers and see their replies