Iran nuclear talks: 'Time is running out' for agreement, President warns
Iran and Western powers are trying to reach a deal on its capability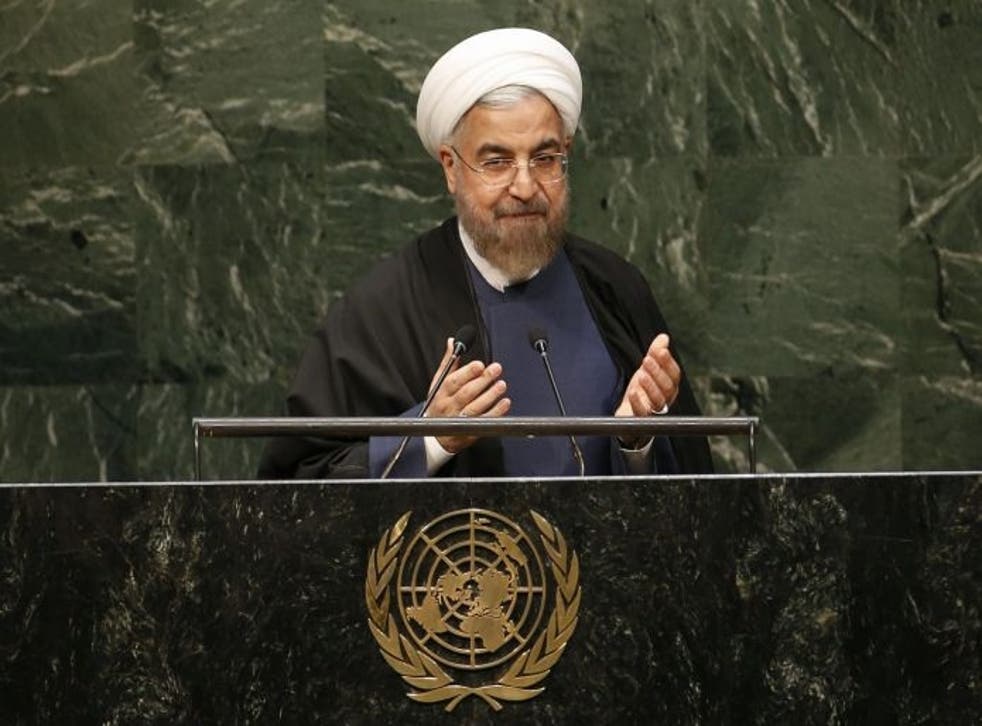 The nuclear talks between Iran, Britain and five other nations have reached stalemate, prompting a warning that time is running out.
America, the EU and other countries have previously voiced suspicions that Iran is developing nuclear weapons in secret but President Hassan Rouhani has repeatedly denied the claims.
The current talks are aimed at agreeing restrictions to make the manufacture of warheads difficult as a reassurance to the West but Iran has resisted constraints on its nuclear capability.
On Friday, Mr Rouhani urged faster progress in negotiations between his country, US, Britain, France, Germany, Russia and China.
They are trying to reach a permanent agreement on Iran's nuclear weapons programme by 24 November but little headway has been made.
The Iranian leader, who had a first historic meeting with David Cameron in New York last week, suggested agreement could end the 30-year freeze in relations between Washington and Tehran and mark "the beginning of a path toward collaboration and cooperation."
"There have been steps forward, but they haven't been significant," he said, arguing that his country had shown the necessary flexibility and that it now was up to the US and other nations to advance the negotiations.
"Time is short," he added.
Discussions are focusing on the lifting of Western sanctions on Iran in exchange for a scaling-back of its uranium enrichment programme.
An interim deal struck in Geneva last year capped key elements of Iran's nuclear capabilities in return for limited relief from sanctions.
Sergei Lavrov, the Russian Foreign Minister, was optimistic after eight days of negotiations, saying that delegates were resolving "the remaining small but extremely important issues".
The talks were held during the UN General Assembly's ministerial meeting but international foreign ministers expected to join the nuclear discussions did not attend.
Iranian media quoted the Deputy Foreign Minister, Abbas Araghchi, as saying the sides had "not yet arrived at a mutual understanding that can serve as the basis of an agreement."
The US Secretary of State, John Kerry, said his "fervent hope" was that a deal would be struck but a senior American official said an enormous amount of details still needed to be worked through.
The talks remain stuck over uranium enrichment, which Iran says it needs to make reactor fuel and for other peaceful purposes, but the US and its allies fear the program's other application - making the fissile core of a nuclear weapon.
Insisting that the sanctions must "be melted away," Mr Rouhani said Iran will not accept any agreement that requires it to stop enriching uranium.
The US has demanded the country limits its enrichment output at what roughly 1,500 of its centrifuge machines would produce but Iran insists the output should remain at the current level produced at the approximately 10,000 centrifuges it operates and be allowed to increase.
An alternative offer would allow Tehran to keep nearly half of the centrifuges already spinning but reduce the stock of uranium gas fed into the machines so would take more than a to create enough material for a nuclear warhead.
The proposal is only one of several being discussed and has not yet been formally submitted to the Iranians.
Other ideas also include letting Iran have more than 1,500 machines but removing or destroying much of the infrastructure needed to make them run.
If a solution is found, parties still differ on how long Iran's nuclear program should be restricted, with Tehran seeking less than a decade and the US demanding substantially more.
Additional reporting by AP
Join our new commenting forum
Join thought-provoking conversations, follow other Independent readers and see their replies