Transgender teenager jailed for refusing military service in Israeli Defence Forces
Aiden Katri, a 19-year-old trans woman, faces multiple prison sentences if she continues to refuse
Lizzie Dearden
Wednesday 30 March 2016 18:43 Comments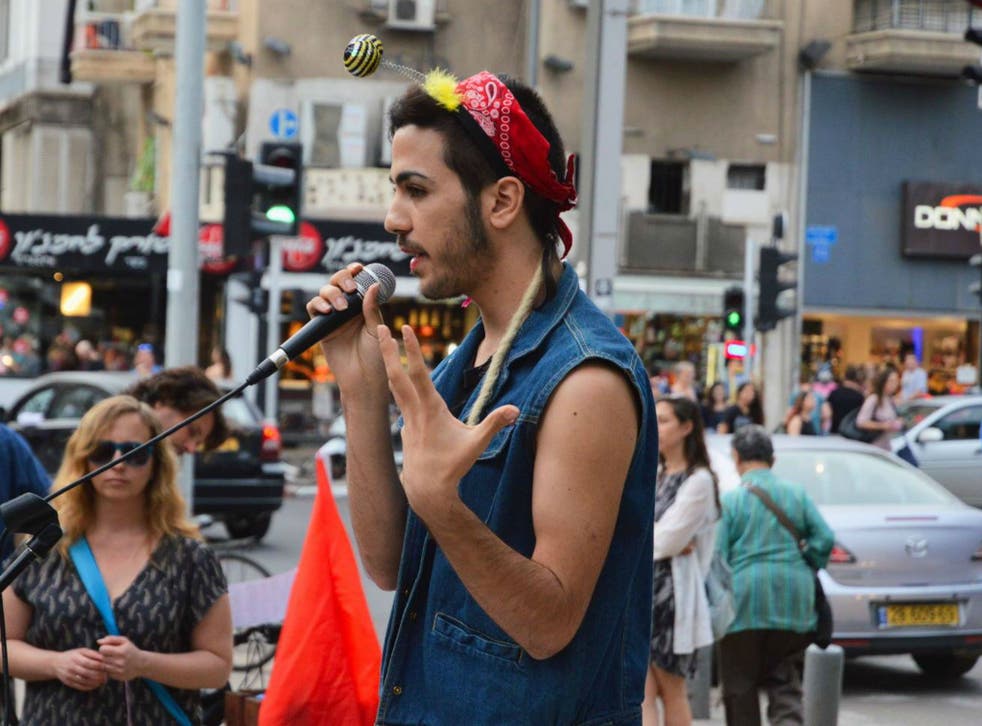 A transgender teenager has been jailed for refusing to carry out compulsory military service in Israel.
Aiden Katri was sentenced to a week in prison, where campaigners were concerned she would be housed in a male wing and left at risk of stigmitisation and abuse.
The 19-year-old said she was taking a stand as a conscientious objector against the "atmosphere of fear" in her home country and could not enforce "oppression" in the Occupied Palestinian Territories.
Israeli soldier to face court over West Bank shooting
Describing her upbringing in the Israeli city of Holon as "conservative", she said she came to reject "separatism" in society and was striving for equality between religion, race, sex and gender.
In a statement the day before she was imprisoned, Ms Katri said she had Israeli Arab friends who were "hated and discriminated against" and had witnessed military crackdowns on Palestinian protests in the West Bank.
"Arabs and Jews live in this country as two different classes," she added. "It would be absurd to strive for justice in the context of injustice.
"I struggle against my oppression – my gender oppression as a trans woman and my ethnic oppression as a Mizrahi Jew, and if I turn a blind eye to an oppression of another people, this would be hypocrisy."
Mesarvot, a campaign group supporting conscientious objectors in Israel, said Ms Katri was jailed for a week on Tuesday and sent to Prison Six.
The Israeli–Palestinian conflict intensifies

Show all 10
"She is a transgender woman held in a men's prison, we are worried and in contact with Israeli politicians," a spokesperson said.
At the end of her sentence, Ms Katri will again be summoned for service in the Israeli Defence Forces (IDF) and face another prison sentence if she chooses to refuse.
Other conscientious objectors have been jailed repeatedly for up to 10 times, reaching combined sentences of around 180 days.
On Sunday, another Israeli teenager was imprisoned for the fourth time, this time for 20 days.
Tair Kaminer spoke to The Independent in January before returning to a conscription base to start her second sentence.
The 19-year-old vowed to continue her objection in protest against the occupation of the Palestinian Territories and settlement construction.
"I'm not going to break," she said. "I hope they understand that - I won't break."
Military service is compulsory for all Israeli citizens over the age of 18, with the exception of groups including Arab Israelis, Orthodox women and anyone unable to serve for medical reasons.
Pacifists can legally refuse according to an Israeli High Court of Justice ruling in 2002, but must prove that their stance against war and violence is unilateral and not related specifically to Israel and the Palestinian Territories.
There have also been high-profile cases of soldiers and intelligence officers refusing to perform certain duties, such as operating in the West Bank, bombing civilian areas of Gaza and removing Israeli settlers from their homes.
British MPs from Labour, the Conservatives and several other parties supported an early day motion submitted by Caroline Lucas in January calling for legal exemptions for conscientious objectors and the "immediate and unconditional release" of Ms Kaminer and other prisoners of conscience.
Protesters have also held rallies supporting her and Ms Katri at prisons and military bases and sent letters and emails from around the world.
But support for conscientious objectors is not widespread in Israel, where the recent wave of Palestinian attacks has strengthened public and political support for the armed forces.
Update: The IDF has responded to The Independent's request for a comment on Ms Katri's case.
A spokesperson said: "The individual in question was sentenced to 7 days in military prison for refusing to draft as a conscientious objector.
"At no point did the individual alert the relevant IDF officials regarding gender identification during the draft process. The IDF sees the importance of providing a space in which all recruits- of all genders, religions and races- can serve and examines each case on an individual basis."
Register for free to continue reading
Registration is a free and easy way to support our truly independent journalism
By registering, you will also enjoy limited access to Premium articles, exclusive newsletters, commenting, and virtual events with our leading journalists
Already have an account? sign in
Join our new commenting forum
Join thought-provoking conversations, follow other Independent readers and see their replies