Trump says his Saudi Arabia visit could be 'beginning of the end for terrorism'
The President visited the Middle Eastern Kingdom on his first official visit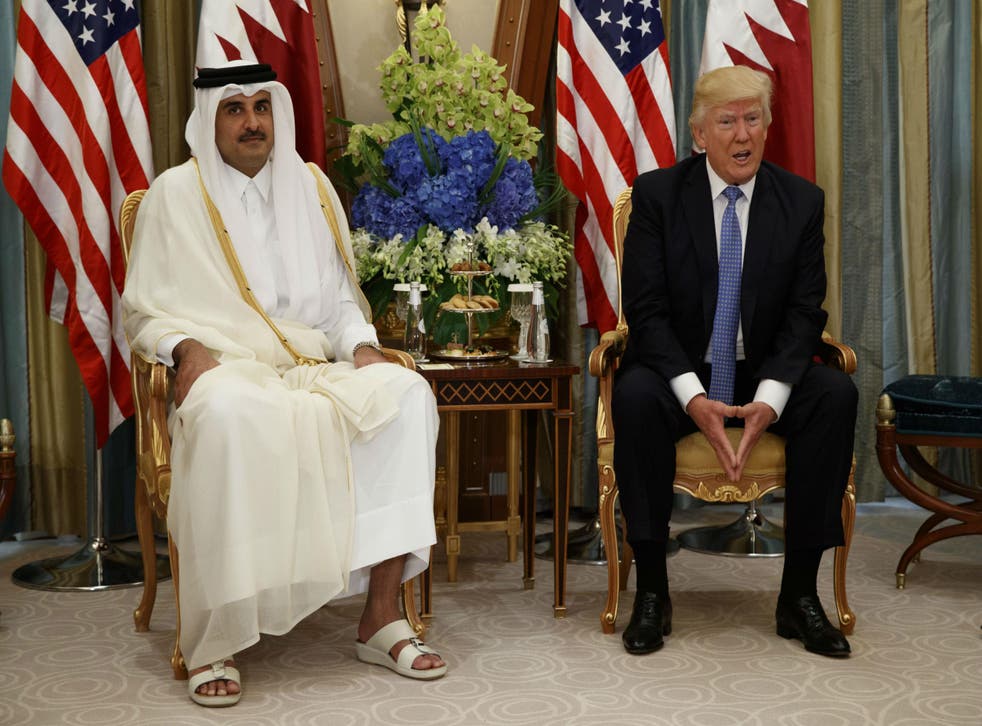 Very soon, DC Comics may have to create a new superhero based on him.
Fresh from dressing-down London's mayor in the aftermath of the London Bridge attack and criticising his own Justice Department for not defending his Muslim travel ban, Donald Trump has now claimed he may have lit the flame that will end the horror of terrorism.
In a series of tweets, the US President sided with Saudi Arabia in its diplomatic stand off with Qatar, and suggested that he had been told it was the source of much radical Islam.
"During my recent trip to the Middle East I stated that there can no longer be funding of Radical Ideology. Leaders pointed to Qatar - look," he wrote.
"So good to see the Saudi Arabia visit with the King and 50 countries already paying off. They said they would take a hard line on funding....extremism, and all reference was pointing to Qatar. Perhaps this will be the beginning of the end to the horror of terrorism."
Mr Trump's comments on Twitter were his first reference to the falling out between Qatar and major Arab nations over Doha's alleged support of Iran and Islamist groups, allegations that Qatar strongly denies.
Saudi Arabia, Egypt, the United Arab Emirates and Bahrain severed relations with Qatar and closed their airspace to commercial flights on Monday, in what Reuters said was the worst split between powerful Arab states in decades.
Mr Trump's comments will complicate its relationship with Qatar, home to the US's largest concentration of military personnel in the Middle East, at Al Udeid Air Base. The base, located 20 miles south-west of Doha, is the location of around 11,000 US military personnel.
Saudi Arabia cuts ties with Qatar over terror links
In 2016, the base was used as staging ground to fly B-52 airstrikes against Isis targets in Iraq and Syria. Early in the Afghanistan campaign, F-16 fighters and E-8C Joint Stars reconnaissance planes that monitor ground units were based there, along with refuelling tankers, CNN said.
The split among the Sunni states erupted last month after Mr Trump attended a summit of Muslim leaders hosted by Saudi Arabia, where he denounced Shi'ite Iran's "destablising interventions" in Arab lands, where Iran and Saudi Arabia are rivals.
During that summit, Mr Trump held a bilateral meeting with Qatar's Emir Sheikh Tamim Bin Hamad Al-Thani.
World news in pictures

Show all 50
Reuters said Gulf Arab officials have reported that Kuwait's emir, Sheikh Sabah Al-Ahmad Al-Jaber al-Sabah, will meet Saudi Arabia's King Salman, in an effort to heal the damaging rift which has affected global oil prices, hit travel plans and sown confusion among bankers in the region.
In a sign of the potential consequences for the Qatari economy, a number of banks began stepping back from business dealings with Qatar. Saudi Arabia's central bank advised banks in the kingdom not to trade with Qatari banks in Qatari riyals, sources said.
Foreign Minister Sheikh Mohammed bin Abdulrahman al-Thani told Al Jazeera TV that Qatar will not retaliate, hoping Kuwait will help resolve the dispute. It wants to give Kuwait's ruler the ability to "proceed and communicate with the parties to the crisis and to try to contain the issue".
Qatar's leader, Sheikh Tamim bin Hamad Al-Thani, spoke by telephone overnight with his counterpart in Kuwait and, in order to allow Kuwait to mediate, decided to put off a planned speech to the nation, the foreign minister said.
Join our new commenting forum
Join thought-provoking conversations, follow other Independent readers and see their replies