Turkey election: Deadly blast at Kurdish rally casts cloud over poll day
Party leaders make final pitch amid rising tension ahead of today's vote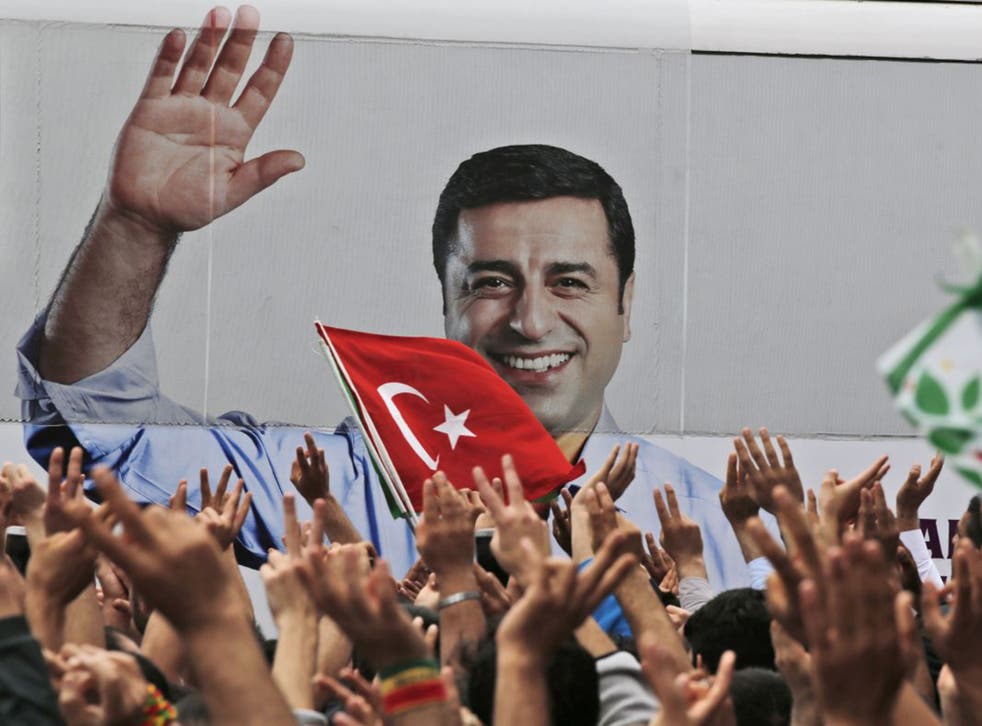 Amid a final day of intense campaigning for what could be Turkey's most unpredictable election in recent history, barber Yasar Ayhan gives his customer a traditionally close shave.
His neighbourhood of Istanbul's Kasimpasa, however, will no doubt return a resounding "yes" to the ruling Justice and Development Party (AKP) – its founder, President Recep Tayyip Erdogan, grew up just streets from here and is one of Mr Ayhan's long-standing customers.
A television in the corner of the wood-panelled shop shows President Erdogan at his second rally of the day; the President turns his attention to the bombing in the southern city of Diyarbakir that left at least two people dead, more than 100 injured – and cast a cloud over the end of a tense campaign. Two bombs ripped through a packed crowd on the afternoon of 5 June moments before Selahattin Demirtas, the young leader of the pro-Kurdish HDP, took to the stage.
Freelance documentary photographer Guy Martin, 31, was just metres from the blasts as he covered the event, and its bloody aftermath.
"The atmosphere was boisterous – loud and good-natured, with dancing and singing .… There must have been tens of thousands of people there," he told The Independent on Sunday. "I was at the back of the entrance of the stage where Mr Demirtas was expected to arrive when the first bomb went off and people started to panic.
"Five minutes later there was a huge, body-shaking explosion. Chaos erupted as people tried to flee … people were carrying very badly damaged bodies with trousers, shoes and skirts torn off," he said.
Following the explosions, HDP leader Mr Demirtas called for calm – but there was little of that at campaign events as Mr Erdogan and Mr Demirtas traded barbs over the incident.
Mr Demirtas said Mr Erdogan went ahead with his own rally after news of the bombing broke without referring to it or to the people affected. Mr Erdogan later that night offered his condolences on what he termed a "provocation" designed to undermine the election. He did not spell out who he believed to be the provocateur.
"He needs to apologise to them, express his sadness to them," Mr Demirtas told a rally on the Asian side of Istanbul. "He should go to Diyarbakir. Is he not the president of 77 million people?"
At a rally in eastern Turkey, Mr Erdogan said it was Mr Demirtas who should apologise, accusing him of instigating the violence that broke out when Turkish Kurd factions clashed with each other and with establishment forces over perceived government inaction when the town of Kobani, just across the Syrian border, came under siege from Islamic State (IS) militants.
It is unclear who was behind the attack, but Turkey's Agriculture Minister, Mehdi Eker, said that police had determined that the explosive TNT had been involved in one of the blasts.
It's not the first time violence has struck the campaign trail. Numerous HDP offices have been set on fire and the driver of an HDP party minibus was shot dead last week.
The blasts failed to make the front pages of numerous pro-government daily newspapers, a point that Mr Demirtas was keen to point out, and most people in this pro-AKP Istanbul neighbourhood dismiss the pro-Kurdish HDP as no-good separatists, intent on causing instability.
But the party – which is aiming to enter parliament for the first time, and to do so needs to pass the 10 per cent threshold – is the greatest threat to the AKP aim of a "super-majority" of 367 out of 550 parliamentary seats. This would allow it to fulfil Mr Erdogan's ambitions of changing the constitution, without a referendum, to create an executive presidency.
"I know we are angry, but we will not act in anger," HDP leader Mr Demirtas said. "We will act in good conscience. We will be smart and we will give our answer at the ballot box and stand up for our country."
Mr Erdogan may not be on the ballot papers, and, as President, he is no longer the official leader of the Justice and Development Party he co-founded in 2001, but his presence is inescapable.
Blue AKP election vans circle the flag-laden streets, covered in pictures of current party leader Prime Minister Ahmet Davutoglu.
But listen closely and the election song blaring from the speakers recycles last year's presidential election tunes, a catchy musical repetition of "Recep Tayyip Erdogan".
Turkey's constitution calls for the President to remain impartial, which leaves his pseudo-campaigning actions in a grey zone, according to Sinan Ulgen, Turkey expert and head of the Istanbul-based centre for Economics and Foreign Policy Studies (Edam). "He's already behaving as if he is the executive president," Mr Ulgen told The IoS. "There is no competent institution that can decide where he's being impartial or not."
The owner of a busy local tea house, Emre Ozdemir, 28, says he stopped voting for the party after a number of alleged corruption scandals. "I used to vote for the AKP," he confides, "but anyone with a critical mind can see there is a problem here."
Mr Ozdemir, for his part, says he'll vote for an independent candidate, a former police officer.
His clientele tell a different story, and brush off accusations of corruption. A mixture of young and old men sit in the shade of a mosque sipping strong, black Turkish tea.
Ekrem Kösem, 33, is a lifelong AKP voter and isn't about to change.
The stamping ground of Turkey's most powerful man has been transformed since the AKP came to power in 2002, says 33-year-old Ekrem Kosem, a textile worker and Kasimpasa resident.He cites the transformation of the transportation network, increased education and health care, which have reached record levels across Turkey.
"He takes care of us," Mr Kosem shrugs. "Look at Turkey's progress under the AKP – we're going to build a Turkish car!"
For Yasar the barber, his most famous customer is the heart of the AKP."He is the leader of the party and people follow him. If he didn't lead, we would be the same as the other small parties," he said. A photo of the two men sits pride of place above the mirrors.
The two hail from the same Black Sea town of Rize – their grandparents were friends and followed each other to Istanbul, says Mr Ayhan.
"But he became the president and I'm still a barber," he smiles.
Join our new commenting forum
Join thought-provoking conversations, follow other Independent readers and see their replies