Turkey offensive in Syria: More tanks cross border for operation to 'cleanse' region of Isis and Kurdish rebels
Clashes between Turkey-backed rebels and groups supported by US-led coalition cause concern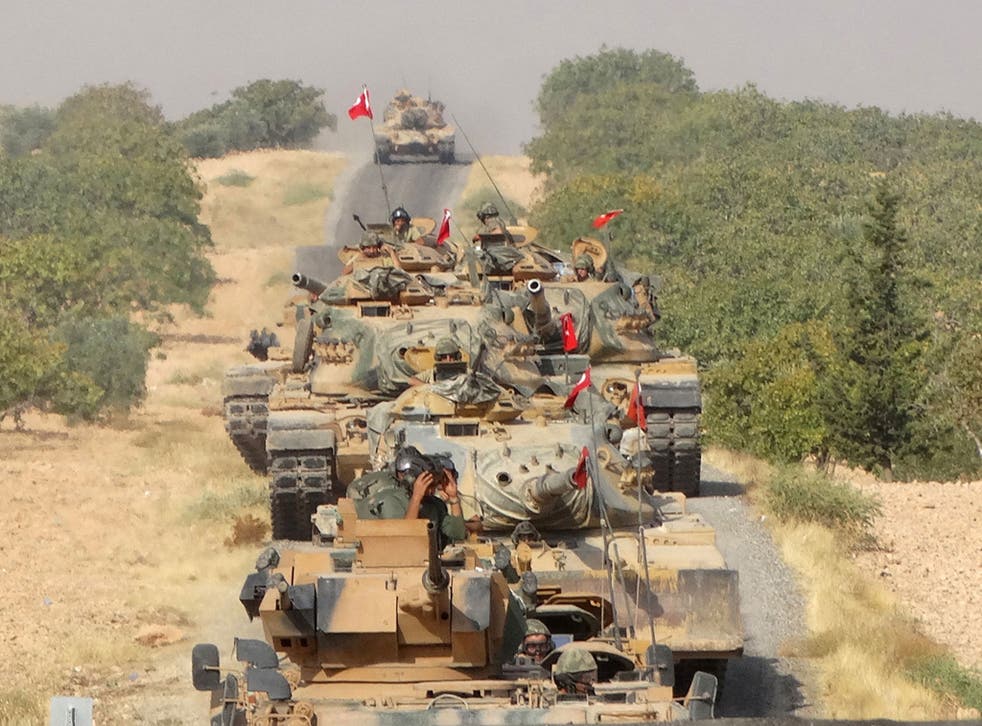 More Turkish tanks were seen rolling into Syria this morning as an operation to drive Isis and Kurdish rebel groups back from border regions entered its third day.
The offensive, codenamed Euphrates Shield, started as an effort to push the so-called Islamic State out of the Syrian city of Jarablus but officials have been vocal about the twin aim to oust Kurdish militias the government views as terrorists.
Turkey is backing a coalition of militias allied to the Free Syrian Army supported by its tanks, armed forces and international air strikes to wage the campaign.
Turkish-backed rebels secure Jarablus in northeastern Syria
But there was unease over Islamist elements of the alliance, including the Nour al-Din al-Zenki movement, whose fighters decapitated a child on video in Aleppo last month.
Speaking on Friday morning, the Turkish Prime Minister reaffirmed the commitment to remove both Isis and Kurdish groups from border regions.
"We intend to cleanse our borders of all terrorist organisations, particularly Daesh," Binali Yıldırım said.
"This operation will continue until we are sure that no threat to Turkey remains."
More than a thousand Turkish-backed fighters advanced into the deserted city of Jarablus on Wednesday to no resistance after an apparent Isis withdrawal and have since occupied several surrounding villages.
The Syrian Democratic Forces (SDF), an alliance of mostly Kurdish rebel groups supported by the US-led coalition, have been battling to drive Isis militants out of the region for months under the cover of international air strike.
But they withdrew from some areas on Thursday as part of a deal confirmed by the American Vice President, Joe Biden, to assuage Turkey.
He said the SDF would lose American support if they did not cross back over the Euphrates River to remain on its eastern side within a week.
The Kurdish People's Protection Units (YPG) withdrew from the city of Manbij on Thursday, handing control over to the local military council, but the status of other members of the SDF was unclear.
Colonel John Dorrian, the spokesperson for the US-led coalition, said: "The main element of SDF Manbij liberation force has gone east - some forces remain to finish clearing and IED removal as planned."
Several clashes have been reported, with Turkish-backed forces shelling the YPG south of Jarablus on Thursday and Kurdish media reporting the alleged use of chemical weapons by FSA rebels near Manbij.
In pictures: Turkey launches operation in Syria

Show all 9
A statement was released from Operation Eurphrates Shield's official social media accounts denying reports of civilian casualties and condemning "false news and fake images being spread by members of terrorist organisations".
Members of Turkish-backed Syrian Turkmen Brigades fighting in the offensive said they would no push through Isis territory towards the town own Marea, 60 miles south-west of Jarablus.
Colonel Ahmad Osman, head of the Sultan Murad group, told Reuters he expected the advance to take several weeks or even months.
Asked whether he was willing to fight US-backed rebels, he said: "We are currently planning not to confront them, but if we have to confront them, we will."
The SDF had previously advanced to within a mile of Jarablus after driving Isis out of swathes of northern Syria in recent months, including the key city of Manbij.
But Turkey has been alarmed by the alliance's success, enabling Kurdish groups to control of land stretching almost the entire length of the Syrian border.
Despite being regarded as valuable allies of the US-led coalition, President Recep Tayyip Erdogan has called the fighters "terrorists" and linked them with the separatist PKK group, which is fighting an insurgency in south-eastern Turkey.
"Whether it's Daesh (Isis) or the YPG, they are all terrorist organisations," he said on Wednesday.
"A terrorist organisation fighting another terrorist organisation doesn't make it innocent."
A Turkish official said the ground incursion had been in the works for more than two years but was delayed by American reservations, resistance from some Turkish commanders, and a stand-off with Russia that made air cover impossible.
But relations have now thawed, several of the commanders have been removed from their posts in purges and the US has given its cautious approval.
It is Turkey's first major military operation since a failed coup last month that caused thousands of members of its armed forces to be discharged amid international concern over wide-ranging purges.
It came four days after a suicide bombing blamed on Isis killed 54 people at a wedding in the south-eastern city of Gaziantep.
Operations hope to cut off Isis supply lines and smuggling channels for its lucrative trade in oil and looted artefacts, as well as the routes used by foreign fighters to enter the so-called Islamic State.
Syria's foreign ministry condemned what it said was a breach of its sovereignty and accused Ankara of launching the incursion to replace Isis with "other terrorist groups".
Join our new commenting forum
Join thought-provoking conversations, follow other Independent readers and see their replies