US shuts down Tripoli embassy and evacuates staff in Libya capital
The decision by Washington comes after fighting between opposing militia groups intensified in the last week
Jack Simpson
Saturday 26 July 2014 16:56 Comments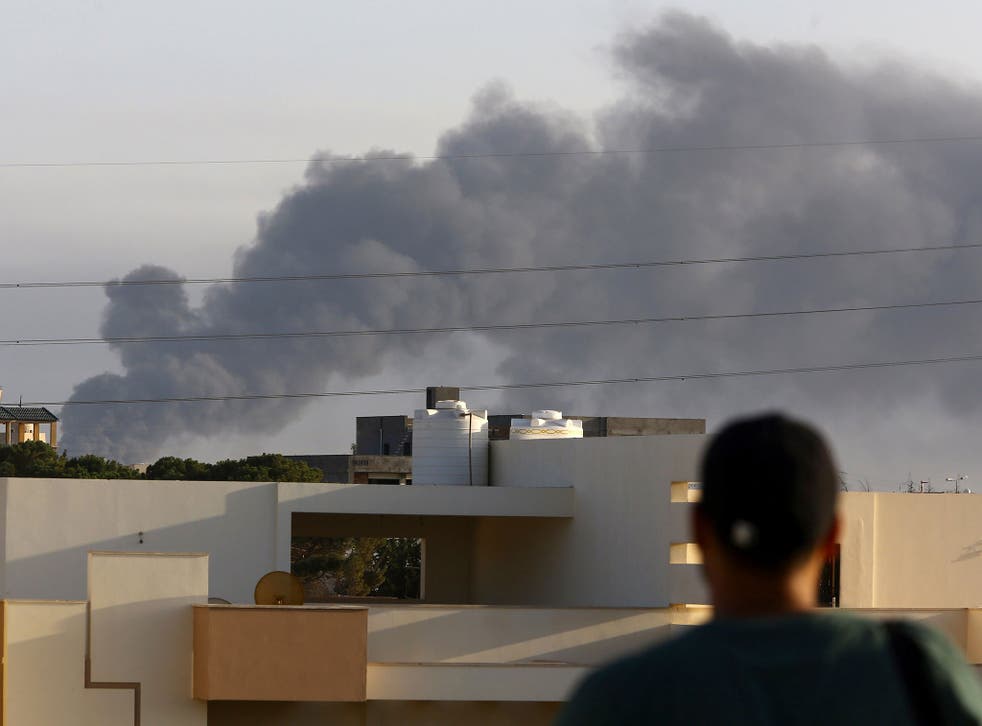 The US has been forced to close its embassy and evacuate staff in Libya as fighting intensifies between rival militias.
According to reports, workers at the US embassy in Tripoli were taken out of the country by a US military escort and into neighbouring Tunisia on Saturday morning.
American personnel left the capital around dawn and were accompanied by US military aircraft that flew overhead to ensure their safe transportation to Tunisia. Details of the evacuation were not announced until all staff members were successfully moved out of the country.
The total number of staff was 230, which included 150 embassy workers and 80 marines.
In a statement released by US spokeswoman Marie Harf, she said: "Due to the on-going violence resulting from clashes between Libyan militias in the immediate vicinity of the US Embassy in Tripoli, we have temporarily relocated all of our personnel out of Libya.
"We did not make this decision lightly," Harf said. "Security has to come first. Regrettably, we had to take this step because the location of our embassy is in very close proximity to intense fighting and on-going violence between armed Libyan factions."
The decision to take embassy staff out of Libya comes as the fighting between militias supporting different interim prime ministers intensified this week.
On Monday, five people died during fierce fighting on the outskirts of Tripoli, with with militia groups fighting for control of the capital's airport.
Following the fighting, Libya's Foreign Minister Mohamed Abdulaziz called on the UN and international community to offer more support or possibly face the consequences of Libya becoming a "failed state."
The evacuation of staff was followed by an official statement from the US State Department that warned against Americans travelling to the country.
The decision to close the embassy is the second time in three years that Washington has decided to shut down operations in Tripoli. In February 2011, the embassy suspended operations amid the uprising that eventually toppled long-time leader Moammar Gadhafi.
Some commentators have called the current tensions the worst since the Libyan Civil War in 2011.
On Friday U.S. Ambassador to Libya, Deborah Jones, tweeted an appeal for fighting to stop near the embassy.
She posted: "We have not been attacked but our neighborhood a bit 2 close to the action."
There has also been a spate of killings and kidnappings, with Libyan officials being targeted.
Last week, Gunmen kidnapped two judges in the suburbs of Tripoli, and on Friday popular political activist Moaz Banoun was kidnapped.
Register for free to continue reading
Registration is a free and easy way to support our truly independent journalism
By registering, you will also enjoy limited access to Premium articles, exclusive newsletters, commenting, and virtual events with our leading journalists
Already have an account? sign in
Join our new commenting forum
Join thought-provoking conversations, follow other Independent readers and see their replies