Facebook post of US embassy in Tel Aviv raising gay pride flag receives backlash of criticism from angry Americans
The embassy flew the rainbow flag next to the American flag for the first time in history - but the move was slammed as 'inappropriate' and 'shameful'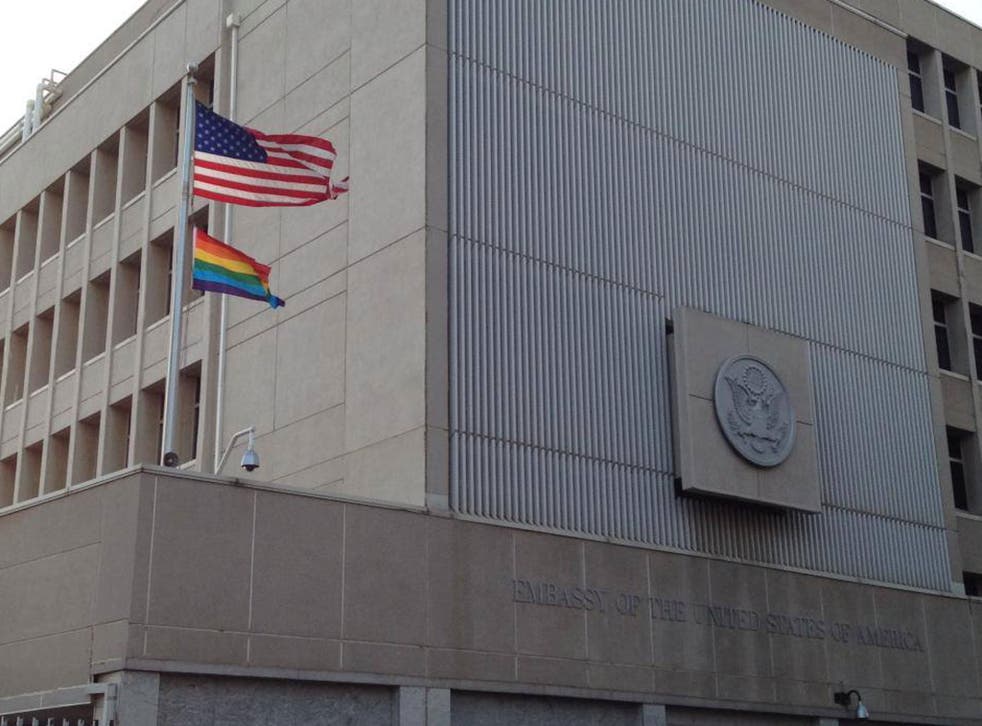 The US embassy in Tel Aviv faced a backlash of criticism after it raised the rainbow flag next to the American flag above its office for the first time in history earlier this week.
On Tuesday, Daniel Shapiro, the US ambassador to Israel, made the announcement that the rainbow flag had been raised during Tel Aviv's Pride Week, which runs until 14 June.
"For the first time in history," Mr Shapiro wrote on the embassy's Facebook page, "the US Embassy in Tel Aviv has raised the Pride flag together with our American flag. We are proud to join with the municipality of Tel Aviv-Yafo and its residents in celebrating LGBT Pride Week."
The rainbow flag is a symbol of lesbian, gay, bisexual, transgender and queer (LGBTQ) pride. The colours reflect the diversity of the LGBTQ community, and the flag is often used as a symbol of gay pride in LGBTQ rights marches.
But Mr Shapiro's announcement was met with a barrage of angry comments from users claiming it did not represent the views held by American citizens, with many demanding the flag be taken down immediately.
"This is inappropriate, shameful, and embarrassing. Assuredly, this is not the voice of Americans but rather that of a disgraceful administration," was the furious comment left by one user.
Another slammed the decision to fly the flag with: "This flag being hoisted next to the American flag is inappropriate. How is this "gay pride flag" representative of all Americans? The answer is, it is not! This flag needs to come down."
One user was so incensed by the presence of the rainbow flag on the embassy, they set up a petition calling for not allowing "any flag but the American flag to be flown at US embassies". The petition had only received six signatures by Thursday afternoon.
However, many others expressed their support for the move, with one describing it as "appropriate and inclusive". A gay Facebook user thanked the embassy for raising the flag, writing: "Thank you Ambassador Shapiro and President Obama! It's great to be a gay American!"
User M.V Atinou also dismissed claims the flag did not represent American views, arguing: "This is what core American values are - freedom, liberty, equality...and support for *everyone*.
"It's great to see America taking a stand in the world for those who are (or may be) marginalized not only by their fellow countrymen, but also their government."
Join our new commenting forum
Join thought-provoking conversations, follow other Independent readers and see their replies