Waiting in Dubai to be freed to grieve: the man whose bride fell to honeymoon death
Six months on, superbike racer Sean Emmett is still a virtual prisoner there - unable to retrieve his confiscated passport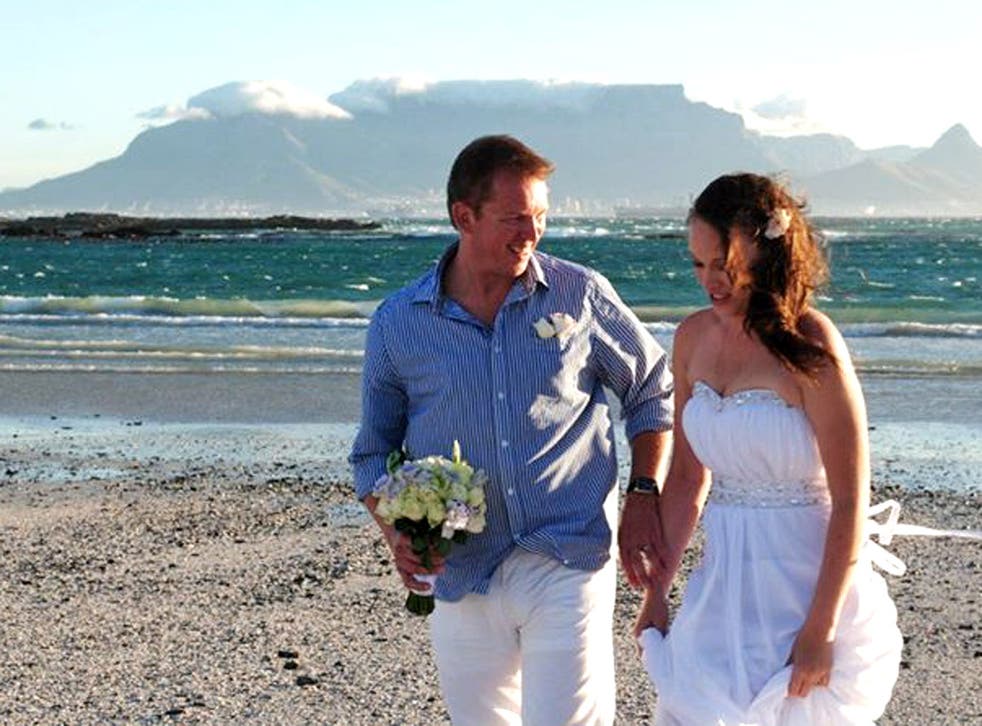 The last time Sean Emmett saw his wife alive, she was falling out of the window of their honeymoon hotel in Dubai. Six months after her death, which coroners ruled not to be suspicious, the British former motorbike racer remains stranded in the city without his passport, lost in a hole of grief and bureaucracy.
Speaking to The Independent, Emmett has broken a months-long silence in the hope a new campaign will end his confinement in the United Arab Emirates (UAE), where he says officials have withheld his documents without explanation.
"I've been quiet because I wanted to do things the right way," he says, speaking from the home of an expatriate hosting him after his life savings ran out. "But enough is enough. I'm effectively locked in the world's biggest open prison and I can't go on."
Almost 4,000 supporters have tonight signed an official online petition to the British Government, four days after it was opened alongside Facebook and Twitter campaigns. They plead for Emmett's return to Surrey, where his wife was cremated without him.
The biker, 43, is one of a growing number of visitors to the UAE who fall foul of its strict laws – on alcohol and drugs consumption, public behaviour, and financial practices. Minor offences can carry long prison sentences and passports may be withheld long after cases are closed.
New figures from the Foreign and Commonwealth Office show the number of British nationals arrested in the UAE rose by 20 per cent this year, against a worldwide drop of 10 per cent. The number requiring consular assistance rose by 25 per cent.
Emmett's ordeal began in February when he and his wife, Abbie, 27, stopped in Dubai on their way home from their wedding in South Africa. They had met three years earlier at a pub near Weybridge. Emmett had raced at the highest level of his sport. Abbie was a percussionist and graduate of the Royal Academy of Music.
On their first night in the city, the couple returned to their fourth-floor suite at the luxury Jumeirah Creekside Hotel after sharing several drinks at the bar. Alcohol may be consumed in Dubai only on licensed premises.
"We were in really good spirits," Emmett recalls. "Abbie was really happy and hyper. She put some music on and was dancing and jumping around on the bed. Then we had a cigarette out the window."
The sliding glass panel revealed a guard rail at waist height. While they smoked, Emmett says Abbie's wedding ring slipped from her finger and fell to the ground outside. They could not find it after 20 minutes of frantic searching and returned to the room.
"Abbie went from mega happy to very tearful and upset about the thought of losing her wedding ring," Emmett says. "I tried to calm her down but she kept leaning out of the window. I knew she was drunk and could see it was precarious. I kept asking her to stop."
Emmett says he was in the corridor of the suite, several metres from window, when Abbie leaned out once more. "The next thing I see is her feet go in the air and she slips out of the window, head first," he recalls. "I can still remember the sound of her sharp intake of breath as she dropped."
Emmett tried to revive Abbie before an ambulance arrived. Dubai police took him in for interview and, Emmett says, initially told him his wife was alive. Later that afternoon, more than 12 hours after the fall, they released him – but not his passport – and revealed the truth. "Suddenly it hits you. I was just numb but I could not have dreamed then that it would come to this," he says.
Emmett returned to the police station after nine days to sign release papers for his wife's body. Her death was recorded as a suicide, but Emmett insists it was an accident. A British coroner later confirmed the death had not been suspicious.
The commander at the Dubai police station screwed his nose while talking to Emmett, sensing the residual smell of the drinks he had had the night before to help him sleep. They measured 28 micrograms of alcohol in his breath, below the UK drink-drive limit – but illegal for anyone in public in Dubai.
"I was taken off in handcuffs and locked up," Emmett says. During four days in a cell, he observed what would have been Abbie's birthday. "That was extremely tough. I was thousands of miles from home, in a lock-up, my wife had died and I'm thinking: 'How bad can things get?'"
Emmett was fined 2,000 dirham (£340) for drinking alcohol without a licence. Officers had seized laptops and phones from the couple's luggage. When Emmett applied for their return along with his passport, he says police agreed and handed him the document. "Then [the officer] gets on phone and the next minute he takes my passport, puts it in a drawer and says: 'Go away.' They said they hadn't finished investigating. That was mid-March."
Despite repeated efforts by lawyers and the British consulate, Emmett says he has received no explanation for the reversal or the continued detention of his passport: "I just can't understand what they can be investigating."
Emmett has also missed the birthdays of his three children from his first marriage. He is relying on loans from friends and has closed a motorbike taxi company he set up after retiring from top competition. Another low came on the day of Abbie's cremation. "It was difficult, but in some ways I also felt relieved that she was laid to rest. I didn't have to go to sleep every night thinking of my wife in a drawer."
He hopes the new campaign will encourage officials to act. "I'd be happy even if they deported me because I'll never come back here," he says.
Neither Dubai police nor public prosecutors could be reached for comment yesterday. A Foreign Office spokesman said: "We are providing consular assistance at this difficult time. We cannot interfere in the judicial process of another country, and must respect their systems just as we expect them to respect the UK's laws and legal processes."
HARDLINE DUBAI - PREVIOUS CASES
Peter Margetts
The British property developer suffered a reported stroke last year while on hunger strike in a Dubai prison, after receiving a 23-year sentence for writing cheques that bounced.
Grooverider
The Radio 1 DJ got four years in 2007 after being found guilty of possession of 2.16 grams of cannabis at Dubai International Airport, an amount he described as "a bit of dust". He was pardoned after 10 months and released.
Simon Andrews
The British businessman denied sticking up his middle finger at a student during an argument. He fell foul of Dubai's strict public decency laws and had his passport confiscated, leaving him stranded for eight months.
Marte Dalelv
The Norwegian tourist was pardoned in July this year after international outcry followed her arrest and 16-month sentence for reporting her own rape.
Join our new commenting forum
Join thought-provoking conversations, follow other Independent readers and see their replies