War with Isis: Give us military aid to 'finish' militants, Iraqi PM Haider al-Abadi tells President Obama on visit to White House
Mr Abadi laid out his case for a further boost in US airstrikes, weapons delivery and training to help roll back the forces of the self-proclaimed 'Islamic State'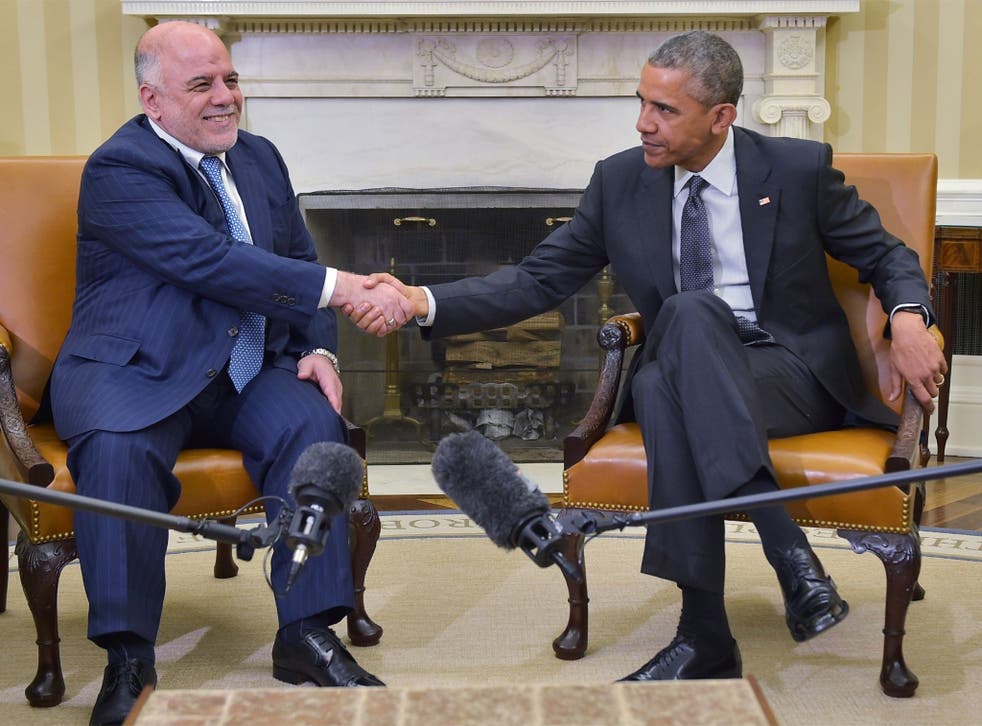 The Iraqi Prime Minister, Haider al-Abadi, has made a personal appeal to US President Barack Obama for more funds to help the country push back Isis forces, amidst signs of progress in recent months in retaking territory including the city of Tikrit.
Paying his first visit to the White House since taking his post seven months ago, Mr Abadi laid out his case for a further boost in US airstrikes, weapons delivery and training to help roll back the forces of the self-proclaimed "Islamic State". "We want to see more," he said before the talks. The additional support of the US and the international coalition it is leading is required to "finish" Isis, he said.
Mr Obama praised Mr Abadi, saying that since his election there had been an improvement in the training and equipping of the Iraqi military as it tries to reverse the losses it suffered when Isis swept up large swathes of his country early last year.
He told reporters that since the start of coalition efforts to assist Iraq last August, about a quarter of the lost terrain had been taken back. He announced the US would give Iraq $200m in humanitarian aid to help resettle citizens who had been displaced by the Isis advance and the ongoing conflict. He made no public comment, however, on how he might respond to the request for more military aid.
Senior officials had seemed to hint before Mr Abadi's visit that his plea would be heard, at least in part. "If there are specific ideas Prime Minister Abadi has for stepped-up assistance, then we'll obviously consider them seriously," Vice President Joe Biden said in a speech last week.
"More efforts to organise, arm and integrate the Sunnis willing to fight Isil (another name for Isis) are going to be needed in the months ahead to liberate Anbar and Mosul," Mr Biden said last week at National Defence University. The White House press secretary Josh Earnest said on Monday: "This is a partnership that the United States is obviously invested in."
At the end of his talks with Mr Abadi in the Oval Office, Mr Obama also said the two men had shared concerns about militia fighters loyal to Iran joining the campaign against Isis. There has been alarm in Washington, especially on Capitol Hill, that Iran is taking advantage of the conflict to extend it regional influence.
"It is very important for us to coordinate our activities going through Iraq," Mr Obama said, asserting that Shia forces loyal to Iran had to accept the Iraqi chain of command.
In pictures: Fight for Tikrit

Show all 16
Mr Abadi came to the White House a day after a federal court in Washington sentenced four former American men who had worked for Blackwater as private security contractors during the Iraq war to heavy prison sentences for their roles in the 2007 massacre of civilians in Baghdad's Nisour Square. One of them was sentenced to life, while the three others each received sentences of 30 years in prison.
The massacre, which left 17 unarmed Iraqis dead, caused an international outcry and cast a harsh light on the US policy of hiring private contractors to provide security in Baghdad and elsewhere in Iraq without full accountability. It also became a running sore in relations between the US and Iraq.
Mr Obama fulfilled a campaign promise to end the war in Iraq and withdrew all but an embassy guard by at end of 2011. However, the vacuum the withdrawal created has been blamed in some quarters for opening up the country to the Isis onslaught.
Since agreeing to help push Isis back, Mr Obama has authorised the deployment of 1,500 US personnel to assist the Iraq military. Meanwhile, the coalition has carried out some 2,000 airstrikes in Iraq since August "unquestionably inflicted some damage" on Isis.
That, however, appeared to have little effect as fighting raged in the southern Iraqi city of Baiji, over control of the city's main oil refinery. The clashes began over the weekend when Isis attacked from multiple directions, claiming to have breeched the refinery's defences - a claim denied by Iraqi forces.
Among those reportedly killed as battles continued was the Iraqi commander of a federal police force tasked with protecting the Baiji refinery, Major General Dhaif Khalaf and nine of his bodyguards.
Join our new commenting forum
Join thought-provoking conversations, follow other Independent readers and see their replies