Who is Sajida Mubarak Atrous al-Rishawi, the female suicide bomber at the heart of 'Isis' Japanese prisoner swap plan?
A video appears to show Kenji Goto appealing for the Japanese government to arrange for the release of al-Rishawi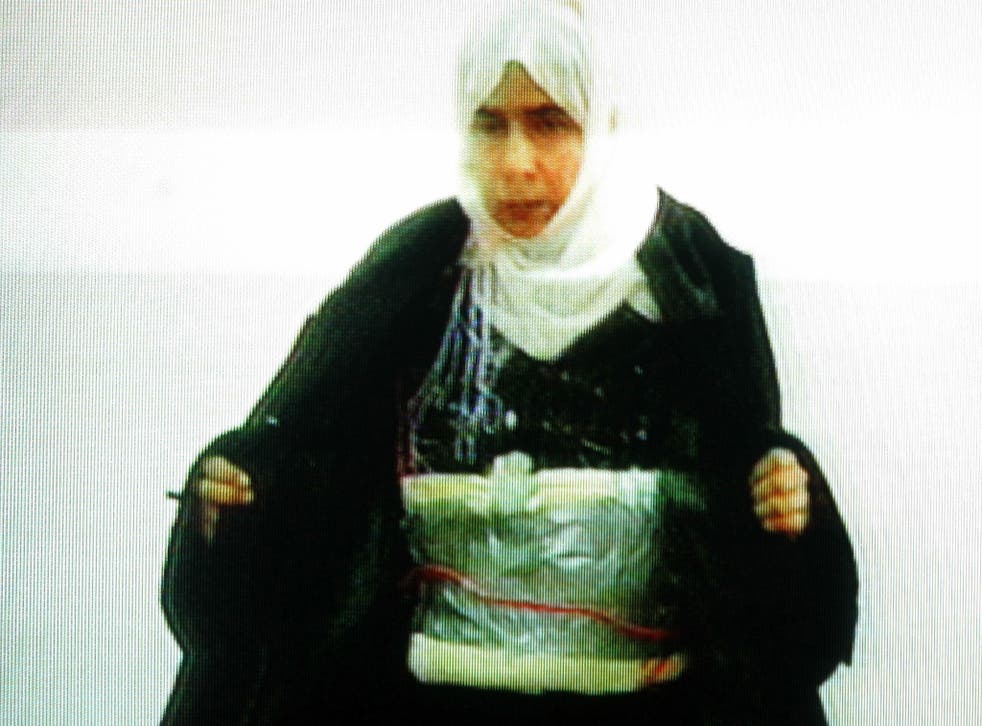 Isis are reported to have demanded the release of an Iraqi woman detained in Jordan in exchange for a Japanese hostage they have captured.
Sajida Mubarak Atrous al-Rishawi, who is in her 40s, is a failed suicide bomber who conspired with her husband to wear bomb belts packed with ball bearings to destruct themselves and others at a wedding reception in the Radisson SAS hotel in the Jordanian capital city of Amman in November 2005.
The family of the Japanese hostage Kenji Goto Jogo received an audio message, which purportedly hears him saying that he will not be killed if al-Rishawi is released by Jordanian authorities. A photo released alongside the recording claimed to show that his "cellmate" Haruna Yakuwa, another Japanese national, had been decapitated by Isis.
It says: "I would like to stress how easy it is to save my life, you bring them their sister from the Jordanian regime and I will be released immediately. Me for her."
The 2005 Amman attack was one of three at separate hotels that killed a total of 60 people. Thirty-eight people died in the Raddisson SAS attack after al-Rishawi and her husband Ali Hussein Ali al-Shamari, who was also from Iraq, travelled to the country around five days before with forged passports.
When her husband noticed that his wife was having trouble with detonating her bomb with the cord, he "pushed her out of the ballroom" before setting off his belt and killing scores of people, said the then-deputy prime minister of Jordan, Marwan Muasher.
Al-Rishawi said in an apparent confession on Jordanian TV: "My husband executed the attack. I tried to detonate and it failed.
"I left. People started running and I started running with them."
Al-Rishawi was sentenced to death following her confession, which she later retracted. She appealed her sentence and is still being detained in Jordan.
Following the threats on Mr Jogo and Mr Yukawa's lives earlier this week, the Japanese government set up a headquarters for negotiating their release in Jordan, with Japan's vice foreign minister Yasuhide Nakaya travelling to the Gulf state to meet with Jordan's King Abdullah.
Al-Rishawi is also believed to be the sister of Mubarak Atrous al-Rishawi who was killed by US forces and is said to be an ally to Abu Musab al-Zarqawi, a Jordanian-born fugitive believed to run the al-Qaeda in Iraq militant group, from which Isis (also know as Islamic State) is thought to have formed.
Words of a would-be killer: al-Rishawi's 'confession'
"On November 5, I accompanied my husband to Jordan with a forged Iraqi passport, under the name of Ali Hussein Ali and Sajida Abdel Qader Latif. We waited and a white car arrived with a driver and a passenger. We rode with them and entered Jordan (from Iraq). My husband arranged our trip from there, I don't know.
"In Jordan, we rented an apartment. He had two explosive belts. He put one on me and wore the other. He taught me how to use it, how to pull the [primer cord] and operate it.
"He said it was to attack hotels in Jordan. We rented a car and entered the hotel on November 9. My husband and I went inside the hotel, he went to one corner and I went to another.
"There was a wedding with children, women and men inside. My husband detonated [his bomb], I tried to explode [my belt] but it wouldn't. People fled and I ran with them."
Join our new commenting forum
Join thought-provoking conversations, follow other Independent readers and see their replies