Why Jerusalem's new mayor will only be able to count on one half of the city
East Jerusalem's Arab residents boycott election seen as pivotal by the Israelis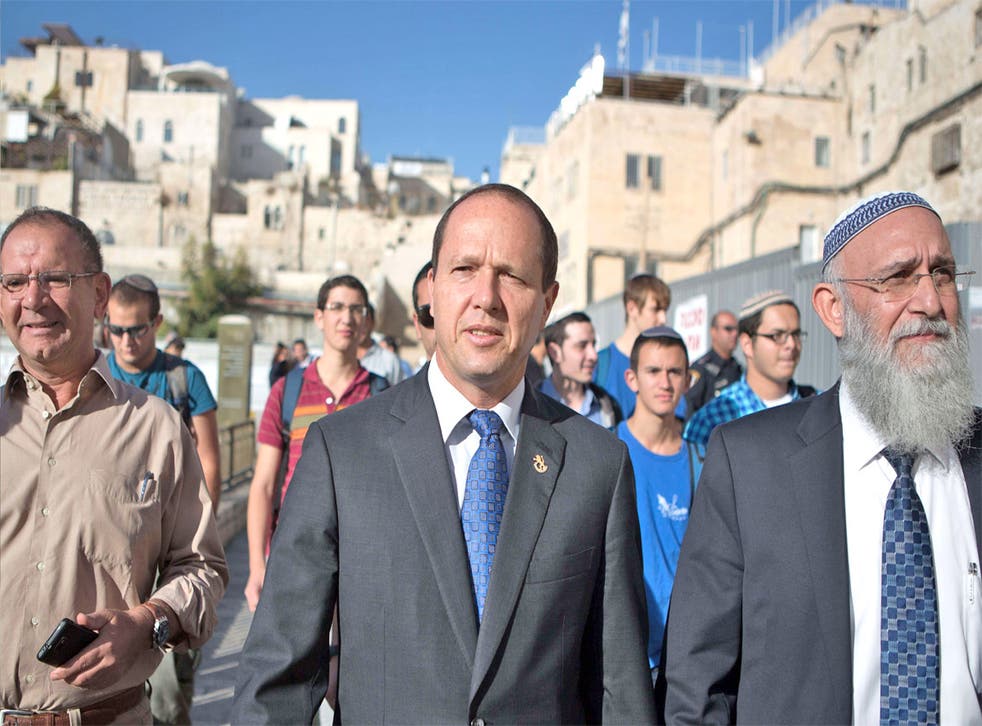 It was a tale of two cities in Jerusalem yesterday as Arabs who make up 39 per cent of the city's 800,000 residents shunned a hard-fought election for mayor seen by Israelis as pivotal to the city's future.
For Israelis in West Jerusalem, where schools were transformed into polling stations, campaign banners hung from porches, and volunteers vied for the attention of voters, the pressing issue was whether to re-elect Nir Barkat, a tech millionaire who has a largely secular support base and takes credit for reviving the city's economy, or to give a chance to Moshe Lion, the candidate backed by the ultra-Orthodox Shas party, who has argued the city is mismanaged and has promised to cut municipal taxes.
But in Arab East Jerusalem, an occupied area annexed 36 years ago in a move Israel insists unified the city, Palestinians neither knew the name of Mr Lion nor thought the outcome would have any impact on them. Mr Barkat was ahead by six points in a poll published five days ago but his supporters were concerned that low turnout could boost Mr Lion
"We're not involved in any way, the majority of East Jerusalem is living normally this day," said Raymond Kawa, a grocer in the upscale Sheikh Jarrah neighbourhood. "There are no posters, no directions to the ballot sites. I will never vote. This is an occupied city and we can feel the difference between how East and West are handled."
Palestinian Authority President Mahmoud Abbas's office kept up a tradition of urging East Jerusalem residents to stay away from the balloting. "Participating would mean if not tolerating, then legitimising the annexation of Jerusalem and this is not in our books," said Abdallah Abdallah, a Palestinian legislator who is Deputy Commissioner on Foreign Relations for Mr Abbas's Fatah movement. With the status of East Jerusalem, where Palestinians hope to establish their capital, supposed to be discussed in the current negotiations with Israel, the Palestinian leadership is not interested in anything that could be interpreted as acceptance of Israeli rule.
But many East Jerusalem residents did not cite the higher politics as their reason for ignoring the balloting. Rather, they said they have been turned off by what they see as discriminatory policies in all areas. "The garbage bin here has not been taken for a week," Mr Kawa said. "It's discrimination, that wouldn't happen on the other side of town." He said a road being built through the Arab neighbourhood of Beit Hanina was also taking longer than it would on the West side, causing daily traffic problems.
Mohammed Abdo, a store owner in the lower-income Wadi Joz neighbourhood, said it was impossible to get building permits. "People can't build on their own land, but a settler can come and the next day can build. They hit the Arabs with municipal taxes but give us nothing. If I have a problem with water they won't respond because I'm Arab."
Shaher Sharabati, a butcher, said: "The most important thing is that children have a place to play. But there are no playgrounds for children in Wadi Joz, in contrast to West Jerusalem. If they gave services people would vote."
Mr Sharabati was dismissive of the idea that if Arabs voted they would have the political power to get the services: "It doesn't matter who wins. It will remain the same. East Jerusalem will always be treated as inferior."
A municipality spokeswoman said in a written response that under Mr Barkat considerable effort has been focused on upgrading the quality of life in Arab areas in order to "close the gaps that have deepened due to decades of neglect". She said the Mayor regularly meets Arab leaders and has established forums on business, education, health and welfare. At the start of the school year he inaugurated over 120 new classrooms in Arab areas, she said.
Meir Levy, a Shas activist, vied with Barkat supporters at a polling station in Beit Hakerem. Mr Lion being elected, he said, was "the last will" of Rabbi Ovadia Yosef, the revered and immensely popular ultra-Orthodox sage who died two weeks ago aged 93.
But in the Pat neighbourhood, Magi Adika, a teacher, said after casting her vote for Barkat that the incumbent had improved education in the city and opened more entertainment places for young people to go to on the Sabbath.
Mr Barkat has no sympathy for Palestinian aspirations to establish a capital in East Jerusalem, urging that they instead use part of Ramallah in the West Bank. He also supports Israeli settlement in Arab neighbourhoods. Still, Mr Lion, who is backed by the ultra-nationalist Avigdor Lieberman, has sought to portray Mr Barkat as being soft on the Palestinian issue.
Join our new commenting forum
Join thought-provoking conversations, follow other Independent readers and see their replies