Witness to deadly West Bank arson attack has house set alight
Mr Dawabsha is currently testifying before an Israeli court in the trial of two Jewish extremists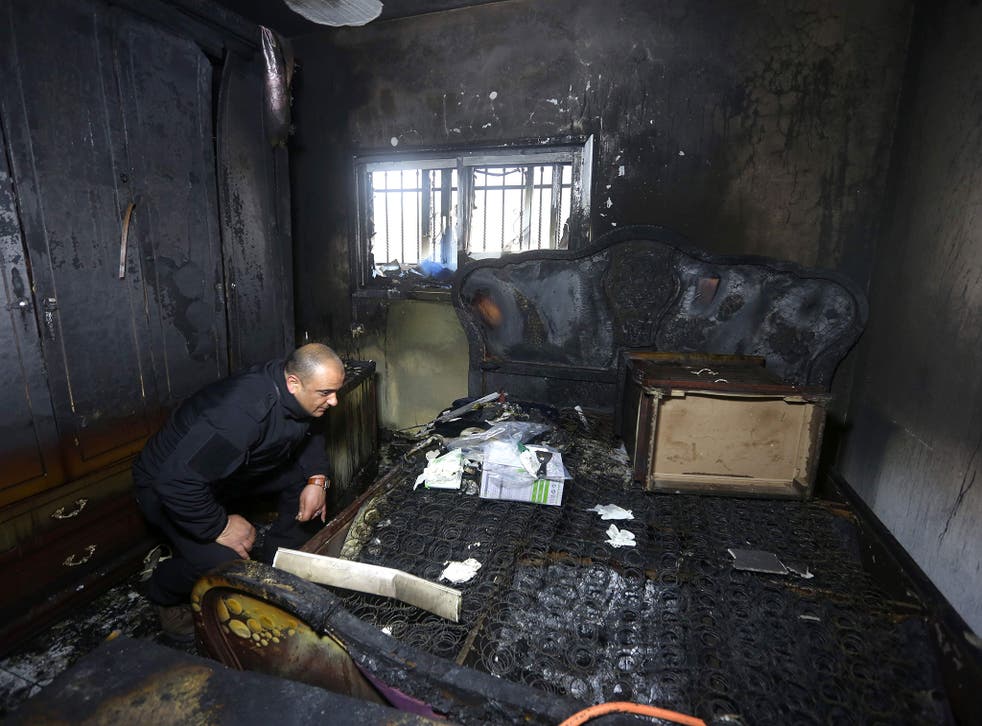 Suspicion has fallen on Israeli extremists for an arson attack on Sunday on the West Bank home of a witness to a deadly firebomb attack on a Palestinian family last year.
Residents in Duma village, site of the blaze, said a window of the home of Ibrahim Dawabsha was broken, fuelling suspicion that petrol bombs had been thrown into the house. Ibrahim and his wife fled the home and were treated for smoke inhalation.
The incident echoed the attack last July when 18-month-old Ali Dawabsha and his parents Saad and Riham were killed and four-year-old Ahmed was left critically injured. Mr Dawabsha, who was the first person on the scene after that attack, is currently testifying before an Israeli court in the trial of two Jewish extremists.
Akram Rajoub, Palestinian Authority governor of the Nablus district, told the Voice of Palestine radio station that "the burning is a message to terrify Ibrahim Dawabsha, to tell him you should keep silent and not speak". Israeli police spokeswoman Luba Samri said the fire was under investigation.
In remarks to Haaretz newspaper after the July attack, Mr Dawabsha said he saw two masked men standing next to Saad and Riham Dawabsha as they burned. "I was horrified by what I saw. They saw me and I was frightened and ran back home."
He saw masked men standing next to the couple as they burnt.
Israeli police reportedly said they did not believe the attack had been carried out by Jewish extremists.
Join our new commenting forum
Join thought-provoking conversations, follow other Independent readers and see their replies