Yemen suicide bombings: Isis claim responsibility for attack which killed at least 40 people in Aden
The jihadis targeted recruits standing in line to enlist for military service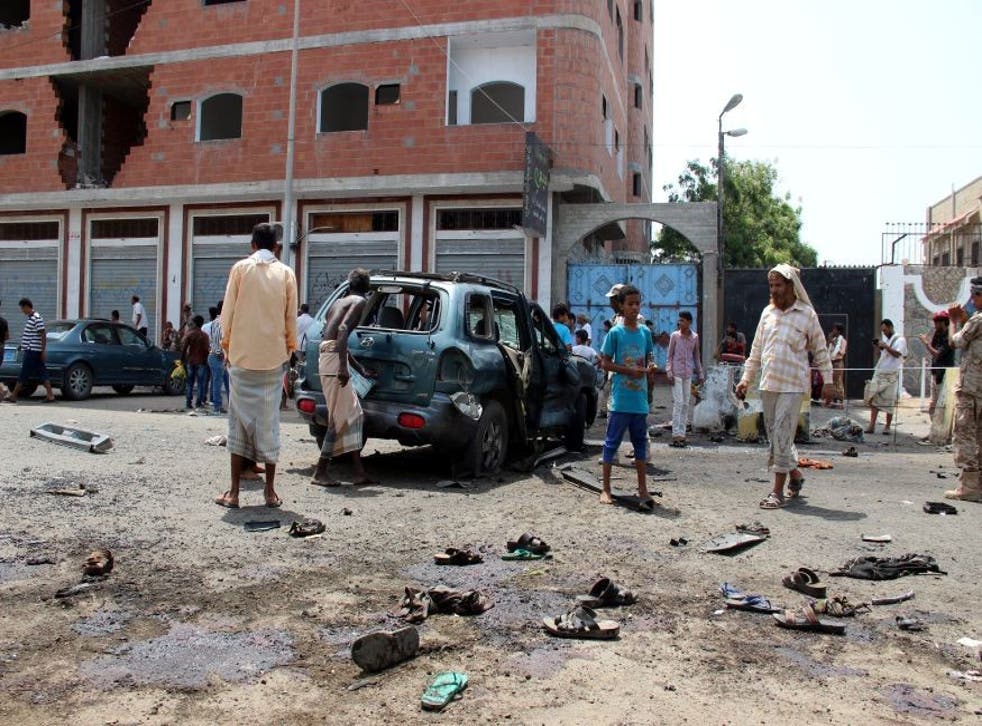 Two suicide attacks claimed by Isis have killed at least 40 people and injured dozens more in the southern Yemeni city of Aden, residents and security officials have said.
The blasts occurred in the Khor Maksar district of the port city, which serves as the temporary capital of Yemen's Saudi-backed government while it seeks to seize back the capital Sanaa from the armed Houthi group and other insurgents like Isis.
They were said to have been targetting recruits as they lined up to enlist for military service to fight against the Houthi insurgency to the north.
One suicide car bomber targeted a line outside the recruitment centre killing at least 20 people.
A second bomber struck on foot as he detonated his explosive vest among a group of recruits waiting outside the home of an army commander, killing at least 25.
Local news website Aden al-Ghad showed pictures of soldiers picking up bloodied comrades in uniform from the ground and witnesses reported seeing ambulances with blaring sirens collecting the wounded from the scene.
Yemen has been gripped by an increasingly bloody conflict between the Saudi-backed government in the south against Shia Houthi rebels who control the capital in the centre of country and are allied with the former president Ali Abdullah Saleh.
This chaos has encouraged activity by affiliates of al-Qaeda and Isis who have stepped up their attacks in a bid to gain a foothold in the country.
In pictures: The rise of Isis

Show all 74
Isis have attempted to capitalise on the power vacumn in the country to set up another satellite "province" as they have already done in Libya - which is similarly divided between warring groups.
It declared its Yemeni branch in 2014 and carried out co-ordinated bombings at mosques in Sanaa frequented by Shias.
The group has previously declared the Houthi rebels to be the target of their attacks in Yemen as the majority of Isis fighters are Sunni Muslims.
More than 6,200 people in Yemen, including over 3,000 civilians, have been killed since the Saudi-led coalition began bombing the country last year.
The war has been condemned by charities who say Saudi Arabia is carrying out war crimes against the Yemeni people.
Several hospitals run by international medical charity Medecins Sans Frontieres (MSF) came under attack from Saudi air strikes over the past year, killing both medical staff and patients.
In January, MSF said the attacks were in breach of international humanitarian law and demanded the UN investigate.
Mr Saleh was ousted in early 2012 following the Arab Spring. He was replaced by his vice-president, Abd Rabbuh Mansur Hadi who was then forced to resign in January 2015 when Houthi rebels seized the presidential palace.
Mr Hadi fled to Riyadh, which then intervened to help regain control of the country.
According to the UN, more than half of the entire population now need urgent humanitarian assistance.
Additional reporting by agencies
Join our new commenting forum
Join thought-provoking conversations, follow other Independent readers and see their replies