Yemen wedding bombing: 15-year-old survivor tells of devastation wreaked on family party
A Saudi-led air strike on a wedding in Yemen earlier this month killed scores of guests and wounded 54 others, including women, children – and a 15-year-old boy who dreams of being an astronaut. Survivors speak to Mary Ghallab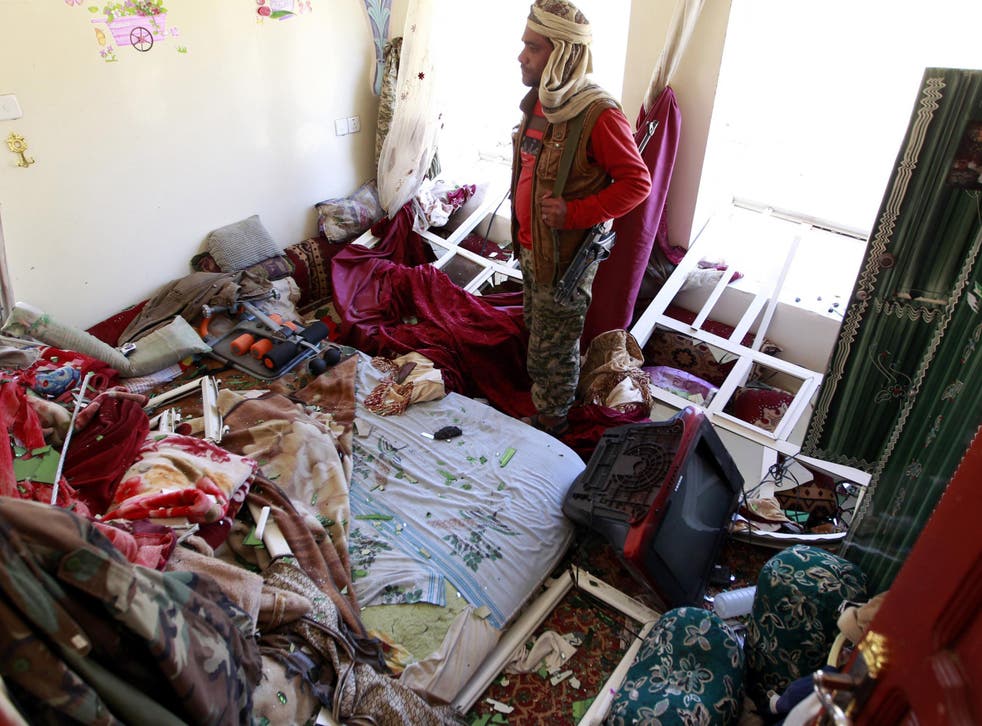 It should have been a day of happy family celebration for 15-year-old Abdullah Qais Sanabani, a Yemeni schoolboy previously best known by his schoolmates for having once won a trip to Nasa's US headquarters.
His three uncles, dressed in smart blue jackets over traditional white robes and wearing colourful turbans, were holding a joint wedding ceremony and party. Their three brides, all from nearby villages, had just arrived in a convoy of 30 cars, beeping horns and playing loud music in celebration, when a power generator failure prompted Abdullah to leave the house with one of his uncles to see what was wrong.
Moments later, at 9.30pm, the deafening roar of warplanes filled the air and missiles rained down from the sky on to the two-storey wedding house built on the top of a hill in the small town of Sanabani, 60 miles south of the capital Sanaa.
"We heard the terrifying sound of the jets," Abdullah recalled in a weak voice. "My uncle pushed me behind a water tank. Missiles fell on us and exploded, and when I looked around, I found all those who were around me dead. My uncle's body was torn into pieces. He hadn't got married yet."
Abdullah spoke to The Independent by telephone from bed in a Jordanian hospital, where he was flown for emergency treatment after the attack
According to witnesses, at least 57 of the wedding party – mostly members of the extended families of the brides and the grooms – were killed and dozens others injured in the attack earlier this month. Bed-ridden and still swathed in bandages, Abdullah suffered first-degree burns in the face and body and said he was afraid that doctors might amputate his hands. "I am in pain all the time. My whole body has been scorched," he said.
Six months since the Saudi-led coalition started its air campaign, aimed at rolling back Yemen's Houthi rebels who had seized control of the capital and much of the north of the country, more than 5,400 people have been killed, at least half of them non-combatant civilians.
The fighting began as a civil war between rival factions, along partly religious lines, but has drawn in outside powers in a regional struggle for influence between Sunni Gulf countries and Shia Iran, which supports the Houthis.
Yemen's internationally recognised President Abed Rabbo Mansour Hadi was forced to flee the country and ask for military intervention – a request answered by Saudi Arabia and a coalition of Gulf states. Meanwhile al-Qaeda and other extremist groups have taken the opportunity to seize parts of the country for themselves.
The Sanabani family's wedding was the second in a fortnight to be struck from the air, after a previous raid killed more than 130 civilians at a ceremony near the Red Sea city of Mokha, which the United Nations described as the deadliest single event in the country since the Saudi intervention in March. A spokesman for the Saudi-led coalition, Brigadier General Ahmed Assiri, denied that an air strike was responsible for either of the killings.
Earlier this month, a Saudi move to block a planned UN-led inquiry into alleged human rights violations in Yemen was supported by Western countries including Britain, which supplies arms the Saudi regime. The inquiry would have investigated actions by both sides. Meanwhile violence is continuing unabated. On Thursday, air strikes rocked the capital Sanaa hours after Houthis fired a Scud missile at an air base in south-western Saudi Arabia, according to the Houthi-controlled Yemeni state news agency, Saba, leaving at least five dead.
On Friday jets from the Saudi-led military coalition bombed the house of Yemen's Speaker of parliament, residents said, as part of a wave of attacks aimed at influential politicians. The attack reportedly hit the residence of Yahya al-Rai in central Dhamar province, leaving him unscathed but killing his son. Residents of Sanaa reported around 60 coalition air strikes over the last two days on military bases and houses belonging to family members of Ali Abdullah Saleh, a former President and important ally of the Houthis.
Abdullah's father, Qais Sanabani, said most of the dead in his family's wedding party had been women because, according to Yemeni traditions, men must leave the house when the brides first arrive. As well as Abdullah's uncle, one of the brides and 10 other immediate family members perished, including his grandparents. A health ministry official in Dhamar, Mohammed Gamah, said the final death toll had risen to 66 – 33 women, 18 men and 15 children – and 54 others injured.
A picture shared by Mr Sanabani showed half of the bombed wedding house still standing amid rubble, with cooking pots and pans, clothes and the smashed remains of furniture scattered around and the charred skeletons of several cars nearby. The building is half an hour's drive from Dhamar, known as the seat of Shia sect of Zaydism, practised by the Houthis, in Yemen. Zaydis compose a third of Yemen's population, while the majority are Sunnis. The nearest army camp that might have been a military target is 23 miles from the house.
Abdullah's visit to Nasa in 2011 made headlines in Yemeni newspapers, one of which quoted the boy saying: "My trip to Nasa is a source of pride to Yemen." According to his father, Abdullah spent five days at the Nasa headquarters after an Indian institute awarded him a "Global Icon" certificate for coming top in a scientific competition.
"He was so happy to go to Nasa and for him, this was a turning point," Mr Sanabani said. In school, he added, his son excelled in scientific applications, making models to show how to generate solar energy. Mr Sanabani said that his son always dreamt of becoming an astronaut. From his hospital bed, Abdullah summed up his ambitions. "I wanted to do something that benefits human kind. So when I die, people remember me," he said.
Join our new commenting forum
Join thought-provoking conversations, follow other Independent readers and see their replies